Have you ever thought of making a cake at home? Kids love a good cake after all, so why not try this recipe for Lotus biscoff cake? It is quick to make, and it's sure to be a big hit with the family, whether on its own or with a meal. Before we start baking the biscoff cake recipe, you need to understand the taste of the biscoff.
What flavour is biscoff?
The addictive spread of cookie butter is made with many spices like cinnamon, cloves, nutmeg, allspice, and ginger. Biscoff has a delightful caramel taste that is just heavenly.
Now that you have experienced the flavour of biscoff cookies, you can also order cake online or get up and put on an apron so that we can make a wonderful cake for the family.
Ingredients
Butter
To make this dish, use unsalted butter. No margarine or coconut oil will work in this recipe. Margarine has an odd flavour that can detract from the deliciousness of these cookies.
Eggs
For this dish, you'll need four large eggs. Make sure your eggs are at room temperature before you start cooking.
Flour
To make this dish, we used all-purpose flour. Alternatively, cake flour may suffice.
Biscoff Cookies
We chose biscoff cookies for this cake since we adore the caramel flavour, but any cookie batter cookies would do. Biscoff cookies were utilised in the cake mix, filling, and topping!
Baking powder and Baking Soda
Baking powder and Baking Soda are essential ingredients in making any cake. Never use expired baking powder or baking soda, as they will cause your cake to be soggy.
Granulated sugar
Use granulated sugar, which is the most common kind of sugar used in baking. Caster sugar will also work great.
Vanilla extract
It adds an extra flavour.
Buttermilk
It adds moisture to the cake. If you don't have any on hand, you can create your own buttermilk. Simply combine a cup of milk and a spoonful of vinegar or lemon juice in a mixing bowl and set aside for at least 10 minutes.
Vegetable Oil
Any vegetable oil will work, but it will work wonders if you have canola oil.
Sour Cream
You can use Greek yoghurt or sour cream.
Kosher salt
¼ teaspoon of kosher salt will be needed.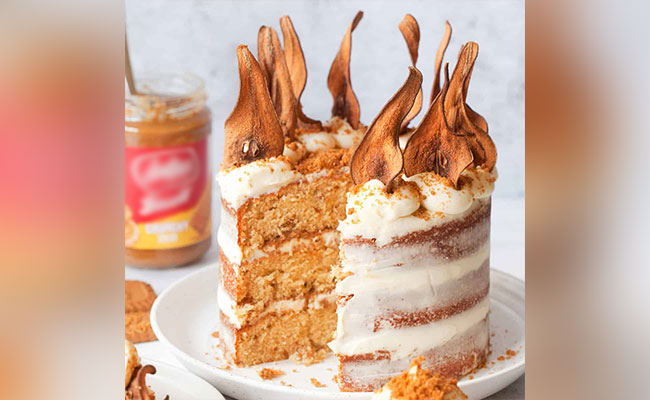 The recipe for the cake
Step 1: Preheat an oven to 180 degrees Celsius (350 degrees Fahrenheit) and prepare 3 8-inch baking pans with parchment paper.
Step 2: Add the butter and sugar into a large mixing bowl. Using an electric hand mixer, beat the butter and sugar until creamy and smooth for about three minutes.
Step 3: In a large mixing bowl, combine the buttermilk, vegetable oil, vanilla extract and kosher salt. Blend in the eggs, sour cream and melted biscoff spread with the help of a whisk.
Step 4: Take a medium mixing bowl, and whisk together the flour, baking powder, and baking soda until thoroughly combined.
Step 5: In a butter mixer, blend 1/2 of the dry ingredients, 1/2 of the wet ingredients, and the biscoff cookie crumbs until almost incorporated. Combine the remaining half of the dry ingredients with the wet mixture and stir just until incorporated.
Step 6: Divide the batter among 3 8-inch baking pans. Bake in a preheated oven set to 180 degrees Celsius (350 degrees Fahrenheit) for about 25-30 minutes, or until a toothpick inserted into the cake comes out clean.
Step 7: Let it cool completely before you slice and serve.
To serve, place your biscoff cake on a platter and garnish it with whipped cream and a few fresh berries.