Yaaron dosti badi hi haseen hai, yeh na ho to kya phir bolo yeh zindagi hai!
From jamming to this song with our friends in our childhood days to constantly struggling to meet with our friends now, somewhere we all grew up! But those memories are still etched deep in our hearts, and so is the nostalgia which bubbles up to the surface when a special occasion like Friendship Day draws near.
Roothna, manana, dost ka dabba chori kar ke khana—ye toh panne hai us kitaab ke jiska naam dosti hai! Aur inhi pannon mein nayi kahaniyan likhne ka mauka hai ye Friendship Day!
Oh, how we long to gather around like old times, sharing laughter, stories, and those inside jokes that only we can understand. After all, the hustle and bustle of life may have pulled us in different directions, but the threads of friendship that bind us together remain as strong as ever. So, as the calendar flips to that special date, the anticipation of celebrating this beautiful bond brings a twinkle to our eyes and a smile that just won't quit.
Amidst our busy lives, let's dust off those old photo albums and take a stroll down memory lane, relishing the simplicity of those golden days. Let's take a moment to thank our buddies for being the pillars of strength and the cheerleaders of our dreams with delicious and stunning cakes. This is why we are here with some relishing Friendship Day cake ideas to honour the bonds that have coloured our lives with more shades than a rainbow on a summer afternoon!
So, if you have something up your sleeve to surprise your friends and need a baked delight to complement that, keep reading for some fantastic ideas.
Tall Chocolate Cake With Edible Booze Bottle N Treats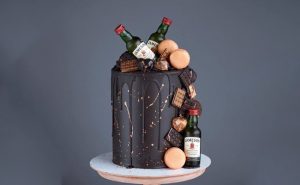 Behold this majestic masterpiece—a tall confection meticulously coated in luscious chocolate frosting. This cake is not just your average sugary delight. It's got chocolate sauce drizzling down like a waterfall of happiness, reminding you of all the sweet moments you have shared with your crazy bunch of friends. Edible chocolate bars, cookies, booze bottles—this cake's got it all! It's like a crazy party in dessert form, just like those wild nights you've spent together, laughing till your belly hurts and dancing like nobody's watching.
This cake is the epitome of friendship encapsulated in layers of joy and chocolatey goodness that'll have you coming back for more, just like how you keep returning to your besties for some extra love and laughter. So, as you gather around to celebrate Friendship Day, indulge in this masterpiece that's as quirky as your inside jokes and as delightful as your endless banter.
F.R.I.E.N.D.S. Theme Vibrant Fondant Cake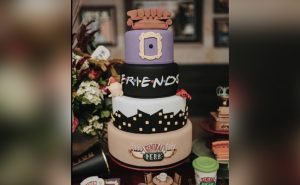 Oh, my lobster, can Friendship Day even be celebrated without a dose of F.R.I.E.N.D.S.-themed awesomeness? Absolutely not! It's like an unwritten rule in the friendship handbook! So, prepare to be amazed as we present a four-tiered extraordinary cake that pays tribute to those pals who make your life feel like one hilarious sitcom.
The bottom tier is a delightful beige canvas featuring the iconic "Central Perk" logo—the heart of their hangout spot. Moving up, the second tier showcases apartment buildings, a nod to the unforgettable setting where all the crazy adventures unfolded. The third tier proudly displays the famous F.R.I.E.N.D.S. logo in all its iconic colours. Saving the best for last—the topmost tier is adorned with the famous purple door and the golden frame, mirroring the entryway to Monica's apartment. Finally, the iconic couch, intricately crafted from fondant, is perched on top of this marvellous creation.
Every detail in this cake is edible, blending practicality with creativity. This delicacy is a tribute to the ones who've been there through all your highs and lows, making it one of the best Friendship Day cakes that you must consider! So, go ahead, gather your crew and relish every slice of this themed delight.
Multiple Emojis Black Fondant Cake with Edible Decorations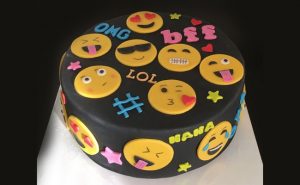 Hold onto your emojis, folks, because next up, we've got a cake that's as fun and vibrant as your friendships! This cake is bursting with personality, just like your unique squad of pals. It is the epitome of individuality, capturing the essence of each friend in the sweetest way possible.
The cake is wrapped in black fondant-the perfect canvas to make those yellow emoji details pop. It has all kinds of emojis placed on it—the heart face, smiling face, and even the one with its tongue out—each reflecting the distinct traits of your fabulous friends. But that's not all! Among the cute fondant decorations are stars and hearts, sprinkling even more love onto this masterpiece. And let's not forget the OMG, BFF, and LOL cutouts—because, well, that's what friendships are all about, right?
As you slice into this delightful creation, let it be a celebration of your one-of-a-kind friendships, each friend bringing their unique flavour to your life, just like the diverse emojis on the cake.
Spongebob Theme Colourful Fondant Cake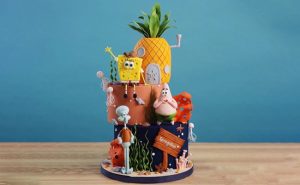 Who lives in a pineapple under the sea? Obviously, Spongebob and Patrick- the most iconic friendship duo ever! And just like them, your friendships are a unique blend of weirdness, understanding, and a whole lot of fun. So, get ready to be amazed by this three-tiered masterpiece that perfectly captures the essence of this legendary bond.
This cake is crafted with such meticulous detailing that it looks like it's straight out of Bikini Bottom. From the bottom tier to the top, it's a delightful tribute to Spongebob, Patrick, and even Squidward, all in their iconic colours and costumes, ready to take you on an adventure of flavors and memories.The bottom tier, covered in blue fondant, reflects the boundless expanse of the sea, where these friends have shared endless laughter and escapades. And right above that, the brown fondant tier symbolizes the sea floor where the hilarious shenanigans unfold. And behold the topmost tier, the pineapple-shaped masterpiece, a sweet nod to Spongebob's cosy home! This cake is adorned with all the cute edible decorations you'd expect from Bikini Bottom—sea shells, jellyfish, and playful seaweed dancing around the cake.
So, consider this cake to celebrate the friends who understand your quirks, are always ready for silly adventures, and make every day full of joy and laughter!
Harry Potter Character Cake With Fondant Details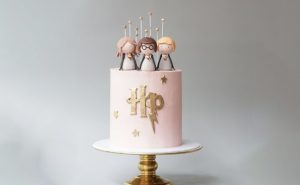 Remember those school trips to movie theatres for Harry Potter movies, where discussions with friends ensued after each epic screening? This cake is a delectable time machine that takes you back to those nostalgic moments.
Neatly covered in pastel pink frosting, it's a tempting treat that beckons you to take a bite. And there, in the front, the golden "HP" logo shines in its unique typography, surrounded by dazzling golden stars—the very symbol of the journey that brought you and your friends together. But the real magic happens on top of the cake, where adorable fondant figures of Ron, Harry, and Hermione don their Hogwarts uniforms, each marking the start of an extraordinary friendship. Just like them, your friends have been by your side through every triumph and tribulation.
As you savour this delicacy, let it remind you of the unconditional love and support that have marked your friendship tale. And celebrate the camaraderie that blooms like the sweetest magic, filling every moment with wonder and joy!
With this, we have reached the finale of this delectable journey! We hope that a few options tickled your taste buds and will find their way into your celebrations. Amidst our busy schedules, time with friends can be scarce, so remember to make this Friendship Day an unforgettable blast! Here's to you and your incredible squad—may your bond grow stronger with every shared laugh and cherished memory. Happy Friendship Day!