India is a land of rich and diverse cuisine, where food is not just a source of nourishment but also a way of life. The desserts of India are particularly famous for their unique flavours, textures, and aromas that bring back nostalgic memories of childhood and home.
"Har tyohaar ki shobha, har maahol ki shaan, har kisi ki pasandida, har Rajya ki pehchaan! Aakhir Mithai hi toh hai hamare khushiyon ki dukaan!"
From the creamy rasmalai of West Bengal to the sweet jalebis of North India, Indian desserts have a way of warming the heart and soul. In fact, our desserts are a celebration of our culture, traditions, and the joys of life.
This blog explores and pays an ode to some of the most popular desserts in every state of India.
Andhra Pradesh: Qubani Ka Meetha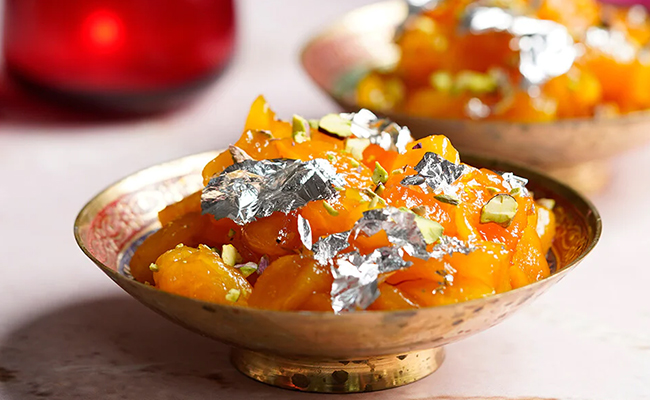 The name "Qubani ka Meetha" translates to "sweet made from apricots," which reflects the dessert's main ingredient. A popular dessert with a sweet and tangy taste, Qubani Ka Meetha is made with apricots, sugar, and cream. It has a rich and creamy texture and is usually served cold. One can enjoy this versatile dessert on its own, or one can pair it with other sweet treats like jalebi or gulab jamun. A bowl of Qubani Ka Meetha is a perfect way to end a spicy Andhra meal.
Assam: Pitha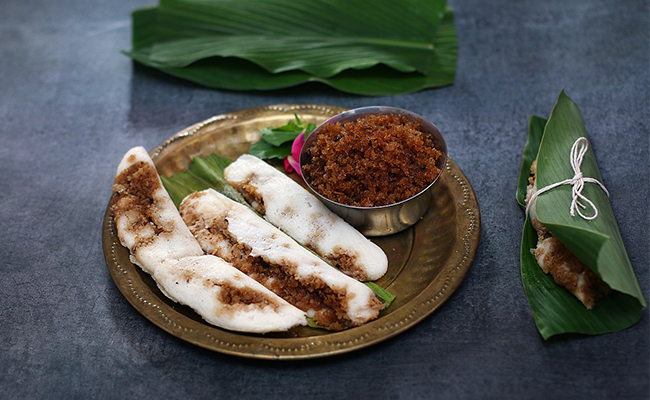 Pitha is one of the best desserts from the northeastern state of Assam, India. It is a type of rice cake with a soft and chewy texture that is made with rice flour, jaggery, and coconut. This dessert is often served with a special type of tea called "suali cha" and is a popular treat during the festival of Bihu. It has a smoky flavour as it is typically cooked over a wood fire.
Bihar: Khaja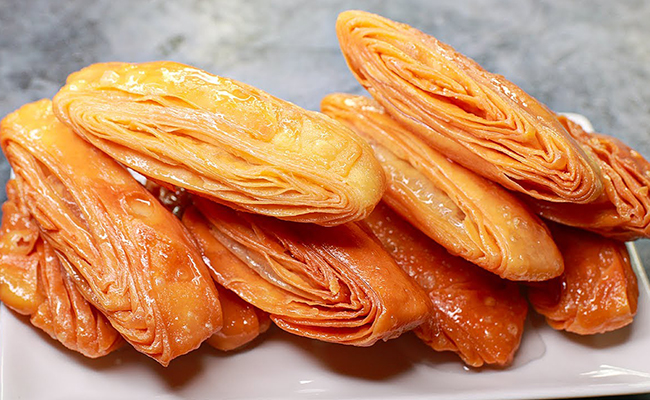 Khaja is a flaky pastry with a crispy texture and is made from flour, sugar, and ghee. It is also known as "Pheni" in some parts of Bihar. This dessert is often made in large batches and distributed among family and friends during Diwali, making it a social and festive dish that brings people together. Khaja can be eaten on its own or paired with a cup of tea or coffee for a delicious treat.
Chhattisgarh: Petha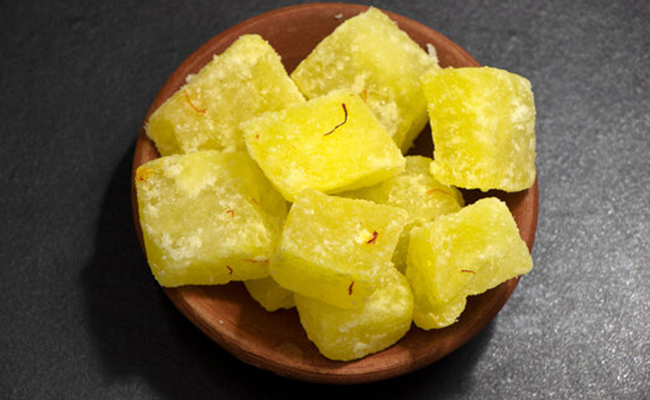 Petha is an all-time favourite sweet delicacy of Chhattisgarh and definitely one of the most popular desserts. And it's hard not to see why! This scrumptious dessert is made from pumpkin, which is peeled, seeded, and boiled until tender. The soft pumpkin is then soaked in sugar syrup, which gives it a sticky-sweet texture and a tempting flavour. It is a low-calorie but high-fibre dessert that can be eaten cold or at room temperature.
Goa: Bebinca
Bebinca is a traditional sweet dish from Goa that is made with coconut milk, flour, and sugar. It is a layered dessert with a soft texture and has a unique flavour and aroma as a result of the slow baking process in which each layer is cooked separately.
Gujarat: Mohanthal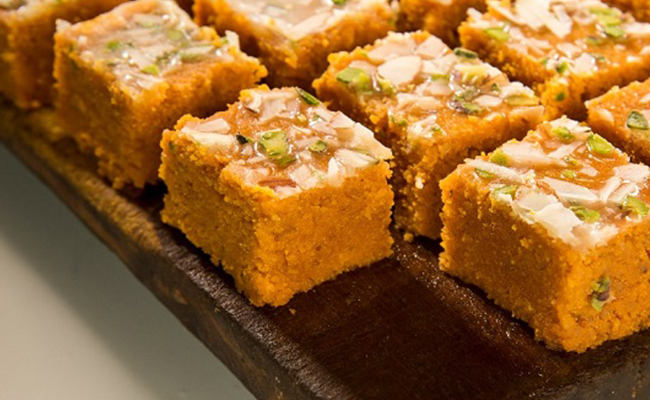 Mohanthal from Gujarat is made using gram flour, ghee, and sugar. Its fudgy texture goes exceptionally well with nutty toppings such as almonds and pistachios. After a hearty Gujarati meal, a bite of rich and nutty Mohanthal hits differently!
Haryana: Doodh Jalebi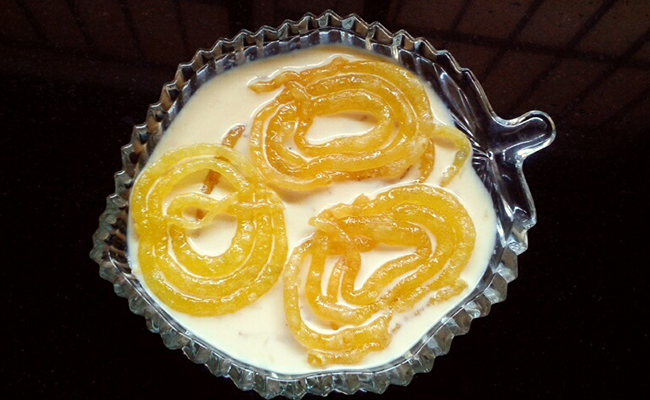 Doodh Jalebi, also known as "Jangiri" in some parts of Haryana, is a unique and delicious treat. This sweet dish is a combination of crispy, fried jalebis soaked in sweetened milk. It is usually served hot, wherein the jalebis soak up the milk and become softer and more flavorful.
Himachal Pradesh: Mittha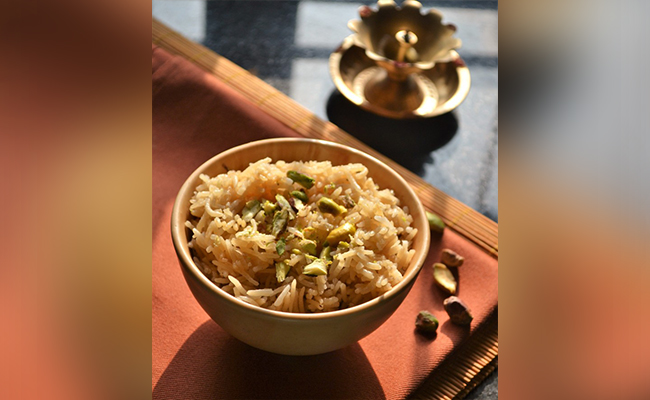 Mittha has the subtle aroma of cardamom and is made with rice, milk, and sugar. This dessert is often on the menu at weddings and is also commonly served as a breakfast or midday snack. Mittha is also known as Meetha Bhaat in some parts of Himachal Pradesh. The dish is a favourite among locals and tourists alike and is a must-try for anyone visiting the state.
Jammu and Kashmir: Shufta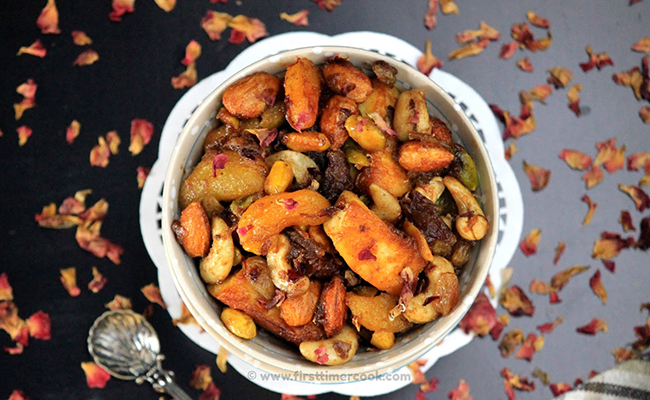 Shufta is a sweet treat made with a variety of dried fruits like almonds, raisins, and pistachios, as well as saffron, cardamom, and rosewater. It has a unique blend of flavours and textures, with the chewiness of the dried fruits and the richness of the nuts. Shufta is typically served as a sweet snack or dessert after a meal and is enjoyed by people of all ages. This indulgent dessert is sure to satisfy anyone with a sweet tooth.
Jharkhand: Anarsa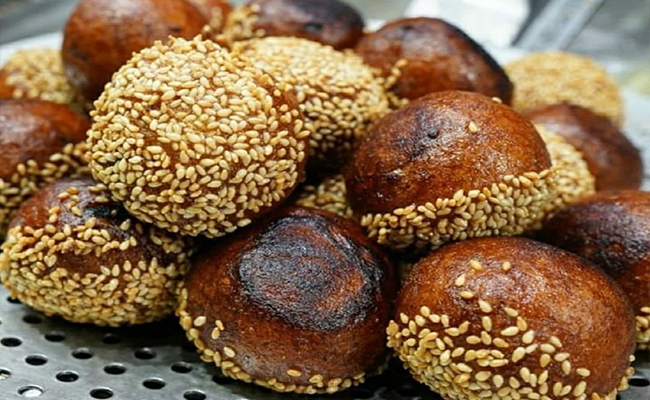 Anarsa is traditionally made by women in Jharkhand, who gather together to prepare large batches of this dessert during the festival of Diwali. The preparations start with soaking rice in water for several hours and then grinding it into a fine powder. The rice flour is then mixed with jaggery syrup and poppy seeds and shaped into small discs. These discs are then deep-fried until crispy and golden brown. So, it has a sweet and nutty taste, which is complemented by the crunch of the poppy seeds.
Karnataka: Mysore Pak
Mysore Pak is a sweet and buttery treat made with chickpea flour, ghee, and sugar. It has a soft and crumbly texture and a rich, caramel-like flavour that is irresistible. Typically served in bite-sized pieces, this dessert is believed to have been created in the royal kitchens of Mysore Palace during the reign of the Wadiyar dynasty. It is often served during special occasions like weddings, festivals, and other celebrations.
Punjab: Phirni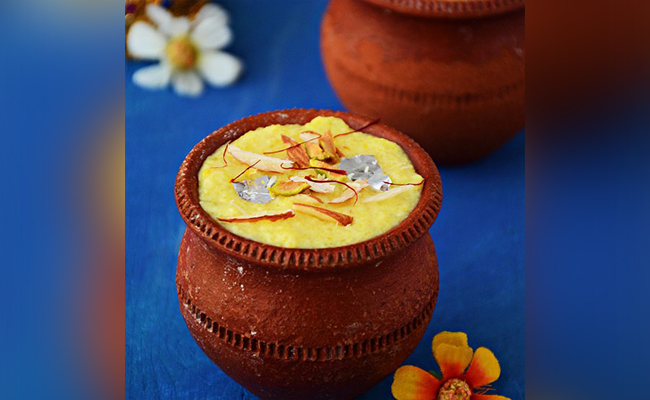 Phirni is a creamy pudding made with rice flour, milk, sugar, and cardamom. It is smooth and silky in texture and is flavoured with saffron, which gives it a delicate aroma and a beautiful yellow colour. It is typically served in small earthen pots called "matkas" and garnished with sliced almonds and pistachios. The dessert is chilled for several hours before serving, which gives it a refreshing and cooling taste. Falooda is another enticing dessert in Punjab which is served cold and enjoyed by people of all ages.
Maharashtra: Modak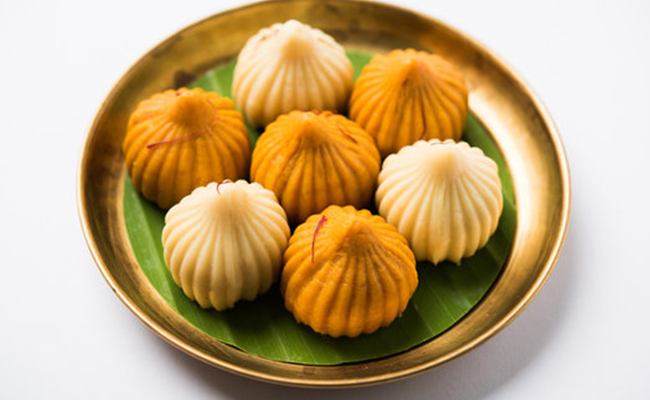 Modak is a commonly savoured sweet from Maharashtra that is often associated with the festival of Ganesh Chaturthi. It is made with rice flour and can be filled with either coconut or jaggery. Modak has a soft and chewy texture and is served as a prasad or an offering to Lord Ganesha.
Uttar Pradesh: Gulab Jamun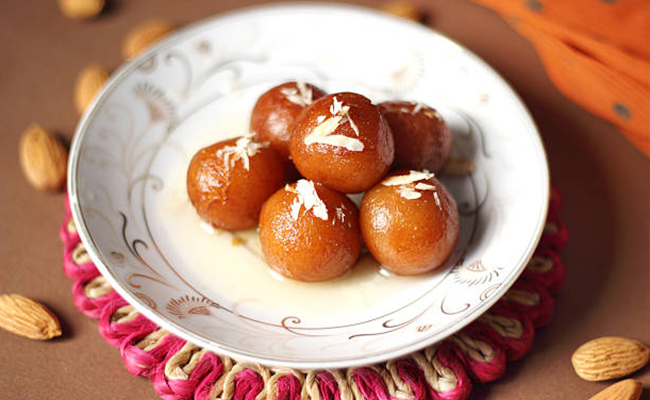 Be it piping hot Gajar ka Halwa or sweet Peda, Uttar Pradesh is home to many delicious desserts. But one of the most popular sweet treats in Uttar Pradesh is "Gulab Jamun". Gulab Jamun has a soft and spongy texture and a tantalising caramel-like flavour. It is made with khoya, flour, and sugar, which is then deep-fried and soaked in sugar syrup. It is typically served hot or warm and is best relished with a scoop of vanilla ice cream or some fresh cream. It is enjoyed by people of all backgrounds and is a staple at restaurants and sweet shops across Uttar Pradesh.
Tamil Nadu: Payasam
Payasam is a sweet rice pudding made with rice, milk, sugar, and various flavourings like cardamom, saffron, and nuts. It is generally served in small bowls or cups and garnished with sliced almonds, pistachios, or cashews. There are many different variations of this dessert, each with its unique flavour and texture. Some of the most popular types of Payasam in Tamil Nadu include "Paal Payasam", made with milk, "Semiya Payasam", made with vermicelli noodles, and "Arisi Thengai Payasam", made with rice and coconut milk.
Tripura: Awan Bangwi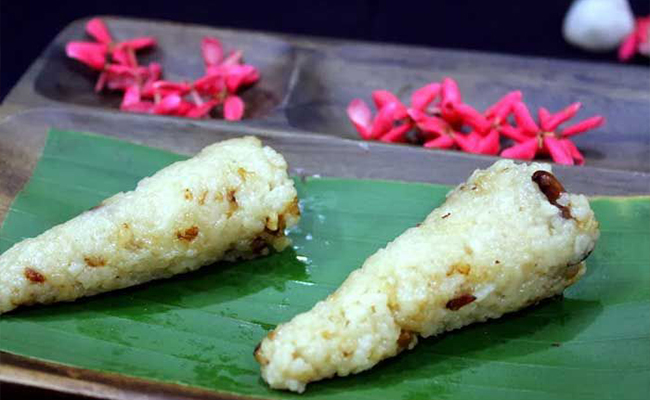 Made from sticky rice flour and jaggery, Awan Bangwi is a traditional sweet dessert from Tripura. The dessert is made by shaping sticky rice flour and jaggery into small balls and then boiling them until they become soft and chewy. It is a soft and chewy treat that Tripurians look forward to during the Bishu festival, which marks the beginning of the new year. The festival is a time of joy and celebration, and Awan Bangwi is a popular sweet that is served to guests during this time.
Mizoram: Koat Pitha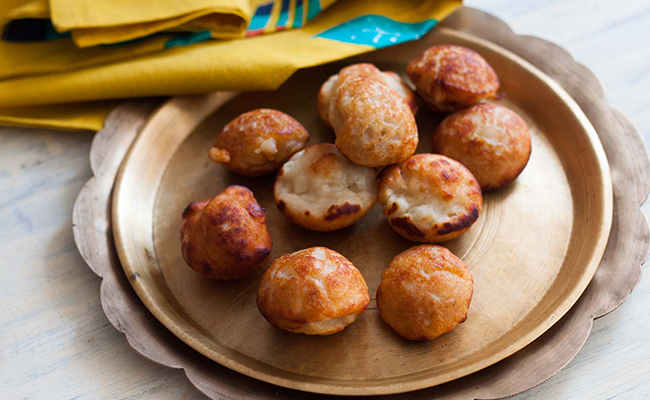 The crispy and delicious Koat Pitha from the beautiful state of Mizoram is made with a mixture of rice flour and jaggery. This delightful treat is deep-fried to perfection until it turns golden and crispy. The crunchy exterior complements the soft and sweet interior, making it taste absolutely scrumptious. It is traditionally served during the Chapchar Kut festival, a festival where people gather to dance, sing, and enjoy traditional food.
Kerala: Unniyappam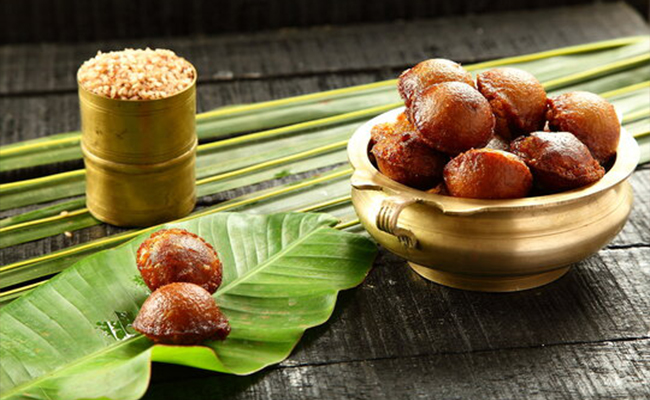 Unniyappam is a sweet, round-shaped fritter made with rice flour, jaggery, and coconut. It has a crispy outer layer and a soft and spongy texture on the inside. Unniyappam is said to have been a favourite of Lord Krishna. Legend has it that Lord Krishna loved these sweet fritters and would often sneak into kitchens to steal them.
Rajasthan: Ghevar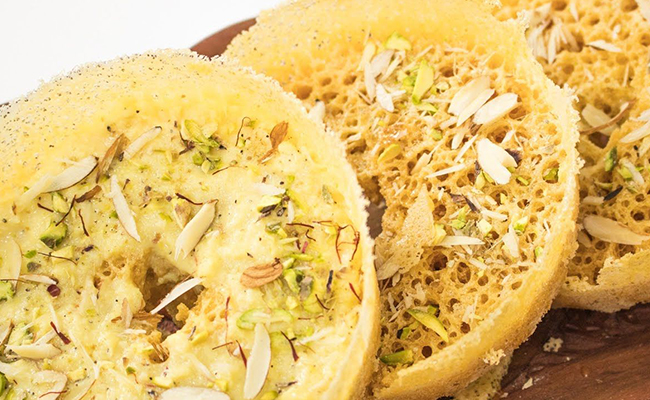 Ghevar is a sweet, disc-shaped dessert made with flour, ghee, and sugar syrup. It has a crispy texture and is often topped with nuts and saffron. Special occasions in Rajasthan, like weddings, festivals, and other celebrations, are somewhat incomplete without Ghevar. It tastes heavenly when served with a dollop of sweetened cream or Rabri, a sweet, condensed milk dessert.
Manipur: Chak-hao Kheer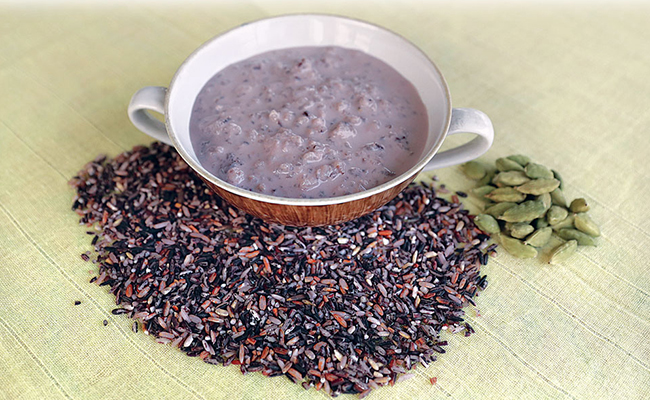 This heavenly dessert from Manipur is a favourite among locals and visitors alike. The use of black rice gives the kheer its signature colour and distinct flavour. Chak-hao Kheer is a staple at weddings, festivals, and family gatherings, making it an integral part of Manipuri culture. Eating this dessert after chilling gives a truly immersive experience, but you can also savour every bite of this creamy delight at room temperature.
Odisha: Chhena Poda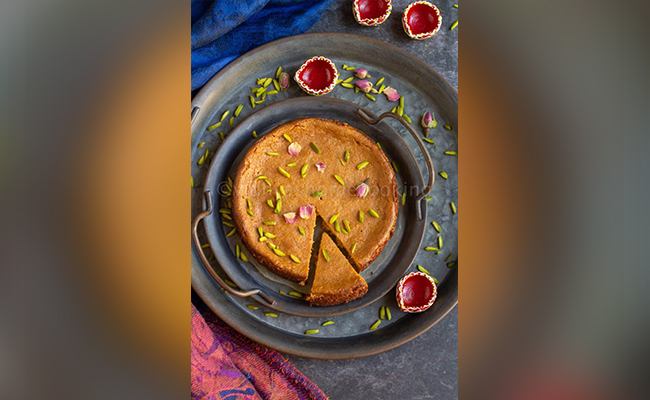 One of the most popular sweets from Odisha, Chhena Poda is a delectable dessert made with fresh cottage cheese, sugar, and cardamom powder. It is popularly eaten on the occasion of Raja Parba and has a unique smoky flavour and a spongy texture. Chhena Poda is typically served in slices and is enjoyed as a snack or a dessert after meals.
Arunachal Pradesh: Khapse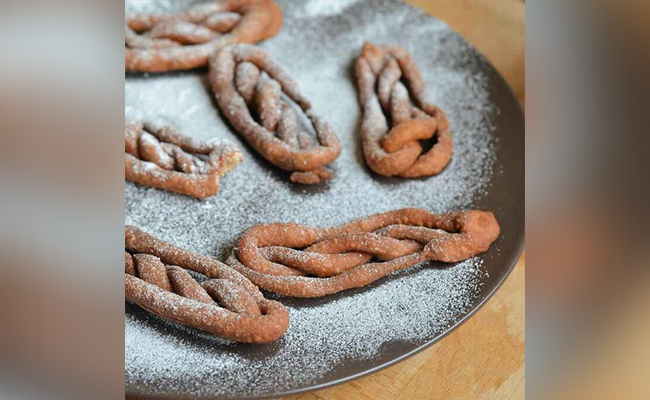 The crispy and mouth-watering dessert of Arunachal Pradesh, Khapse, goes perfectly with a hot cup of butter tea. This traditional dessert is made by deep-frying dough made from flour, butter, sugar, and eggs. The dough is then cut into various shapes, giving it a distinctive and attractive appearance. Khapse, commonly served during the Losar festival, is not just a dessert but an integral part of the culture and traditions of Arunachal Pradesh.
Sikkim: Sel Roti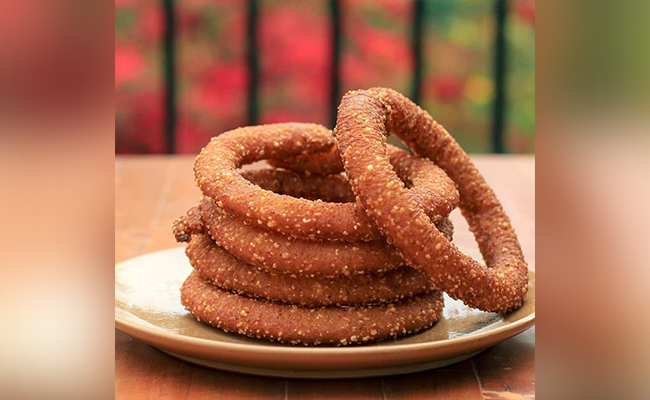 Sel Roti is a traditional sweet bread made from flour, sugar, butter, and milk. It has a crispy outer layer and a soft, fluffy interior, with a subtle sweetness that is balanced by the use of butter. It is traditionally cooked in a large circular shape, requiring a special technique to flip it over while frying. Sel Roti can be found at local markets and fairs as it is a popular street food in Sikkim.
Uttarakhand: Bal Mithai
Uttarakhand's popular dessert is 'Bal Mithai', which translates to 'childhood sweet'. Bal Mithai originated in Almora, a town in Uttarakhand, during the British colonial period. This sweet delicacy is made with khoya and dipped in a sugary syrup infused with cardamom or saffron. It has a unique texture with a chewy outer layer and a soft, creamy centre. While it packs a punch even when eaten alone, it also pairs well with another popular dessert from the state, 'Singhori'.
Nagaland: Nap Naang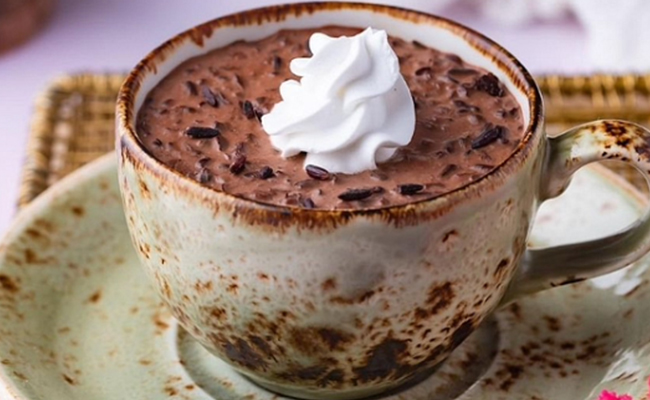 One of the popular desserts of Nagaland, other than Apong, is Nap Naang. This unusual sweet dish is made from rice flour, jaggery, and grated coconut, which are combined to form a thick batter. The batter is then steamed in banana leaves until it becomes soft and spongy, giving it a remarkable texture and taste. This dessert is typically enjoyed during exceptional occasions and festivals, such as the vibrant Hornbill Festival, where visitors can witness and relish the cultural diversity and richness of Nagaland.
West Bengal: Rasgulla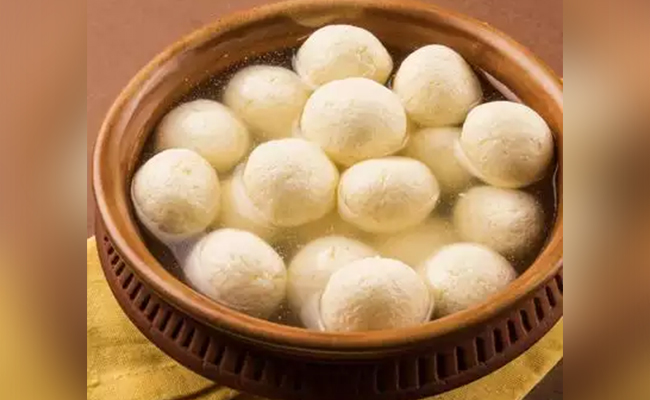 Rasgulla is a soft and spongy treat made from chenna (cottage cheese) and soaked in sweet, syrupy goodness. Though Rasgulla originated in the town of Puri in Odisha, it was Kolkata that gave it fame and recognition across the globe. It is one of the desserts that appeal to all and leaves you drooling just thinking about it. The best way to enjoy Rasgulla is to chill it in the fridge before you dig in. This dessert is so iconic that the state of West Bengal celebrates "Rosogolla Day" on November 14th every year to commemorate this dessert.
Meghalaya: Pukhlein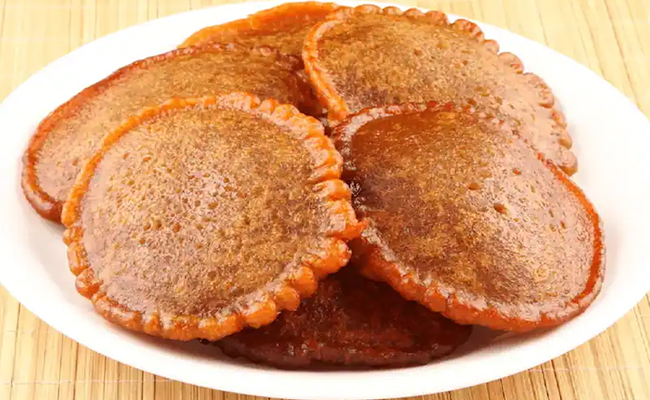 Pukhlein is a deep-fried snack made using rice flour, jaggery, coconut milk and sesame seeds. The dough is prepared by mixing rice flour with jaggery syrup and is then deep-fried until golden brown. The sesame seeds are then sprinkled over the fried dough, adding a crunchy texture and nutty flavour. The locals of Meghalaya enjoy this delicacy as a tea-time snack or a sweet treat, making it one of the most popular desserts.
Telangana: Junnu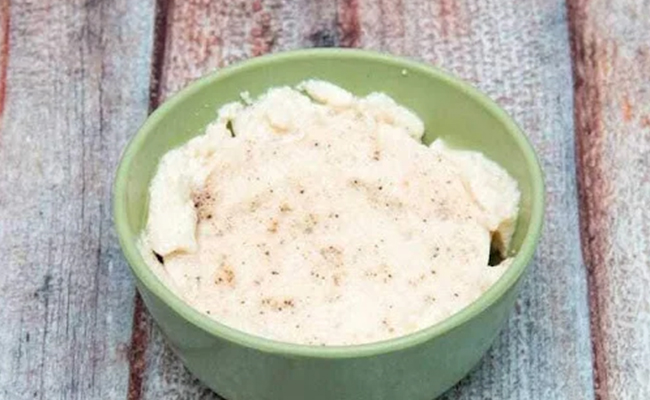 This creamy dessert is a staple in the state and is made by combining milk, jaggery, and cardamom powder. It is often compared to custard or pudding because of its rich and indulgent flavour. Whether you're celebrating Diwali or Holi, Junnu is a must-have dessert during festivals and special occasions in Telangana. In fact, several households believe that consuming Junnu can have various health benefits, such as improving digestion and promoting bone strength.
Delhi: Shahi Tukda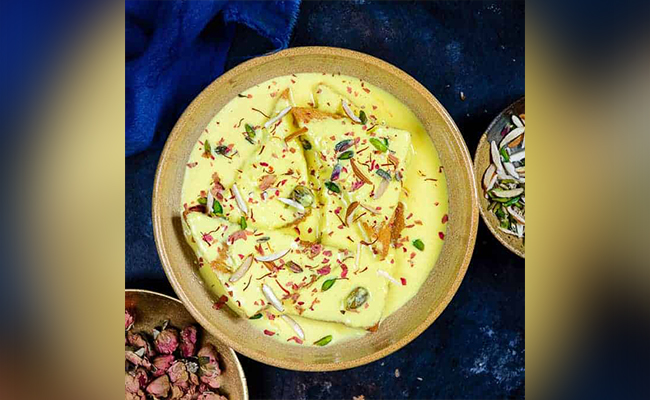 This dessert is like a party in your mouth – crispy fried bread soaked in rich and creamy saffron milk syrup. The origins of this dessert lay in Mughal history. In fact, Shahi Tukda was believed to be a favourite of Emperor Shah Jahan. And judging by how delicious it tastes, it might become one of your favourite desserts too. This dish is best enjoyed chilled and is usually garnished with slivered almonds and pistachios, adding a lovely crunch to every bite.
P.S. After reading this, you might have started craving a toothsome treat, which calls for ordering desserts online! So, fulfil your desire for something sweet with order Bakingo cakes online, and enjoy delight in every bite.