Bangalore's thriving tech industry has earned the nickname "Silicon Valley of India". However, the city's appeal goes beyond technology, as it is also a hub for foodies, offering a diverse and vibrant culinary scene. The city is home to a diverse range of restaurants serving cuisines from all around the world. If you're a foodie visiting Bangalore, you'll be spoilt for choice with the numerous options available. In this blog, we'll list the 15 best restaurants in Bangalore you must visit.
1) Vidyarthi Bhavan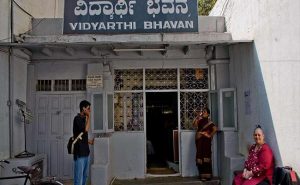 Vidyarthi Bhavan is a landmark eatery in Bangalore that has stood the test of time. Established in 1943, this restaurant has become a go-to destination for locals and tourists alike who are seeking an authentic taste of South Indian breakfast. The menu at Vidyarthi Bhavan is simple yet delicious, with its signature crispy masala dosas, vadas, and filter coffee being the star attractions.
2) The Green Path Organic Cafe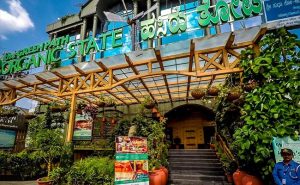 Another best veg restaurant Bangalore includes The Green Path Organic Cafe, located in Indiranagar. This restaurant serves organic and healthy food made with locally sourced ingredients. The decor is earthy and rustic, with a cosy outdoor seating area perfect for a lazy Sunday brunch.
3) The Fatty Bao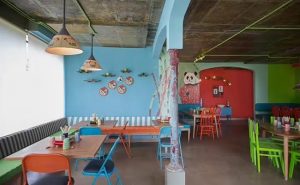 For those who appreciate Asian cuisine, The Fatty Bao is a must-visit restaurant in Bangalore. It seamlessly blends inventive food, vibrant decor, and a fresh twist on casual dining. The chic, laid-back atmosphere is the perfect backdrop for the restaurant's upscale culinary offerings. With dishes such as exotic mushroom ramen and fatty oysters with soy and chorizo, the food will undoubtedly leave you feeling satisfied and content.
4) EDO Restaurant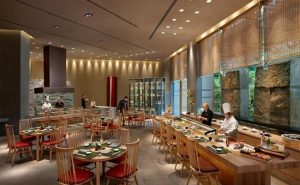 If you're looking for something more upscale, head to EDO Restaurant and Bar, the best restaurant in Koramangala. This Japanese restaurant offers an extensive menu of sushi, sashimi, and a variety of sake and cocktails. The decor is elegant and modern, making it the perfect spot for a special occasion.
5) Skyye Lounge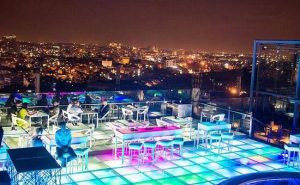 If you're looking for a rooftop dining experience, head to Skyye Lounge in UB City. This rooftop bar and restaurant offers stunning views of the city, along with a range of cocktails and bar bites. The ambience is chic and sophisticated, making it perfect for a fancy night out.
6) Black Pearl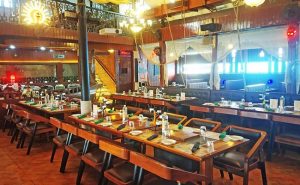 Black Pearl is a popular fine dining restaurant located in Bangalore, offering a luxurious ambience and delectable cuisine. The restaurant's menu offers a blend of Indian, Chinese, and Continental dishes, crafted using the freshest ingredients and authentic spices. The menu has a range of vegetarian and non-vegetarian options, providing a wide variety of choices to its guests. The restaurant's elegant decor, warm hospitality, and impeccable service make it an unforgettable dining experience. It's an ideal spot for romantic dinners, family gatherings, and corporate events.
7) Shizusan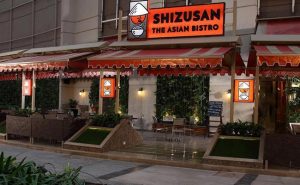 For those who love Asian cuisine, we have Shizusan in Phoenix Marketcity, Whitefield. This restaurant serves a range of Asian dishes from countries such as Japan, Korea, and Thailand. The decor is modern and sleek, with a cosy outdoor seating area perfect for a lazy Sunday brunch.
8) Hi Seoul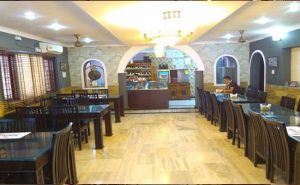 You will find various restaurants in Kalyan Nagar with numerous options for foodies. Hi Seoul is a Korean food joint that will leave your taste buds tingling with delight. While the diner's appearance might be deceivingly modest, it's a must-visit destination for those who are passionate about Korean cuisine and the 'purple army' in particular.
9) Mahesh Lunch Home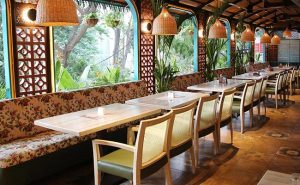 For those who love seafood, we have the Mahesh Lunch Home in Indiranagar. This restaurant serves some of the best seafood dishes in the city, with a focus on traditional Mangalorean cuisine. The decor is simple and unassuming, but the food is a real treat for the taste buds.
10) Barbeque Nation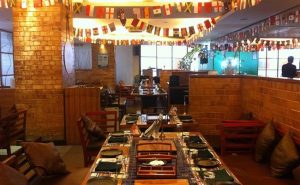 For those who are looking for the best buffet in Bangalore, then Barbeque Nation in JP Nagar is a must-visit. This restaurant offers a wide variety of vegetarian and non-vegetarian dishes cooked on live grills right at your table. The dessert section is also a highlight, with a range of sweet treats to indulge in.
11) Karavalli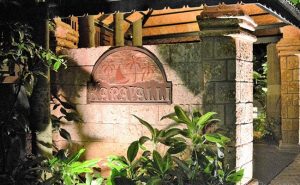 Karavalli is heaven for foodies who are looking for an exceptional dining experience. The restaurant's elegant and sophisticated ambience is matched by the exquisite coastal cuisine it serves. The menu is extensive, offering a range of delectable seafood, meat, and vegetarian dishes that showcase the unique flavours and ingredients of coastal India. Whether you're a fan of spicy curries or delicate seafood dishes, Karavalli has something to offer.
12) Mavalli Tiffin Room (MTR)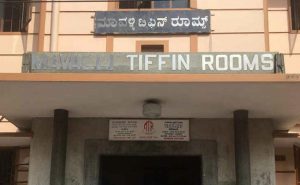 For a taste of traditional South Indian cuisine, head to Mavalli Tiffin Room (MTR) restaurant in JP Nagar. This restaurant has been around for over 90 years and serves some of the best dosas and idlis in the city. The decor is simple and no-frills, but the food more than makes up for it.
13) The Only Place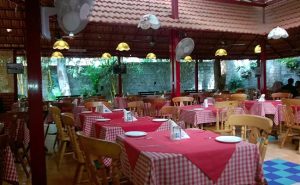 Last but not least, we have The Only Place on Museum Road. This restaurant is a meat-lovers paradise, serving a range of steaks and other meat dishes along with a variety of sides. The decor is cosy and rustic, making it perfect for a hearty meal with family or friends.
14) Shiro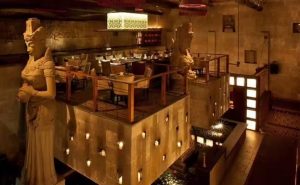 Shiro is a fine dining restaurant in Bangalore that offers an upscale Japanese-inspired dining experience. The restaurant is known for its elegant decor, which features sleek lines, dark wood accents, and a calming colour palette that creates a serene atmosphere. The menu at Shiro is extensive, with a range of dishes that highlight the flavours and techniques of Japanese cuisine.
15) The Glass House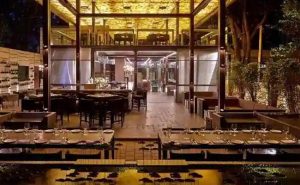 Located in the heart of the city, The Glass House is a multi-cuisine restaurant that offers a range of dishes inspired by Indian, European, and Asian cuisine. With its relaxed and inviting ambience, the restaurant is the perfect destination for a laid-back meal with loved ones, whether it's with friends or family.
Bangalore's diverse culinary scene offers something for everyone, from traditional South Indian cuisine to international dishes that incorporate local ingredients. With so many amazing restaurants to choose from, visitors and locals alike are spoiled for choice when it comes to dining out in the city. Whether you're in the mood for some of Bangalore famous food or want to try something new, there is no shortage of options to choose from. And if you have a sweet tooth, don't forget to check out some of the city's famous cake shops, many of which offer convenient cake delivery in Bangalore. So next time you are in the city, be sure to explore all that Bangalore's food scene has to offer and indulge in some of the most delicious food you will ever taste.