Welcome to a world of tropical indulgence, where coconut is the star of the show!
Coconut cake is a commonly-eaten dessert that is loved by many, and for all good reasons! The delicate coconut flavour and texture are what make this cake so unique and delicious. So, baking this in your kitchen is a must to let your loved ones groove to its taste!
We are here with an easy-to-follow recipe for you so that you can add another feather to your hat as a home baker. Our easy coconut cake recipe will transport you to a place where palm trees sway, and the scent of coconut fills the air.
Baking coconut cakes is the perfect way to add an exotic touch to your dessert table, whether it's for an important occasion or just a sweet treat for yourself. So why settle for plain vanilla cake when you can add a bit of island flair to your baking?
Follow this simple recipe, and you'll be on the way to impressing everyone in your circle who has a sweet tooth.
Ingredient List: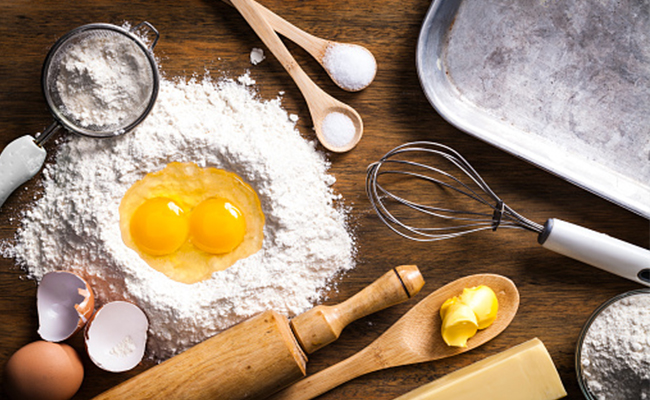 1 cup unsalted butter, softened
2 cups granulated sugar
4 large eggs
3 cups all-purpose flour
1 tablespoon baking powder
1/2 teaspoon baking soda
1/2 teaspoon salt
1 cup coconut milk
1 teaspoon vanilla extract
1/2 cup shredded coconut
Instructions:
Firstly, preheat your oven to 350°F (175°C), followed by greasing a 9-inch cake pan with cooking spray or butter.
Cream the butter and sugar using an electric mixer in a mixing bowl until they appear light and fluffy.
Now, add the eggs to this, one at a time, beating well after each addition.
Take a separate bowl and sift together the flour, baking powder, baking soda, and salt.
Now, you have to gradually add the dry ingredients to the wet butter mixture, alternating with the coconut milk. Mix well after each addition.
To this mixture, stir in the vanilla extract and shredded coconut.
Pour the batter into the pan you prepared earlier and smooth the surface with a spatula.
Bake this for 45-50 minutes, or until a toothpick inserted into the centre of the coconut cake comes out clean.
Keep the cake aside and let it cool in the pan for around 10 minutes, then remove it from the pan and transfer it to a wire rack to cool completely.
Once the cake is cool, if you want, top it with frosting or whipped cream and sprinkle additional shredded coconut if desired.
Tips: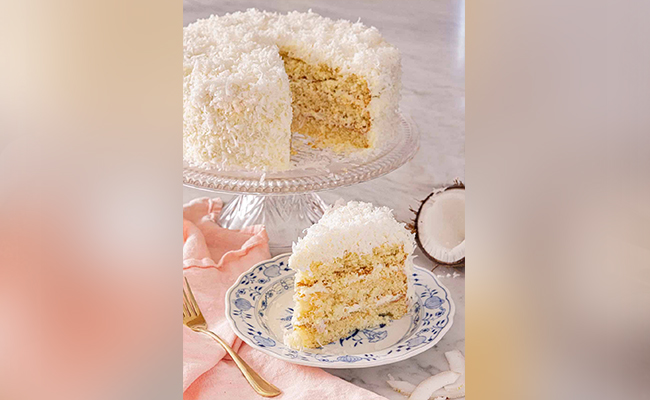 To enhance the coconut flavour, you can substitute coconut oil for some or all of the butter in the recipe.
Make sure to use full-fat coconut milk for the best results.
If you don't have shredded coconut on hand, you can opt for sweetened or unsweetened flaked coconut instead.
To enhance the coconut flavour, you can choose to add a few drops of coconut extract to the batter.
Common Mistakes to Avoid:
Over-mixing the batter can result in a tough and dense cake. So, be sure to mix only until the ingredients are just combined.
Using cold butter can make it difficult to cream the butter and sugar together properly, resulting in a lumpy batter. So, be sure to allow the butter to come to room temperature before beginning the recipe.
Using too much flour can also result in a dense cake. To avoid this, measure your flour accurately using the spoon and level method.
Not greasing the cake pan properly can cause the cake to stick to the sides, making it difficult to remove. So, don't forget to grease the pan well with cooking spray or butter.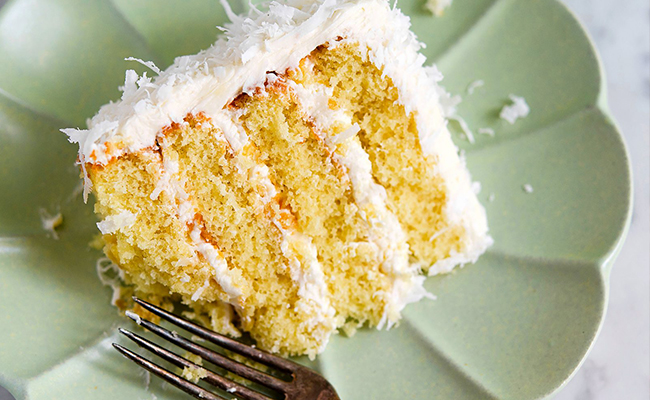 Conclusion
If you're a fan of coconut or just looking to try something new, baking a coconut cake using this recipe is definitely worth a try. This easy recipe will not only help you bake a delicious dessert but will also make you the crowd's favourite.
By following these simple instructions and avoiding some common mistakes, you are bound to make a cake that will impress everyone. And once you've tasted this scrumptious cake, you'll understand why it's a classic dessert that has been enjoyed for generations.
So, give this recipe a try and enjoy the taste of the tropics right in your own kitchen! But if the craving is too much and you have little time to spare, you can also have a dessert party for yourself by ordering a coconut delicacy from an online cake shop.