Pinata cake recipe: It seems like the entire world has been taken up by the roar since the time lockdown has been brought into the picture. Some industries did face some severe consequences, but luckily enough, the baking industry was still put into business because of all the upcoming trends. We saw Dalgona coffee was one thing in which people all over the world showed their interest, and sooner or later came the pinata cake into the picture.
People mostly love to order cake online from some online bakery which would offer them no contact delivery at such times. But since they fear the "what ifs", they mostly are preferring to take things in their hands and to give a try at baking. Talking of a trending cake-like pinata cake, we have to mention how everyone is looking forward to celebrating their birthdays and other special occasions over this cake in this lockdown 2.0.
A Pinata cake can be described as a shell-based cake that has been filled with some fun treats which are too edible. Remember the time when a pinata or a balloon was tied and suspended which when burst gave us some of our favourite candies and chocolates? This is the original idea behind the pinata cake. The best part about making a chocolate pinata cake is that it requires just two ingredients to make the shell and the inside of such cake can be filled with any kind of fruit, chocolates, candies and other such edible surprises. Here we are with an easy pinata cake recipe, that is worth giving a try. 
Ingredients
200 grams white/dark/milk chocolate

3-D pinata mould

Fillings for pinata cake
Let's Start Making!
Start by melting the chocolate until it attains a smooth or lump-free consistency.

Pour it into the heart-shaped mould and spread the mixture evenly so that it covers all the edges and sides of the mould.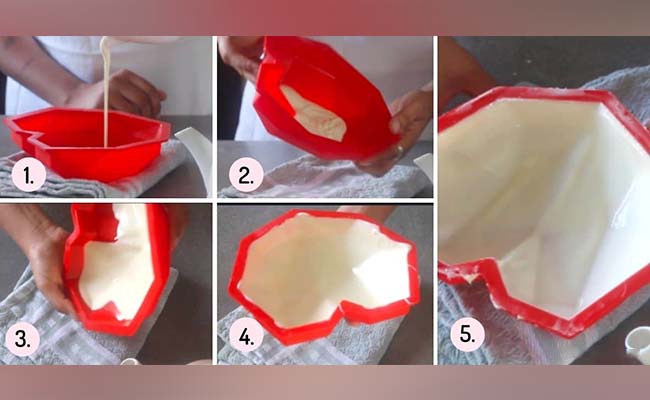 Pour excess chocolate back into the mould and refrigerate the mould for about 10 minutes or so, till the chocolate sets in.

Now after the first layer of chocolate has set in, pour some more. And smear it evenly all over the cake mould. If you feel that at any place the layering is thinner, take a pastry brush and even out by applying some more.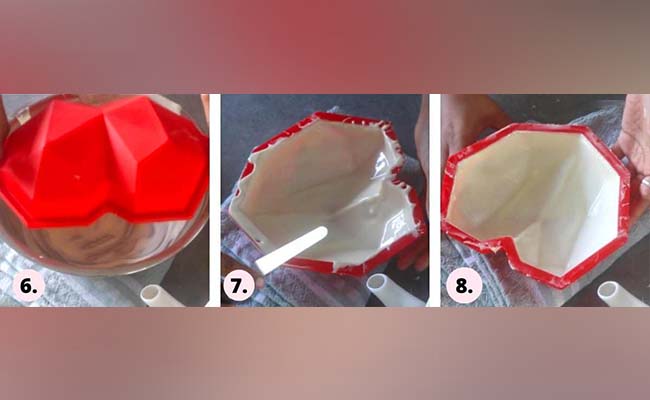 Then again refrigerate the cake mould for about 10 minutes or so.

After this is done, carefully peel out the white chocolate shell from the cake mould.

Now decorate the shell, just the way you want. Drizzle it with some chocolate sauce and sprinkle some colourful sprinkles.

Fill up the pinata cake with some sweet treats of your choice and let the good times roll for you and your loved ones. Hurray!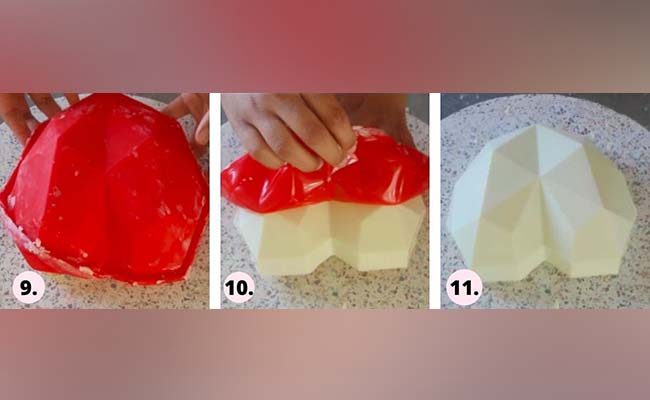 Process Of Making Pinata Cake Is Unusual Yet Pleasing
When it comes to baking, you might have noticed that baking a pinata cake is way different from baking regular chocolate or any other kind/flavour of the cake. There's no such thing as cake layers in such types of cake as well no need of greasing the mould, prior to making the shell of the cake. When it comes to filling the pinata cake, the sky is your limit. You can go as crazy as possible and pick out different candies, chocolates, toffees etc. As you present it to someone, make sure to hand over a hammer to break open the pinata cake and not a sharp knife to cut the cake off. Honestly, that's the best part of this cake!