Baking without an oven? Yes! It's not a new technique and is being used for many decades across the world! As we all are aware that pressure cookers are the primary utensils that are found in the Indian houses. This is the reason why many people in India prefer baking a cake in a cooker rather than an oven. But the real question is how to bake a cake in cooker? Well, baking a cake in pressure cooker is no rocket science and you can easily prepare homemade cooker cake with the help of the recipe we have discussed below! So, without further ado, let's get down to it.
Tips and Tricks of How to Bake Cake in Cooker
Any aluminum pressure cooker or pan works great to use as a replacement for an oven for the cake baking.
A heavy aluminum cooker may not get spoilt whenever utilized properly for baking. Abstain from utilizing light weight cookers. Likewise avoid steel cookers.
Make sure you spread some salt before baking in a cooker. Salt ingests some warmth from the hot base and forestalls overheating the cooker base. Overheating aluminum cookware can debilitate the material and harm the shape.
Don't use the cooker for putting in cold dishes and don't wash it or flood it with water just after baking. Such sudden temperature variations might weaken the material. Let the cooker cool down normally before utilizing it again.
Do not utilize weight and gasket while baking.
Ingredients of How to Bake Cake in Cooker

1 ¼ tsp baking powder
1 pinch salt
1 ½ cups all purpose flour
½ tsp baking soda
1 cup milk
¾ cup sugar
1 ¼ tbsp vinegar
½ cup oil
2 tsp vanilla extract
100 gm chocolate chips (for frosting (optional))
Recipe/Instructions of How to Bake Cake in Cooker
Preparation
Oil 7 inch cake plate. Dust with flour equally or line a parchment paper. Keep it aside.
Add salt to the pressure cooker and spread it equitably.
Cover this salt with a plate.
Put a hot pot stand or ring over the plate.
Remove the weight and gasket.
Cover the pressure cooker and start heating it on medium flame.
Making Cake Butter
Pour sugar, vinegar, milk, and vanilla into a bowl.
Mix it well until the sugar dissolves.
Now put a sieve on the bowl.
Add baking powder, flour, baking soda, and salt to it.
Gently mix it and then sieve it.
Mix it well but don't over mix the batter.
Pour this mixture into the pan. Knock it a few times.
How to make pressure cooker cake?
Place the cake plate inside the cooker on the top of the stand. Make sure the cooker is hot.
Cover the cooker with a lid.
Bake for around 45 minutes to 1 hour on low flame.
Insert toothpick into the center and bake till it comes out clean.
The cake should be completely dry. If it's moist, bake for a few more minutes.
Cool it for around 15 to 20 minutes on a wire rack.
Now invert it on the rack and cool it completely before slicing.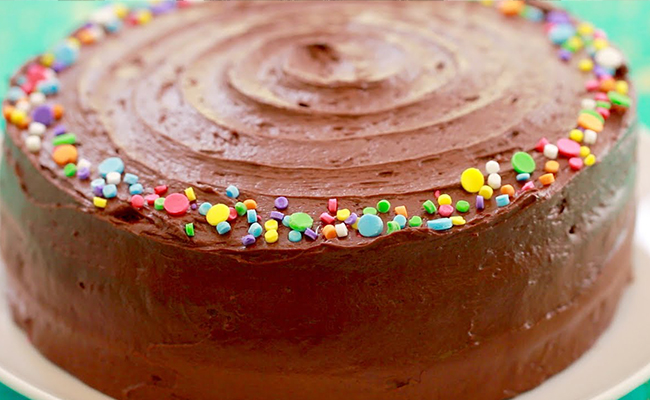 As for the frosting, you can follow any basic frosting recipe according to the frosting you want to apply on the cake. If you want to go with the chocolate chips frosting, then pour water into the pan halfway through and heat it. Place another bowl on the top of hot water and add 100 gms of chocolate. Keep stirring until the chocolate melts. Now let it cool and pour the chocolate over the cool cake. Add some funfetti or sprinkles. Enjoy the delicious cake!
So, that's how making cake in cooker works! Hope you bake chocolate cake or any other cake of your choice at home perfectly by following this simple recipe. Happy baking!