There is continually something new and inventive going on at the wedding cake division. No wedding reception is complete without an extravagantly decorative cake; like any other detailing of your wedding, the wedding cake should likewise be tremendous and personal to your needs. Picking your wedding cake, its flavour, components, and so forth can be one of the most fun and creative pieces of your wedding arrangements. There are a significant number of things that you need to do when you get your D-Day date, and wedding cakes are on the list! Well, we are here to help you out with some unique wedding cake designs.
Animated Couple Miniatures Cake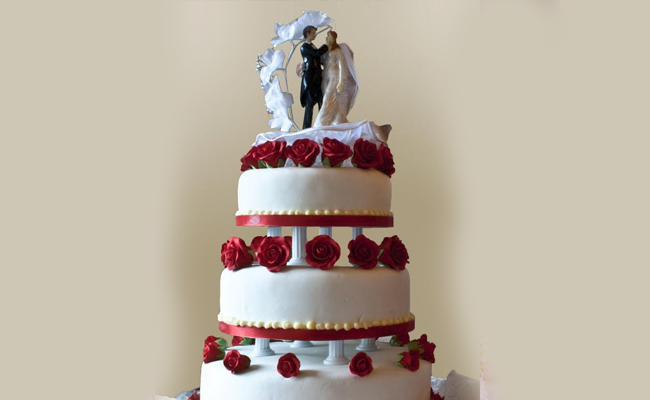 WOW is the word that describes this delightful cake. These cakes are mostly made out of fondant and are beautiful. You can get these cakes customised according to your favourite flavours. Also, you will have the option to choose between the edible and non-edible miniatures. The miniatures on the top of the cake will add that extra cuteness to your wedding reception.
Wedding Vow Cake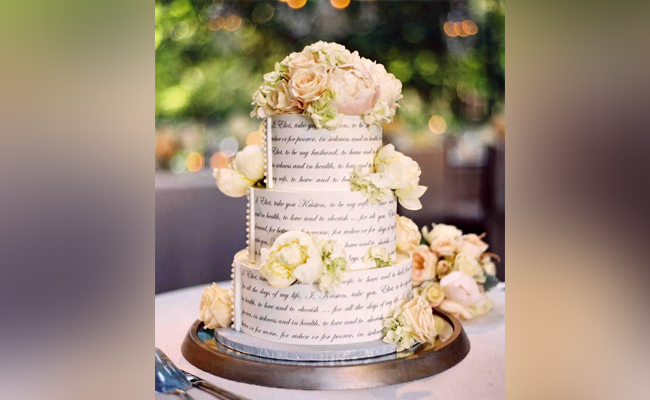 A cake with all your wedding vows written on it! Can it get more romantic than this? Pen down all the wedding vows and get it printed on a two-tier or three-tier cake of your choice. You can even go all fun with the wedding vows by getting some thoughtful, funny promises written on the cake. This cake is sure to attract the guests at the reception.
The Drunken Bride Cake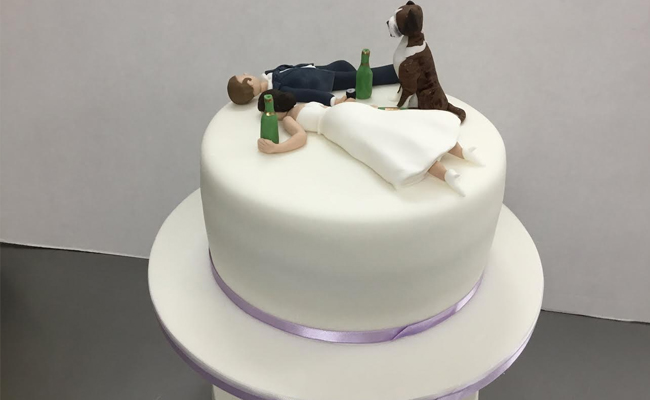 Every boozer bride will relate to this funny cake. Get the fondant cake designed with the bride laid down drunk on the top of the cake and the groom waiting for the wife. This funny cake will bring a smile to the faces of the guests at the reception. You can make it more fun getting a witty or sarcastic joke printed on the top of the cake. 
Floral Wedding Cake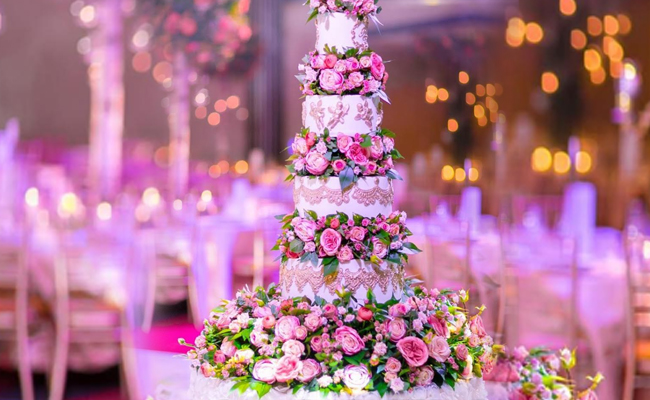 This cake is one of the most preferred cakes because of the beauty that it carries. The floral cakes are filled with enthralling flavours and heavenly essence. The swirls on the tiers of the cakes make it unique and attractive at the same time. The flowers that are used to decorate can be either edible flowers or can be prepared using cream frosting.
So, these are one of the best and unique wedding cake designs that you can choose for your wedding! You can also suggest your loved ones about these cakes if they are getting married. The wedding cakes that we have mentioned can be easily ordered from any online bakery. You can get the cakes customised further according to your preferences. Hope you find a perfect wedding cake from the list!