There is no denying that many people are diehard KitKat chocolate fans who can't get enough of binge eating crunchy KitKat. The heavenly delicious blend of KitKat with creamy cakes is indeed blissful. The scrumptious kitkat cakes are trending like anything nowadays as people can never stop drooling over this mouth-watering choco cake blend. KitKat chocolates are now in a cool new scrumptious cake avatar. An irresistible sweet treat for any KitKat lover. However, there are many varieties and styles available in droolsome KitKat cakes. Read this blog to learn about different types of lip-smacking cakes made with yummy KitKats.
Red Velvet Kitkat Cake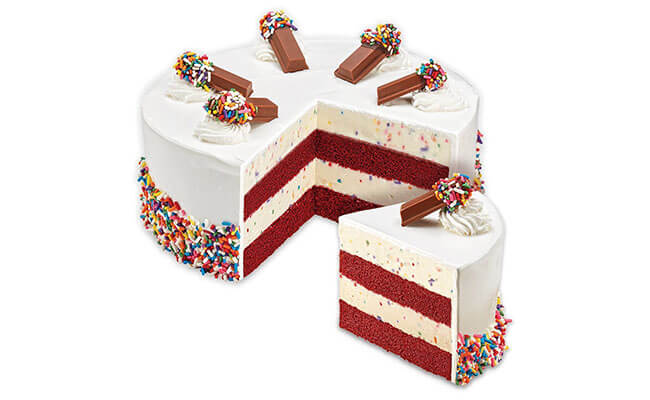 KitKats are scrumptious, and KitKat cakes are even more heavenly. If you wish to woo your friends and relatives, who love to binge-eat KitKat chocolates, you can simply pamper them with drool-worthy red velvet KitKat cakes. A red velvet KitKat cake is one of the best cakes to satiate tooth cravings instantly. You can order such a scrumptious cake blend from reliable online cake shops. This cake is a perfect fit for occasions like birthdays, Mother's Day, anniversaries, engagements etc.
KitKat Gems Cake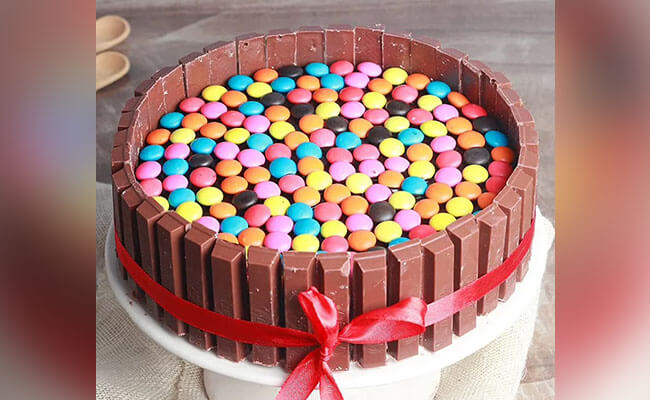 If you are planning to startle your little ones, a KitKat gems cake is all you need. No denying, kids birthday cakes must be delicious and fun-filled. Kids want a cake that is yummy, fresh and looks super attractive. A blissful KitKat cake is an excellent blend of all aspects. A KitKat cake is topped with tiny gems and can be customised with any flavour.
Kit Kat Chocolate Pull Me Up Cake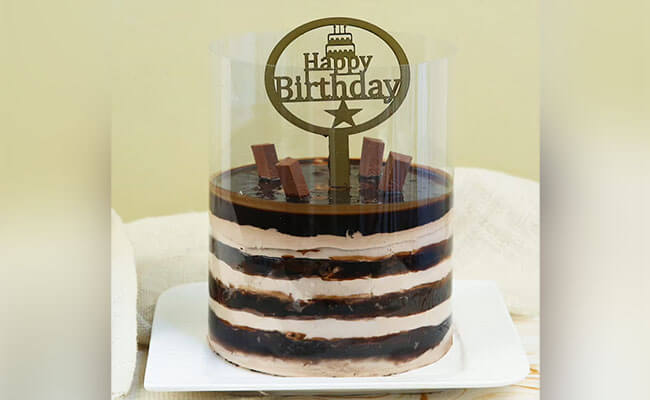 Sparkle up parties and gatherings with a droolsome KitKat pinata cake. Pull me up cakes are already trending like anything, and when you get a mouth-watering blend of KitKat choco pull me up cake, it is definitely lip-smacking. It is undoubtedly the most eye-pleasing KitKat cake design that can make your celebrations more cheerful. This blissful choco cake adorned with crunchy KitKat bars on the top is a must-have thing. So, why wait anymore? Pull some taste and sweetness as you place an order for this fantastic cake. You will surely keep coming back for this drool-worthy cake that looks fantastic.
Kitkat Oreo Wonder Cake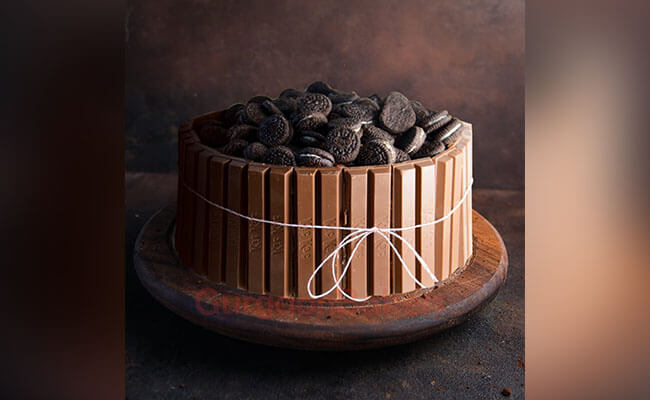 If you're an Oreo lover, delight them with a freshly baked KitKatOreo cake and make your celebrations overwhelming. A tasty creamy cake frosted with drool-worthy ganache and rainbow sprinkles and adorned with yummy Oreos. Sweet and crunchy KitKat bars add much-needed deliciousness to this cake.
Hearty Choco Kitkat Cake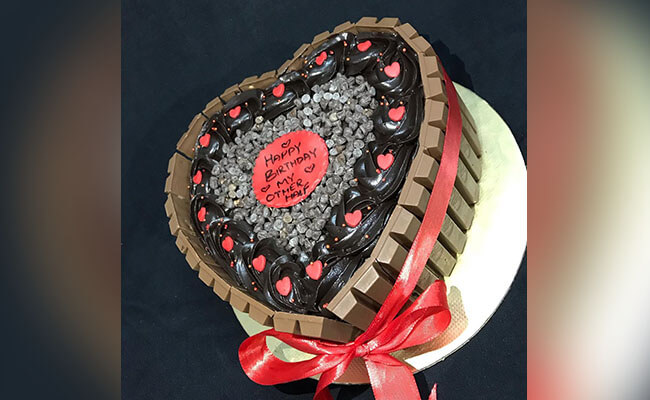 Melt your loved one's heart with this hearty, delicious choco KitKat cake. A blissful cake for celebrations like birthdays, Father's Day, Mother's Day, anniversaries, friendship day etc. A chocolate cake loaded with mini KitKat bars can not be missed. Above all, a heart shaped choco KitKat cake will instantly make the recipient on cloud nine. So, no more waiting; just place an order for this super yummy KitKat cake. You can seek a midnight cake delivery and send a heart shaped choco KitKat cake to startle your friends.
Vanilla Kit Kat Cake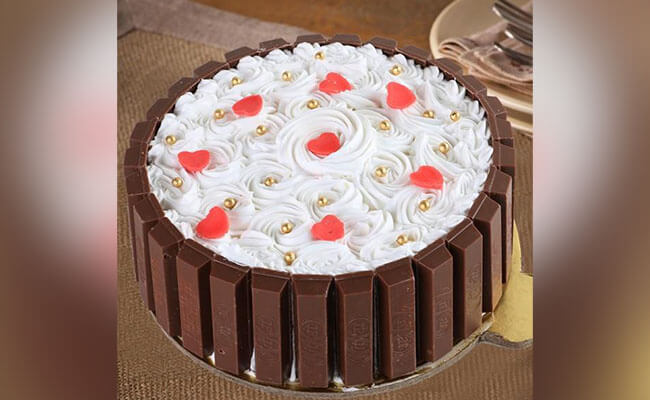 One can never get enough of an uttery delicious vanilla cake. A soft cake loaded with whipped cream and essence of vanilla is indeed a droolsome combination. A Vanilla cake is loved by almost everyone. There may be a variety of trending umpteen cake flavours, but nothing can beat the evergreen taste, texture, and aroma of a vanilla cake. Imagine a vanilla cake adorned with crunchy KitKat bars on the top. It indeed gets you drooling over it. Get your hands on vanilla KitKat cake and make your parties extra cheerful.
KitKat Pinata Cake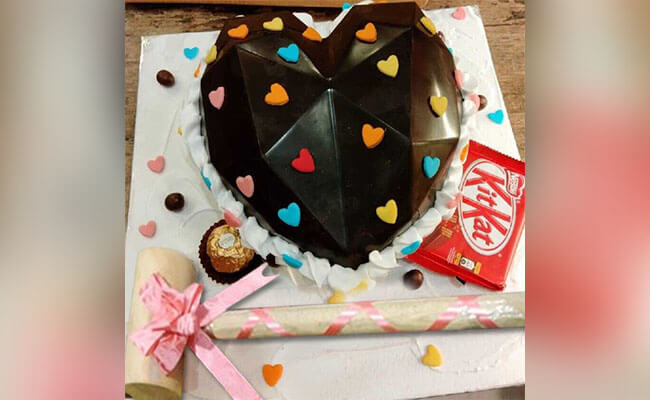 Get ready to smash the most irresistible cake in town. Yes, you read that right, now you can make your celebrations more fun-filled with trendy KitKat Pinata cake. As we all know, these smash cakes are the latest buzz in the cake industry, and when you add crunchy KitKats to this cake trend, it ultimately becomes super yummy. You can buy these cakes online and give a sweet surprise to your dear ones.
Capping Words
So, satisfy your sweet tooth or woo your special ones with these fantastic KitKat cakes. You can order KitKat birthday cakes to make them feel on cloud nine. Pick any of the blissful KitKat cakes discussed above and make your parties more fun-filled.