Like birthdays and anniversaries where you celebrate your relations; there is one more day to celebrate the pious relationship of student-teacher, it's Teacher's day!  Every year, on 5th September, Teacher's Day is celebrated across the nation. 
5th September is also the birth anniversary of Dr Sarvepalli Radhakrishnan–The first Vice President and the second President of India as well as an educationist at heart. While around the globe, Teacher's Day is celebrated on 5th October, in India, we started celebrating it on 5th September 1962. 
Wondering Why We Celebrate Teacher's Day and on 5th September? 
Firstly, we celebrate it on 5th September because it's the birthday anniversary of Dr Sarvepalli Radhakrishan–a distinguished envoy, academician, advocate of education, and above all a great teacher. Secondly, the name makes it evident why we celebrate it. It's the day dedicated to teachers and acknowledgement of their valuable lessons and contributions in shaping student's lives. 
In schools, students pay tribute to their teachers by extending gifts, praising them through words and speeches, and enactments. On the whole, with their gestures, students make Teacher's Day memorable for their mentors and guides. That's why for students there is importance of teachers day celebration in school because seniors get a chance to dress as their favourite teacher while the rest of the students it's a day for fun and to give wings to their creativity.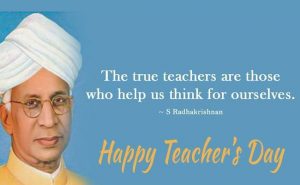 Importance of Teachers Day 
Teaching is one of the noblest professions in the world. By choosing to spread wisdom and knowledge; Teachers, Mentors, and Guides contribute to developing a world of an educated population. A world with a more educated workforce can only progress and become a developed nation. Dr RadhaKrishnan in his book, "Political Thinkers of Modern India" indicated that teachers play a massive role in building the nation and the significance of teachers and education for a developing nation like India; hence they deserve the utmost respect. He also wrote a book on Bhagavad Gita in which he characterized the teacher as, "The one who emphasizes on presentation to converge different current thoughts to the same end." 
"Guru is higher than God," because the Guru leads you to God. Jesus said, " I am the way. If you have to go to my father, go through me." Jesus took all the pain and suffering for the sake of his disciples. That is the compassion of the Guru. ~Sri Sri. 
In a rundown, the day is celebrated to honour the teachers– the architects of society without whom no society can progress and develop. 
Respect and appreciate your teachers; they are the sole reason you can read this and write. Keep them in your heart and prayers forever. Amen.