Cake– A baked goodness that tempts the senses with its artistic appeal and finger-licking good taste. The whipped buttercream between the several cake layers, the fondant figurines on top of the cake, the chocolate shavings on the side, the design makes the cake an irresistible beauty! 
With the advances in baking technology, cakes have become another synonym of creativity, art, and magnificence; thus paving for designer cakes. Designer cakes are fondant cakes that are baked and shaped to imitate real-life objects and emotions.
As it is possible to get your cake designed in any shape or form; we have bought for you design ideas of cake for gym lover. So, let's burn calories, sweetly!
1. A GYM Theme Cake: A freshly baked sponge cake in the favourite flavour of the recipient, enrobed in fondant sugar sheet, and topped with a fondant figurine of a man working out in a gym setup, and other edible gym equipment makes for the heavenly delight that a gym freak would gobble down without guilt.  
2. WEIGHTS Tier Cake: Good vibes and heavyweights, always for a person who likes to sweat out in the gym. A dark chocolate tier cake in the shape of weights bearing the words " I've weighted my whole life for you" is the cake that will uplift his spirits as high as he lifts his weights. 
3. PHOTO Gym Lover Cake: Make him relish sweet pounds on his birthday day over a photo cake. A buttercream cake in a round, square, or heart-shape with an edible photograph of your hottie is the photo birthday cake for gym lover that will make him count the blessings, not the calories. 
4. GYM ESSENTIAlS Cupcakes: A cupcake a day, keeps grumpies away! And a box of cupcakes frosted with gym equipment like dumbbells, weights, ropes, treadmills, other essentials, all frosted with the icing of the romance is sure to make a gym aficionado taste love without gaining calories. 
5. MUSCLE ARM Cake: Fuel his love for fitness deliciously over a cake adorned with a muscled arm. This gym lover cake design is befitting for every man who loves to flex his biceps at every opportunity he gets. 
6. KETTLEBELL Cake: If you are blessed to have a health-freak girl who likes spending time in a gym, then a cake beautifully adorned with a kettlebell and words fitness is the perfect way to charm her heart. 
7. GIRL POWER Cake: A pink gym themed cake with edible fondant doll working out in his gym wear along with dumbbells, kettlebells, and other workout essentials is a sure way to make her fall in love with the sweet taste of the cake and you.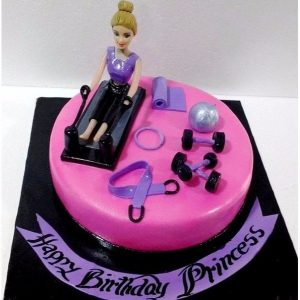 These cake design ideas will make any gym lover fall in love with sweet pleasures.