Most banana breads are rich in nutrients like vitamins and minerals. You can also choose more healthy ingredients to make it healthier.Just keep in mind that element substitutions will change the taste and texture of banana bread. The product won't taste the same as more-traditional banana breads. Banana breads are everyone's favourite as banana bread recipe is very easy to make and can be prepared quickly with basic ingredients.
Ingredients required
2 cups all-purpose flour
1 Teaspoon baking soda
¼ teaspoon salt
½ cup butter
¾ cup brown sugar
2 eggs, beaten
Chopped nuts of your choice
2-4 mashed bananas
Mashing of Bananas
In the first step of baking a banana bread, you need to peel the bananas and break them into large pieces. Put the banana pieces in a bowl, you can use a hand mixer or a regular mixing bowl to mash them. Transfer the mashed bananas in another bowl to add other ingredients.
Preheating of Oven
You need to preheat the microwave oven to 175 degree celsius.
Making of banana bread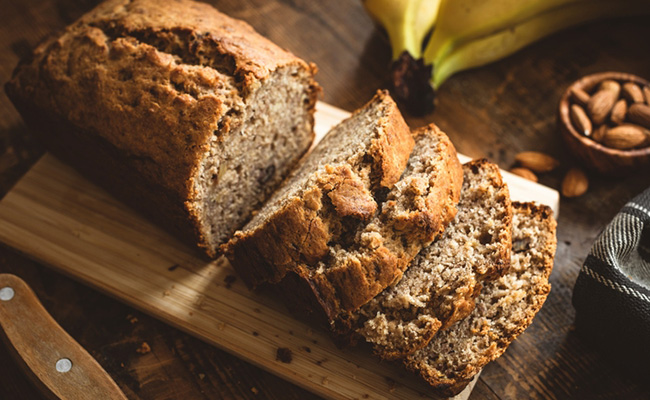 Grease the loaf pan, after this in a large bowl add flour, salt and baking soda. In another bowl, add together brown sugar and butter. Stir in mashed bananas and eggs until it blends properly. Mix banana mixture into flour mixture; stir to moisten. Add your favourite nuts in the batter. Pour batter into the greased loaf pan. Put the pan in a preheated oven for about 60 to 65 minutes, until a fork inserted into the center of the loaf comes out clean.
Allow the bread to cool in the pan for about 15-20 minutes. After this take out the bread from the pan and let it cool for another 10 minutes. Grasping the parchment paper lifts the loaf and place it on a cooling rack. Add for 10 more minutes to cut the bread slices.
Tips to remember while making banana bread
Don't use under-ripe, green bananas
Avoid mixing all the wet ingredients and bananas together
Don't dump all the dry ingredients into the wet
Avoid overbeating you batter
Don't forget the parchment paper
Freezing of banana bread
Freezing is a way to provide longer shelf life to banana bread. You can also make extra loaf as it freezes very easily. Full loaf, partial loves or slices can be freezed to preserve it but make sure that bread is completely cooled.
There are also variations of banana bread like banana raisin bread, banana bread muffins, banana cake, vegan banana bread and flavoured banana bread.
You must be craving for delicious dry cake after reading this delectable recipe. There are varieties of dry cakes available these days. If you are not able to decide which dry cake you should order, the best option is to search for it on an online bakery.
But before this you should try making this easy banana bread recipe at home.
Try this moist, yummy, full of banana flavour bread which will be ready in no time. When we think about baking something, nothing can be compared to an instant banana bread recipe.