An excellent collection of highly delicious and savory mango dishes that are sure to blow your mind if you've always had mangoes in sweet dishes. The best part of these treats is that they combine the juicy sweetness of mangoes with savory ingredients to create a dish which is stellar and unforgettable.
Juicy and super delicious- fresh mangoes are regarded as the "fruit of the gods" in many countries. These sumptuous fruits range in different colors and sizes- from green to yellow, orange and even red also. The typical color of the mango flesh is golden yellow with velvety and luscious texture. This godly fruit clocks in at about 100 calories per cup and these fruits are rich in fiber as well as Vitamin C and A.
Just like most of the people, you've also had mangoes in smoothies, juices, pies and tarts etc but as a die-hard foodie, things can get really crazy for you if you know how to pair up your mango treats perfectly with some out of the book savory flavors.
Now, this article gives you some fantastic fusion and globally popular mango dishes ideas-
Mango Bell Paper Rice Paper Roll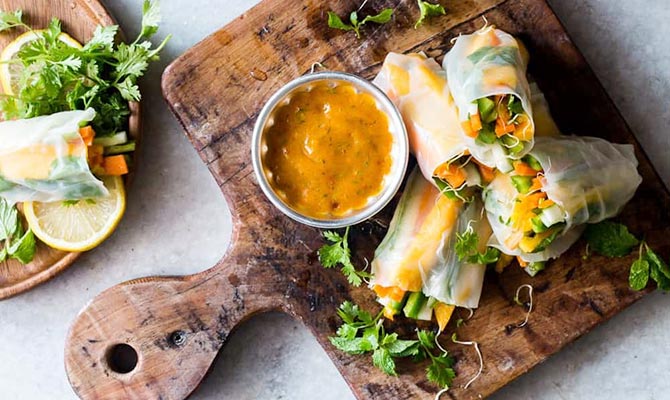 These mango bell paper rice paper rolls are the heavenly made party appetizers, especially in the season of summer. Jampacked with loads of fresh veggies and aesthetically served with the super delicious Mango Cilantro Dipping Sauce. Lip-smacking!
Ricotta-filled crêpes with mango and rose syrup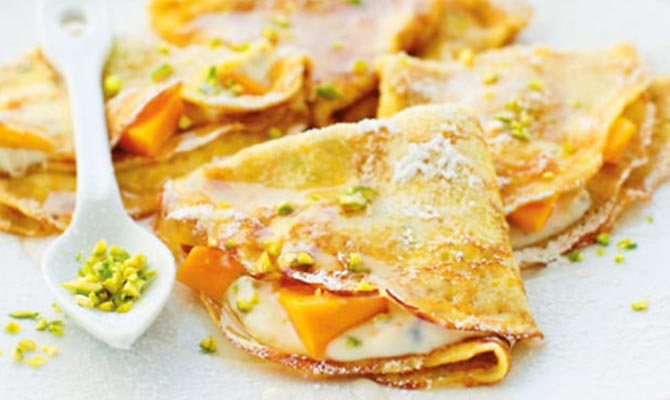 Are you looking forward to preparing for a perfect summer-special breakfast meal which is marinated with the pure mango romance? Well, this is 'the one' that you should definitely try. Exotic Arabian flavor of fresh pistachio coupled with the rosewater comes with the flavor of juicy mango in these enticing crepes.
Baked Coconut Chicken Tenders With Mango Mustard Sauce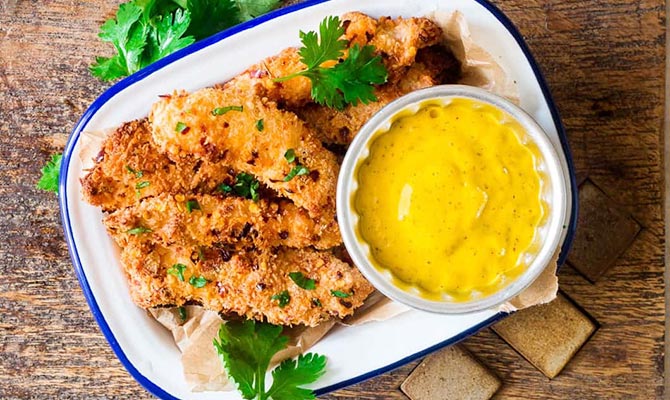 It's an ideal gluten-free and kid's friendly meal. The crunchy baked coconut chicken tenders are the hot summer trend. The real hero in this particular treat is the mango mustard dipping sauce which will always keep you coming back for more. It's simply irresistible.
Chardonnay Mango Pecan Tart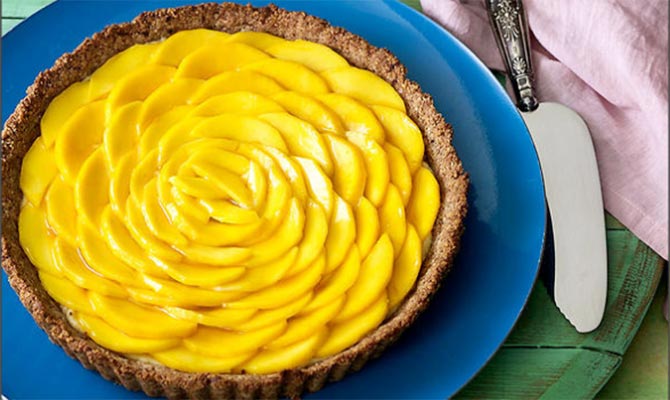 In this Mexican-inspired dessert, two of the world's greats- mango and chardonnay create a gastronomical magic that will give you an unforgettable taste experience. The enticing pure indulgence includes a pecan-laced crust, cream base, soft and juicy slices of fresh mangoes, and finally a Chardonnay glaze.
Mango Kulfi With Coconut Mousse and Oat-Ginger Crumb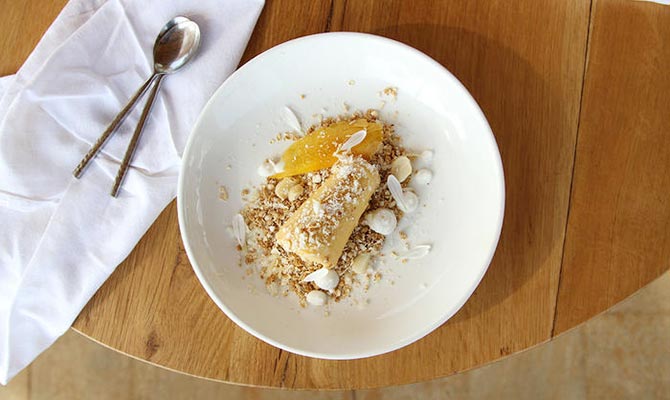 Kulfi, a pure desi dessert which involves making a rich condensed milk and then freezing it. In this desi summer special dessert, mango puree is added into the dairy mixture before freezing and then after freezing, it converts into a smooth and creamy dessert. The added oat -ginger crumbs add a typical tangy and crispy flavor and you can make it more heavenly by adding the mousse because of the delighting combination of mango and coconut.
You might have already started salivating over these scorching summer heat-beating mango-inspired meals and it's the perfect time to try these recipes and enjoy this summer like you never did before.