Tedha hai, par mera hai! I am sure many of you reading this have a sweet-sour relationship with your better half. After all, every marriage is a complete package of happiness, tears, anger, frustration, and heart-melting moments.
But keeping every 'nok-jhok' aside, your husband's birthday is one of the few moments you get to make him feel special. After all, we don't really celebrate men for their remarkable presence in our lives.
Now, the question comes as to what kind of birthday cakes you should buy for his birthday. Akhir birthday to ek bahaana hai, unko apna care and affection bhi toh jataana hai! And for this, any bland and boring cake would not do.
So, let's make this choice a cakewalk for you with options that make you go 'wow'. Make your husband's birthday party as memorable as his gestures for you with these options for birthday cakes. So, keep on reading!
Ferrari Birthday Cake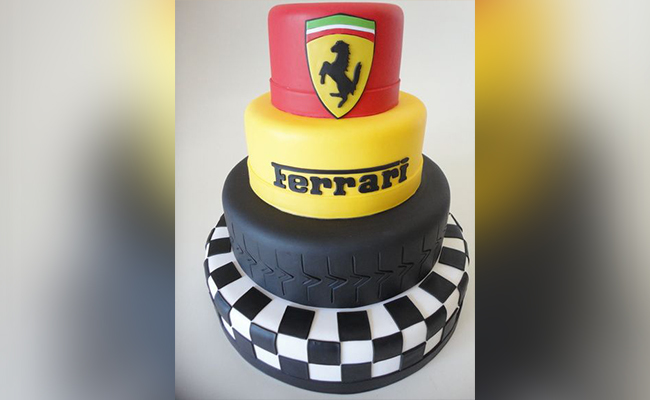 Chalaney ko na sahi, khaaney ko toh mil sakti hai Ferrari. If your husband swoons over cars, he is bound to have his mouth wide open on seeing this Ferrari cake. This four-tiered cake will blow your partner's mind as it combines all the elements that make Ferrari recognisable. The track detailing at the bottom and the edible logo at the top is just chef's kisses. So, speed away to your trusted bakery to have this cake ordered and ready by the time your husband's special day arrives.
Chocolate Cake With Alcohol Bottle Edible Decoration On Top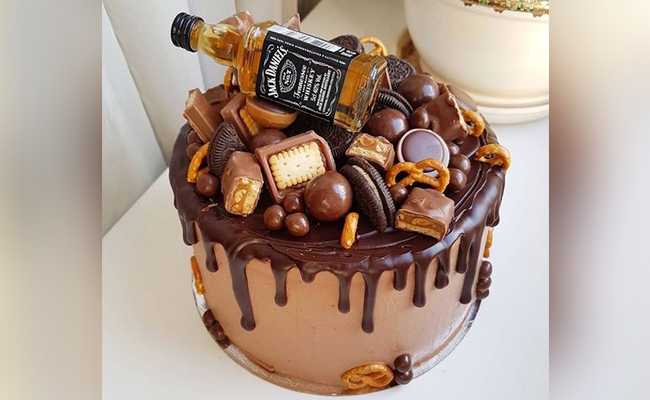 Abhi tak toh nasha bas birthday ka tha, ab toh birthday cake ka bhi hoga! After all, it's your husband's birthday. Filled with heavenly delight in every bite, this cake has drizzling melting chocolate on top, along with treats that are the crowd's favourites. The alcohol bottle made from edible materials perfectly harmonises with the chocolaty embellishments on top. You can even go for a cake with the same theme but slightly different flavours. Add your husband's most liked sweet treats on top of it to make it a complete banger. Choosing cakes for birthday is no easy feat, but this mind-blowing cake must have become one of your favourite options by now.
Black Cake With Golden Accents & Gem Decoration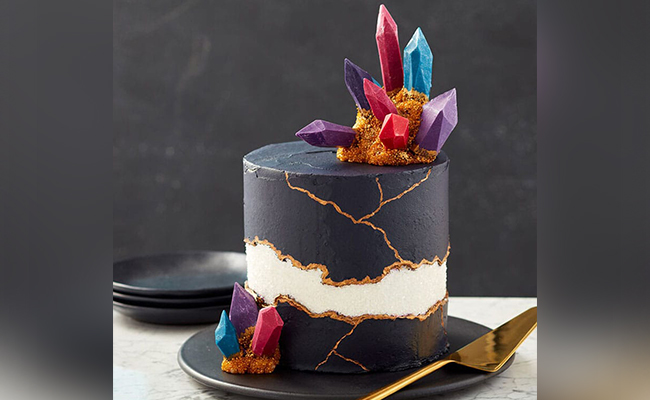 'Heera' and 'Hero', if your husband is both, then his birthday cake must be something matching his calibre. So, presenting this gorgeous cake with black and white frosting laid down in a marble design, with the borders stamped in golden detailing. The colourful gems at the top and bottom give the cake an enigmatic feel, making it the perfect choice for your equally special partner.
James Bond Theme Cake In Black & Golden Colour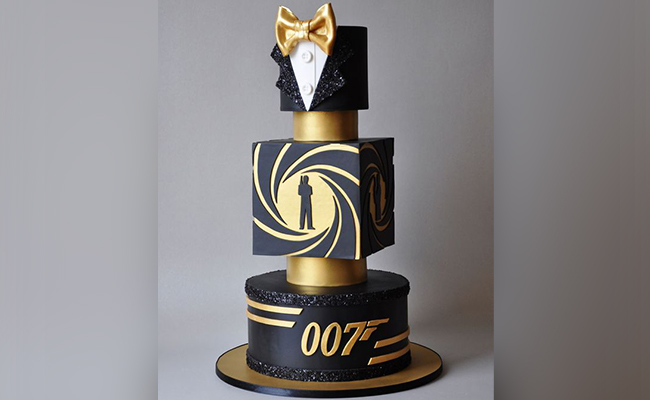 Who didn't dream of becoming an undercover spy agent and rescuing the world from the clutches of a deadly evil at one point in their life? Your husband certainly did! If you're not convinced about this, try saying, 'You look like James Bond in this outfit' to your husband and just observe the grin on his face. The same smile will make a cameo at his birthday party once he sees this masterpiece of a cake in front of him. Beautifully made in colour black and golden, this three-tiered cake completely imbibes the essence of the James Bond franchise. The bow at the top and the shirt detailing add much-needed charm to this baked treat. With this cake, you will win everyone's heart at the party, not just your husband's.
Royal Blue Gentleman Cake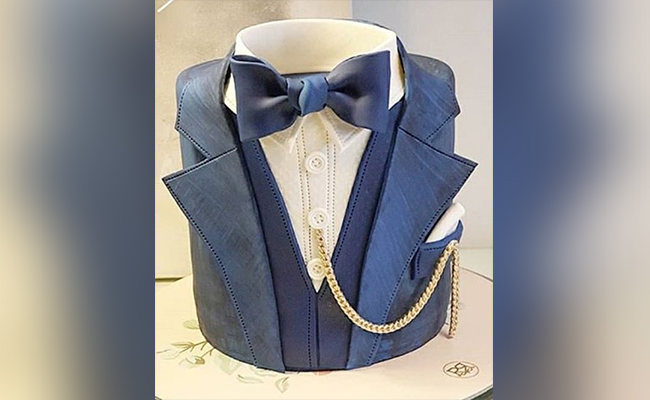 Taking 'he is such a gentleman' to the next level! While words are not enough to describe the special man in your life who supports you, indulges you, cares for you and stands up for you, this cake will surely be a sweet gesture to appreciate your husband's gentlemanly nature. This cake has such fine details crafted on it that you start wondering whether it is edible or not. However, this detailing is replicated using fondant painted with royal blue liquid food colouring while ensuring all safety standards that govern the bakery world. The bow on the 'cake shirt' and the gold chain that goes to the pocket capture your eyes and heart, as this cake is the perfect example of creativity combined with craftsmanship.
Be it cakes in Pune or chaat in Delhi, everything tastes extra delicious with your partner. So, don't fret too much over that 'perfect cake'. After all, it is the effort that matters and the memories you create.