There's nothing better than cake but more cake.  –Harry S. Truman
There is a reason why your body craves some delicious desserts. Low-carb diets often ignore the fact that carbohydrates are an essential nutrient for the body. While desserts may not be the healthiest form of carbohydrate, true enjoyment can fuel your body and mind. 
The cake is a popular dessert and whether you are celebrating someone's birthday or gifting a cake on valentine's day, a cake is an invisible part and hard to avoid. While the cake is generally not part of any healthy eating plan, there are ways to change a cake recipe to make less fat. 
Chocolate helps our brains release serotonin and endorphins. Both of these hormones make us feel happy, which explains why we often crave sweet things when we're stressed out or feeling a bit low. Here we are presenting right before you, a chocolate low calorie cake recipe. You won't know the difference until you try!
Ingredients
All-purpose flour

¼ cups sugar (caster sugar)

⅔ cup sifted cocoa powder

A pinch of baking soda

Salt

½ cup applesauce

1 ½ cups skim milk yoghurt (or use low-fat or fat-free sour cream)

1 tablespoon vanilla

egg whites (or use 2 whole eggs)
CHOCOLATE ICING
1 cup icing sugar mixture

2 tablespoons cocoa powder

20g reduced-fat margarine spread 

2 tablespoons boiling water
Method
Heat the oven to 180°C.

Lightly grease a 20cm round cake tin and line the base with non-stick baking paper or parchment paper or spray the tin with vegetable oil.

Whisk the eggs and sugar with an electric mixer until the mixture is pale, fluffy and almost doubled in volume.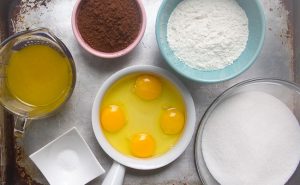 Sift the all-purpose flour, cocoa powder and a pinch of salt and mix well all the dry ingredients using a big tablespoon.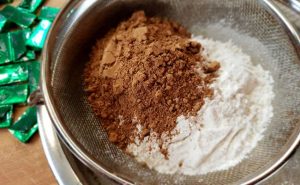 Bake for 40 minutes or until a skewer inserted in the centre comes out clean. Make sure you stand the cake in the pan for at least 10 minutes.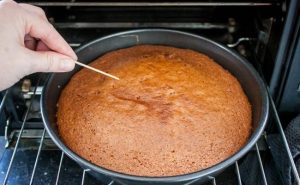 Turn the cake, top side up, on a wire rack to cool.

Meanwhile, make icing Sift icing sugar mixture and cocoa powder into a bowl. Add spread and boiling water. Stir until smooth. Spread over top and side of the cake.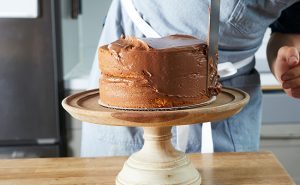 Top with strawberries, raspberries or any fruit of your choice (it's completely optional). Your

low fat cake

is ready to Serve.
So, that was our low fat cake recipe. Hope you enjoyed it. However, it is always important to maintain a balanced diet in order to live a healthy life, and having too much of something can be bad, even if it has health benefits. Therefore, cakes should be eaten in limited quantities as a part of your diet. 
We all know how much happiness we get from eating cake but rewarding ourselves every time can actually provide real mental health benefits. Before we go, let us provide you with some health benefits of cake.
It Contains Milk, dry fruits etc. all are good in protein value.

Eating cake provides energy to our brain and body.

The carbs we eat, our body uses them into energy. And maximum cakes are prepared by adding flour and sugar, both are rich in carbohydrates. Eating cake provides energy to our brain and body.

Digestion Booster.
If you don't enjoy the taste of low fat or low-calorie cake, go for the regular cake to ensure your cake craving is satisfied. Once in a while, your taste buds deserve a treat!