These tiny little jars are a trend! Who knew we could eat a cake in a jar? So, what exactly is a jar cake? A jar cake or mason jar cake are an awesome and delicious way to enjoy your dessert. With the advancement of technology and the rise of modernization, the shapes, designs, and types of cakes have also evolved. The cakes which are high in demand are jar cakes. These jars look fancy and can add starts to any celebration. To help you make the celebration grander, and to enjoy a whole new experience of enjoying a cake, we have bought you one of the trending and delicious jar cake recipes i.e Red Velvet jar cake recipe.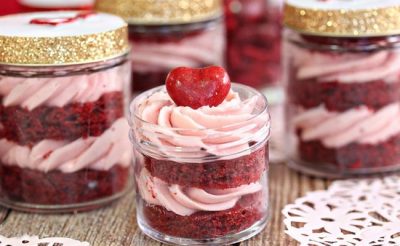 INGREDIENTS
For the Cupcakes
1 cup cake flour

2 tablespoons unsweetened cocoa powder

1/2 teaspoon salt

1 teaspoon pure vanilla extract

2 tablespoons red food colouring

1/2 cup buttermilk

1/2 teaspoon baking soda

3/4 teaspoon white vinegar

2/3 cup vegetable oil

3/4 cup granulated sugar

1 egg
For Cream Cheese Frosting
8 ounces cream cheese, softened to room temperature

3 tablespoons butter, softened to room temperature

1 pound confectioners' sugar (about 3 ¾ cups)

2 teaspoons clear vanilla extract
Instructions
Preheat the oven to 350 degrees. 

Mix cake flour, cocoa powder and salt together.

In the bowl of the stand mixer fitted with the whisk attachment, mix the oil and sugar until well mixed. Add egg and mix. If you want to bake it in cupcakes, then don't worry

cupcake in a jar recipe

is as simple as eating it. Just line the cupcakes well with paper liners or spray a pan with nonstick cooking spray and you can bake the same

cupcake in a jar

.

Lower your mixer to the lowest speed and add vanilla, then slowly add the food colouring. 
Note: If you are using liquid food colouring, it will take about 2 tbsp of colour to get a shade of dark red colour. Slowly dye and add colour as per your choice.
Add flour mixture alternately with buttermilk in two batches; Scrape down the edge of the bowl. Keep mixing the mixture until the mixture is over, take care of it. You can follow the same method of

oreo cake in a jar recipe

. (Make sure you have Oreos at home)

Place baking soda in a small dish, stir in vinegar and add it to the batter as the machine runs. Beat for about 10 seconds.

Using a medium scoop pour the cake batter into the sheet pan and spread it into an even layer. Bake the cake at 350 F for 10 minutes, until it pulls away from the sides and springs back when lightly pressed with your fingertips. Cool completely before using.
For Cheese Frosting
Beat the butter, cream cheese, and vanilla until smooth.  

Add the confectioners' sugar in small quantities at a time and beat until smooth and creamy. When the cake is completely cool, cut it into pieces in the pan.

With a mixer, slowly add the confectioners' sugar until the batter becomes smooth. Add vanilla and mix to combine.
Cake in jar instructions:
Fit a piping bag with a large star tip, and fill the bag with some cream cheese frosting. Use a circle cookie cutter of the same size as your jar, and cut circles on the outside of the cake.

Place a circle of cake in the bottom of a jar, and top it with a mound of frosting. Keep the cake and frosting until it reaches the top of the jar.

Once you put a lid on the jar, you can decorate them with ribbons, stickers, gift tags, or anything else you can dream up! Continue until all the jars are assembled.
Red Velvet Cake in a Jar can be stored in the refrigerator for up to a week, and if you are too bored to bake it at home, you can always order online. Happy Baking! Happy Eating!