There is nothing quite like homemade cake, especially when baked from scratch. Whether you're tired of sweet desserts or looking for a way to use up that stale bread sitting around, making an eggless whole wheat cake at home is a great option. You can customise how you want it, whether with plenty of fresh fruit or a drizzle of custard on top.
The easiest way to make a healthy and delicious whole wheat cake is to substitute all-purpose flour with whole wheat flour. Whole wheat flour is rich in dietary fibre, improving digestion and preventing constipation. It also contains B vitamins, iron and zinc, which are essential for nerve and blood cell development. We have attached two eggless wheat cake recipes for your convenience. They are super simple to follow, and the finished product will be moist and tasty.
The cake tastes equally delicious as a birthday cake or an everyday snack. You can prepare it within minutes since you need to put all the ingredients in the mixer and mix until smooth, pour into the baking pan, and bake. Let's have a look at the recipe.
Ingredients for cake batter
A handful of ingredients such as whole wheat flour, baking powder, cinnamon powder, curd along with gur (Jaggery), and a lot of nuts like walnuts and raisins make for a fluffy, soft and delectable cake to relish with a cup of tea.
Instructions for making the cake
Step 1: Set the oven to 200 degrees C.
Step 2: When baking a cake, you want the ingredients to be mixed well. Without carefully mixing everything together, you can end up with lumps and inconsistencies in your batter. These bumps mean that you are left with a cake that doesn't rise or even form and is unappealing when it is done cooking.
Step 3: In a separate bowl, blend the curd and oil together. Then mix in the dry ingredients and fold until well incorporated.
Step 4: Bring it to the consistency of a thin paste with the addition of water if necessary.
Step 5: Brush the bottom of a baking dish with oil, then bake at 170 degrees C for 1 hour and 15 minutes. Check on the cake at intervals to ensure it is not burning.
Step 6: Let it cool completely before cutting and serving.
Step 7 (Optional): You may also decorate your cake with icing if you desire.
And Voilaaa, your wheat cake without egg is ready to eat or you can send cake online
The following recipe is for folks who enjoy baking cakes but do not have access to an oven. As a result, this atta cake recipe will be even more enjoyable to read.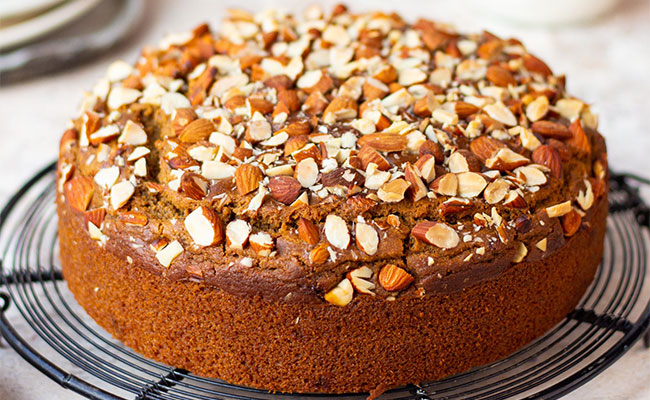 Ingredients for the second cake
1 cup jaggery (unrefined cane sugar), 1/2 cup curd, 2 cups wheat flour, 1/4 tsp baking soda, 1 tsp baking powder, a pinch of salt and 1/4 tsp cinnamon powder are mixed together with 2 tbs chopped almonds, 2 tbs cashew nuts, 5-6 raisins, 1/2 water.
Method Of Preparation
Step 1: In a bowl, combine 1 tablespoon each chopped almonds and chopped cashews with 5-6 raisins. Add 1 tablespoon of wheat flour to the mixture, combining well. This procedure prevents the dry fruits from sinking to the cake's bottom.
Step 2: Combine powdered jaggery, olive oil, and curd in a large mixing bowl. Whisk until the jaggery is completely dissolved.
Step 3: Set a sieve over the mixing basin and pour the wheat flour, baking soda, baking powder, and salt. Everything should be thoroughly mixed before sieving.
Step 4: Whisk all of the ingredients until they are well combined with a spatula.
Step 5: Mix the dry fruit mixture thoroughly. Dilute in 1/2 cup water well. The cake batter is now ready.
Step 6: Place butter paper inside a cake tin that has been greased with oil. Fill it with cake batter. Level it; sprinkle chopped dried fruits on top of the cake. To remove air bubbles, tap the cake tin.
Step 7: To preheat the frying pan in which you will be making your cake, first place a rack inside. Then close the pan with a lid and heat it for 5-7 minutes in medium flame. After 5 minutes, open the lid and place a cake tin on the rack inside the pan. Close it with the lid again and cook it on low heat for 40-45 minutes.
Step 8: After 40 minutes, open the lid and check whether the cake is fully cooked by inserting a toothpick in the centre of the cake. If the toothpick inserted into the centre of the cake comes out clean, then the cake is ready. If the batter sticks to the toothpick, continue to bake until it is done.
Step 9: After cooling, remove the cake from the pan and allow it to cool completely. Then use a knife to separate it from the side of the tin.
Step 10: Remove the cake from the tin and transfer it to a plate to serve.
The eggless atta cake is ready, and enjoy it with your loved ones.