Friendship day is about celebrating friendship, which remains invincible to time, place, or situation. On this special occasion, you are only apt to share a drink with your bestie like none other. Though wine does have an impressive track record in making friends and growing the big gang, try something fun with these 7 drink recipes for friendship day.
Below are some popular drinks to pair with a Happy Friendship day cakes
Classic Margarita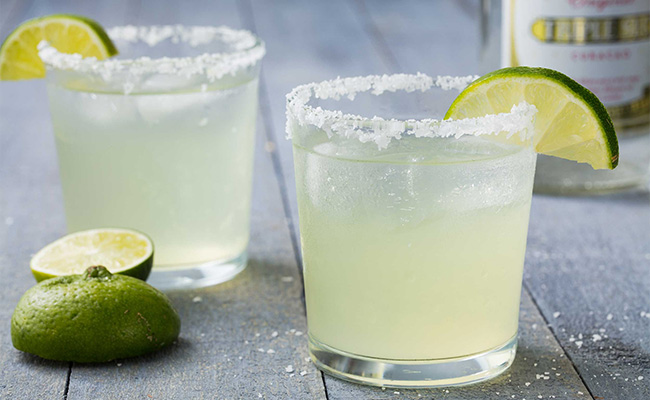 Make this Friendship Day special with a classic Margarita. The classic margarita is a simple cocktail with tequila, orange liqueur, lime juice, and triple sec.
Ingredients:
2 ounces tequila (preferably 100% agave)
1/2 ounce triple sec or Cointreau
2 tablespoons lime juice
1/2 teaspoon orange liqueur (optional)
Ice cubes, crushed, to taste (optional)
How to make it:
Measure out the tequila and triple sec or Cointreau into a shaker filled with ice. Add the lime juice and optional orange liqueur, shake well, and strain into a chilled cocktail glass. Add ice cubes and crush them with a spoon; use as much or as little as you like.
Luxury Pineapple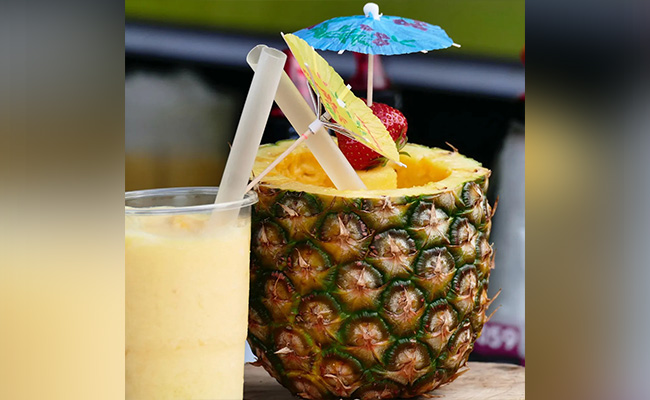 One of the most popular recipes in this category is pineapple recipes. Pineapple is a tropical fruit that comes in two varieties – sweet and sour. It is rich in vitamins, minerals, dietary fibre and antioxidants.
Ingredients:
pineapple, peeled and cored
2 tablespoons sugar
1/2 cup rum or vodka (optional)
How to make it
Cut the pineapple into thick slices, leaving the rind on. Arrange the slices in a dish and sprinkle with sugar to taste. Pour rum or vodka over the pineapple if desired. Cover it and refrigerate for at least 2 hours before serving.
Chaat Fizz (Ginger Lemonade)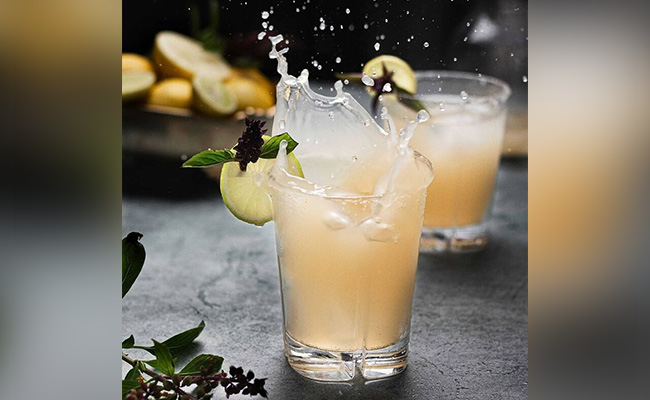 Chaat Fizz is one of the most common drinks in India and has been around for ages. Its popularity has only increased over time, with people from all over the world trying it out at restaurants or bars across India. It's a refreshing drink you can enjoy with friends on any occasion, but it tastes especially good during hot summers!
Ingredients:
Serves 4-6
2 cups water
3 tbsp fresh ginger, roughly chopped
1 cup sugar or to taste
1/4 cup lemon juice
Ice cubes as needed
How to make it
In a blender, blend all the ingredients until smooth. Pour into glasses, garnish with fresh mint leaves and serve.
Tequila Sunrise Margarita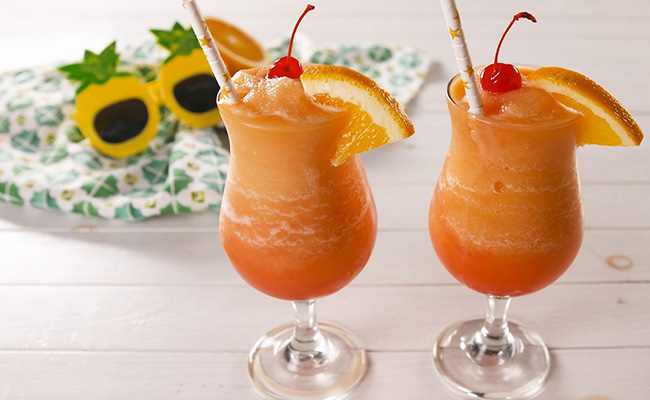 Nothing can beat the zesty taste of a tequila sunrise margarita on friendship day! Here's a healthy and easy recipe to make this delicious drink at home to celebrate this day.
Ingredients:
2 oz tequila (preferably silver)
1 oz Cointreau or Triple Sec liqueur
4 oz orange juice (freshly squeezed)
2 tbsp grenadine syrup (optional)
Ice cubes for serving
How to make it
Add tequila, Cointreau, orange juice, and grenadine syrup in a shaker filled with ice and shake properly until totally chilled. Strain into an old-fashioned glass filled with fresh ice cubes and serve immediately!
Mountain Dew Sangria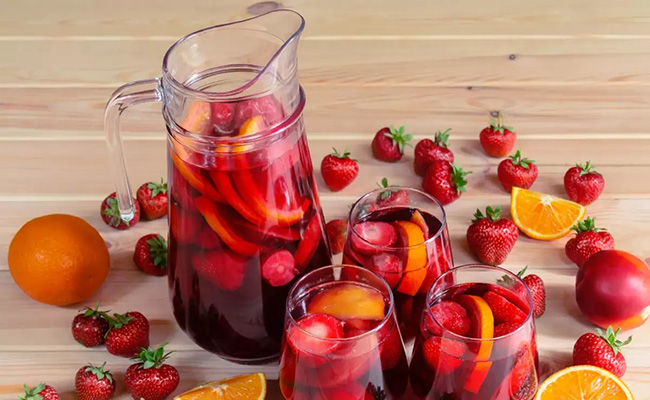 This is a great drink recipe for your next get-together with your friends! A glass of sangria will instantly bring out the party vibes in everyone! It's even better when served chilled with some ice cubes!
Sangria is a delicious fruit-based wine cocktail for those who have never tried it. It can be made with many different fruit and wines and is a great summer drink. While you may find sangria in the store, it is also easy to make at home.
Ingredients:
1 bottle of red wine
1 small can of Mountain Dew
1 lemon
1 lime
2 tbsp sugar or honey (optional)
How to make
1. Pour the Mountain Dew into a pitcher and add the wine, sugar/honey if desired. Stir well until dissolved.
2. Slice lemons and limes into wedges, then add them to the pitcher. Fill pitcher with ice, cover and let chill for at least 30 minutes before serving.
Raspberry Mint Lemonade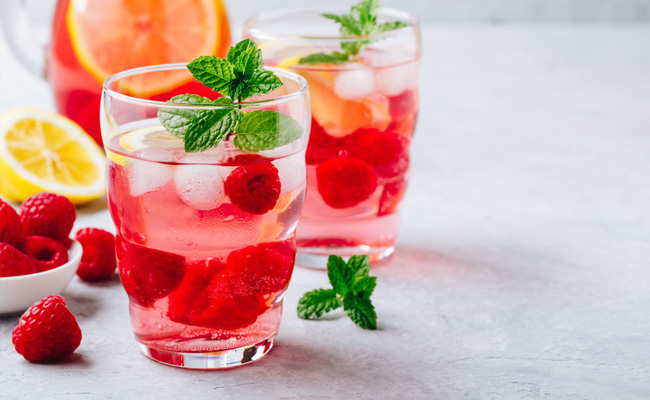 The perfect summer drink! Just combine watermelon rinds and mint leaves in a water pitcher to infuse flavor overnight before adding lemonade concentrate and frozen raspberry concentrate for added sweetness and color!
Ingredients:
water
1 cup sugar
1 cup raspberry
1/4 cup fresh mint leaves, chopped
2 tablespoons lemon zest
1/2 cup fresh lemon juice
How to make it:
In a blender, combine the raspberries, sugar, lemon zest, juice, mint leaves, and ice cubes. Blend until smooth. Serve in glasses over ice and garnish with fresh mint leaves.
Passion Fruit Mojito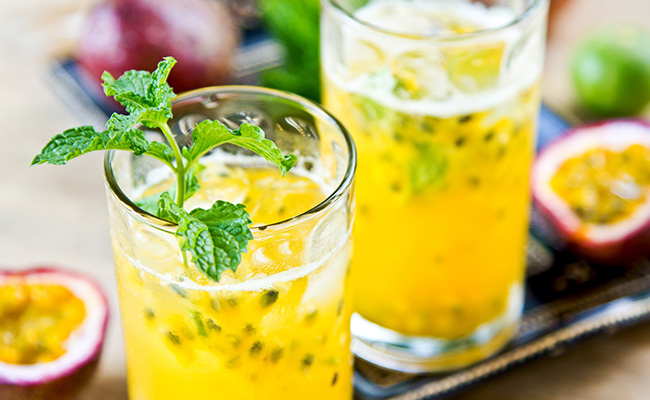 This delicious mojito recipe will transport you straight to the tropics! It's sweet, tart and incredibly refreshing – perfect for those hot summer days when you just want something cold and fruity!
Ingredients:
1 cup fresh mint leaves, plus more for garnish
½ cup lime or lemon juice
¼ cup simple syrup, or to taste
¼ cup rum (light or dark)
1/3 cup water
2 tablespoons passion fruit pulp, plus more for garnish
How to make it:
In a cocktail shaker, mint leaves with simple syrup and lime juice. Add rum and water, and shake well. Add passion fruit pulp, garnish with additional mint leaves and serve immediately.