We know the topic is already tempting, and it's surely making you drool.
So, let's just quickly dive into the most favourite Indian desserts of all time.
Gulab Jamun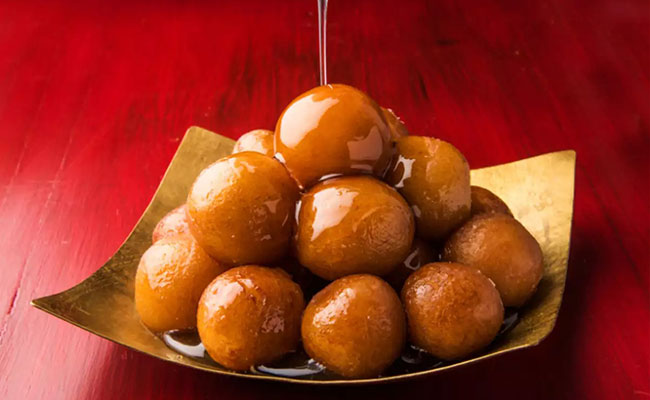 Gulab Jamun is made from milk solids and sugar syrup deep-fried in Ghee. It is believed that gulab jamun was first invented by Bhim Chandra Nag. He first prepared them on the occasion of Lady Canning's visit, the wife of Charles Canning, the Governor-General of India. Nowadays, gulab jamun is available at almost every sweet shop all over India during any festival or celebration. If you want to try the fusion of western & Indian desserts, then you can go for Gulab Jamun cake & order from a website and get online cake delivery.
Petha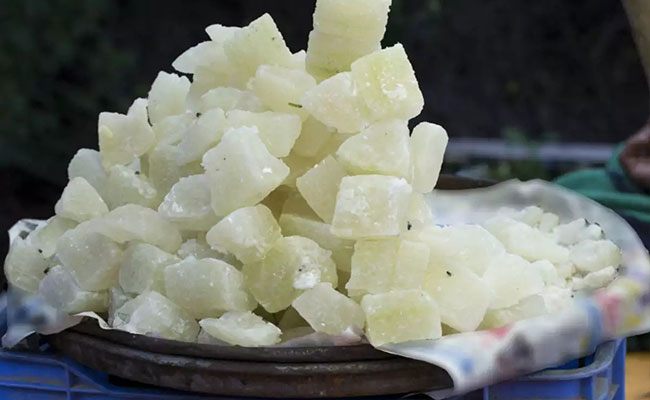 When we say Petha, it just reminds us of Pethas from Agra. It is a traditional Indian sweet made from ash gourd, also called winter melon or white pumpkin. It is soft and chewy, eaten dry or dipped in sugar syrup. The market is filled with various types of Pethas, such as Chocolate Petha, Kesar Petha, and much more.
Rasgulla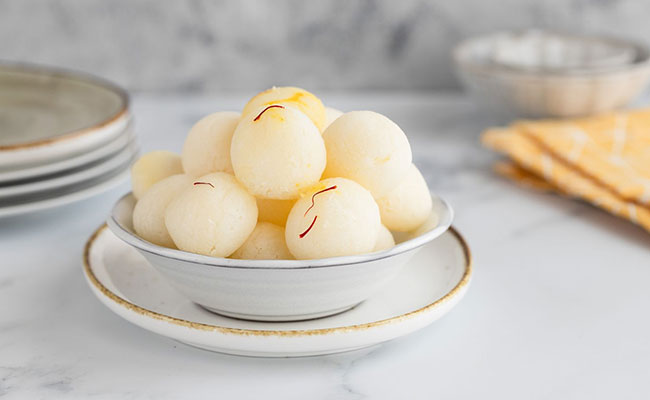 Rasgulla is one of the most popular Indian sweets in every sweet shop across the country. Rasgulla is basically a ball-shaped dumpling made from Chhena (cottage cheese) and semolina batter, dunked in sugar syrup until it becomes soft and spongy inside out.
Kheer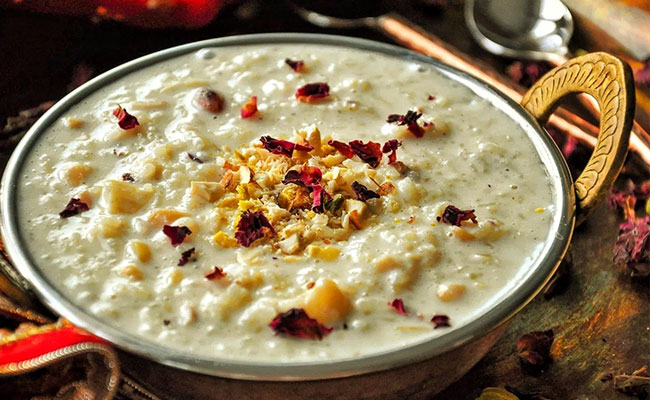 Kheer is one of the most popular desserts made for any occasion in India. It's basically rice pudding cooked with milk, sugar and sometimes dry fruits or nuts, as well as spices like cardamom, which gives it its unique flavour.
Malpua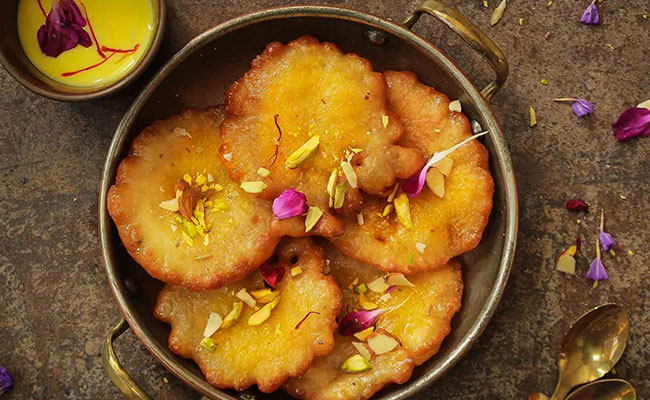 Malpua is one of those quintessential Indian desserts that will always steal the show! It's made with semolina batter and stuffed with a variety of flavours like cardamom, saffron and Kesar, pistachio powder etc. The syrup used to make this dessert is also very important, as it has to be just right to blend well with the Malpuas and make them taste amazing!
Kulfi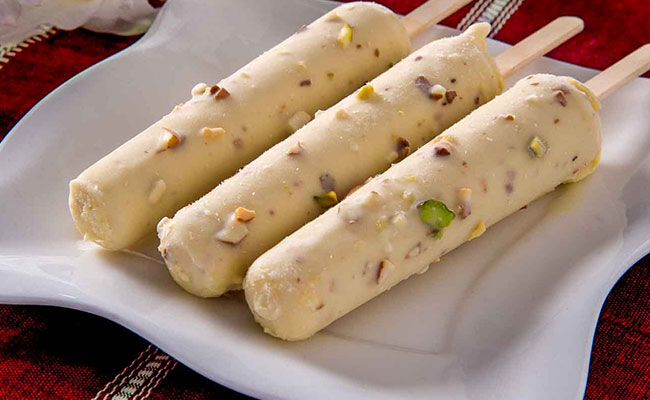 Kulfi is another one of those quintessential Indian desserts which are loved by all age groups across India! It's made using milk solids mixed with low-fat milk or cream and sugar syrup, giving it a distinct flavour and texture unlike anything else! The kulfis come in various flavours like saffron, pistachio etc.
Jalebi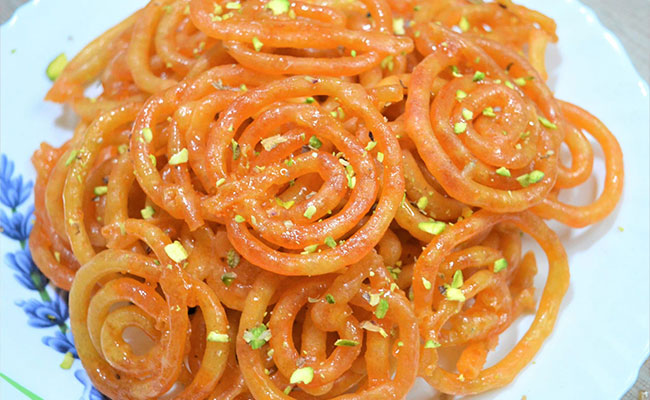 Jalebi is a popular sweet dish that is made from flour and deep fried in oil. The jalebis are then soaked in a sugary syrup until they become golden brown and crispy. It can be served hot or cold. The batter used to prepare jalebis can be made from all purpose flour. They are traditionally eaten with Rabri.
Rasmalai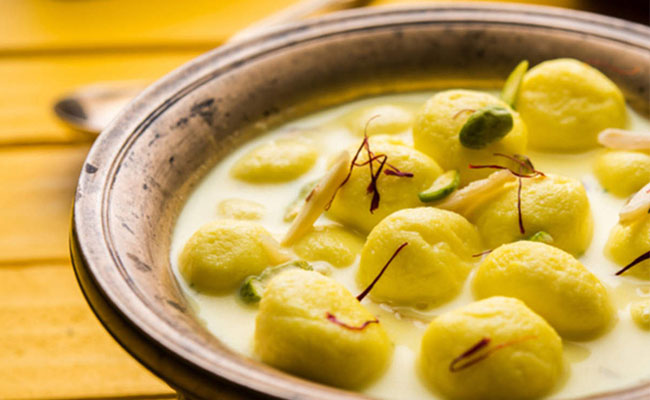 Rasmalai is a traditional Indian dessert made of soaked spongy balls in a sweetened milk base called "Rabri". It is often served with cardamom and saffron flavoured sugar milk syrup. The dish is commonly prepared during special occasions like Diwali and Holi. Nowadays, the market has come up with something new called "Rasmalai Cake" yes, you read it right. If you want to try it, then download an online cake order app and get it delivered to your doorstep.
Gajar Ka Halwa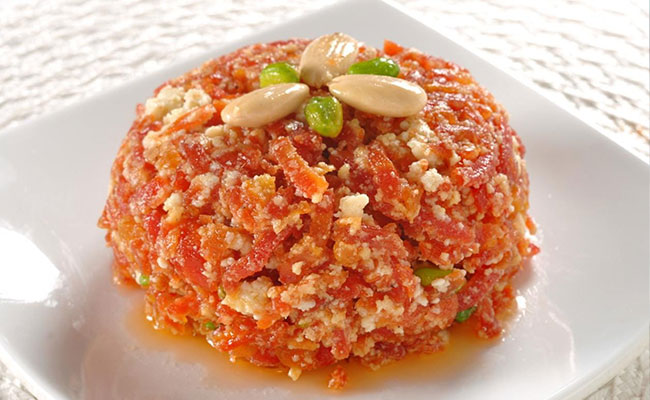 Gajar Ka Halwa is a traditional winter Indian dessert made of grated carrots, milk, sugar and Ghee. Carrots are grated and cooked in water with sugar and Ghee or clarified butter. This recipe has been passed down from generation to generation and is a popular dessert during festivals like Lohri, Makar Sankranti & Christmas. The sweet dish can be served warm or cold.
Kaju Ki Barfi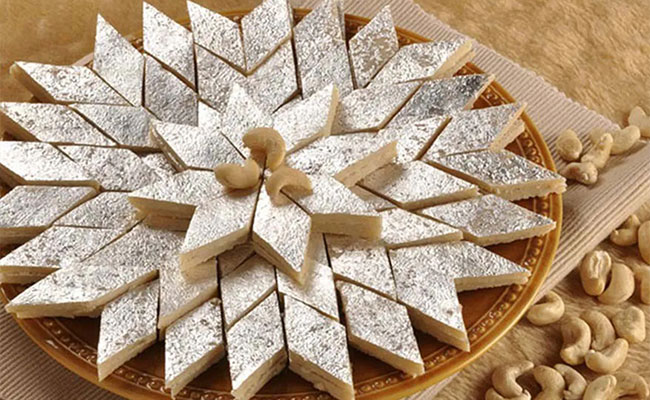 Kaju Ki Barfi, a popular sweet delicacy from India, is a soft and rich dessert made from cashew nuts. The Barfi is made by cooking cashew nuts and then adding Khoya (dried whole milk solids). The mixture is further beaten, rolled out into small balls and finally flattened by hand to give it a flat shape. This Barfi is very popular in the festive season and is served on all occasions.
Ghevar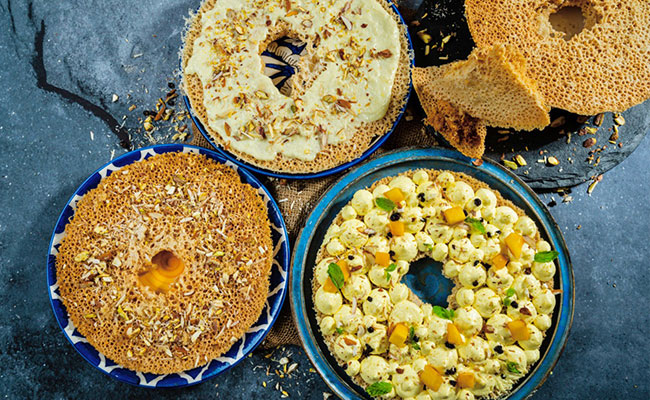 Ghevar is a sweet dessert with roots in Haryana & Rajasthan. This is very famous during the time of Holi. This sweet dish is steamed and then garnished with nuts, saffron & pistachio. It has a sweet taste; hence it is served as a dessert after a heavy meal. It is prepared with all purpose flour, milk, & Ghee.
Gujiya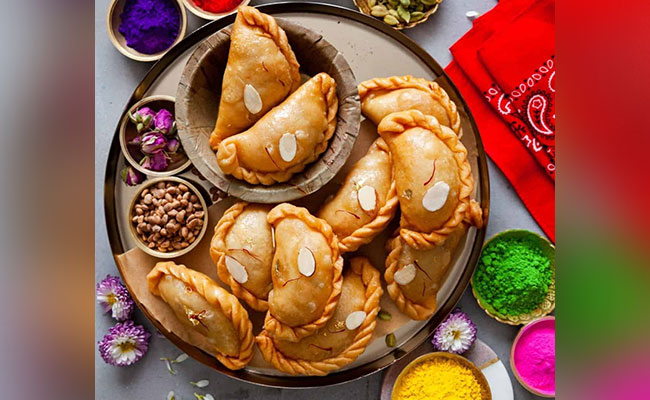 Ghujiya is a deep-fried sweet made with Khoya or Mava, all purpose flour, Ghee & sugar. The filling inside is stuffed with some dry fruits & cardamom. This sweet dish can be served hot or cold. Ghujiya is usually prepared during Diwali, Holi and other festivals in India. It has also become popular among non-Indians who love Indian food because of its delicious taste and health benefits.
Falooda Kulfi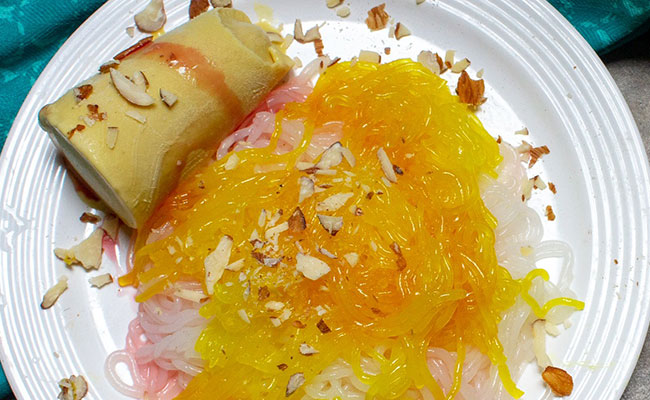 Falooda Kulfi is one of the most popular desserts in India. It is a combination of two popular dishes: Falooda and Kulfi. It has a sweet rose syrup and milk cream base, which is topped with vermicelli noodles and pistachio Kulfi.
That's all, folks; for today, we hope you enjoyed reading it.