Mumbai, the city of dreams, is not only renowned for its vibrant culture and bustling lifestyle but also for its delectable street food that tantalizes taste buds from all walks of life. The streets of Mumbai are a haven for food lovers, offering a mouthwatering array of flavors and aromas that capture the essence of the city's culinary heritage. From spicy to savory and sweet, the famous street food in Mumbai has something to satiate every craving. Let's embark on a delightful journey through the best street food in Mumbai that is sure to leave you craving for more.
Vada Pav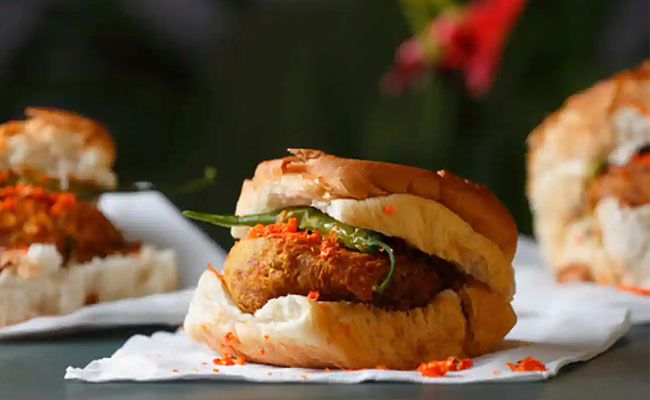 Often referred to as the "Indian Burger," Vada Pav holds a cherished place in the hearts of Mumbaikars. This beloved street food comprises a flavorful potato fritter (vada) snugly tucked between soft buns (pav) and served with a fiery green chutney. The amalgamation of flavors and textures, with the crispiness of the vada and the softness of the pav, elevates this humble snack to an irresistible delight. Whether you're rushing to work or exploring the vibrant streets of Mumbai, Vada Pav's quick and scrumptious charm makes it a favorite go-to snack for locals and tourists alike.
Pav Bhaji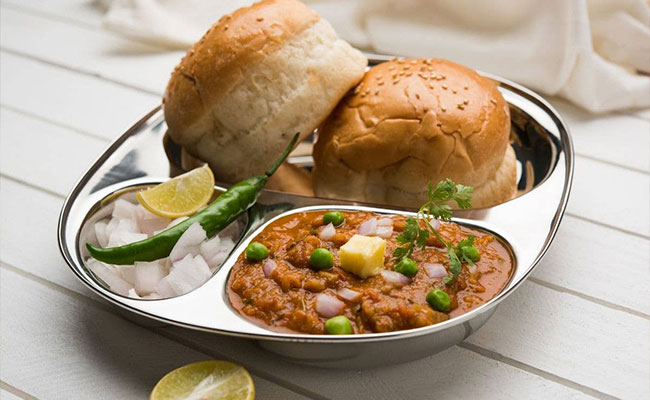 Another iconic Mumbai famous food is Pav Bhaji, a gastronomic delight that unites people with its mouthwatering aroma. This heavenly concoction features mashed vegetables cooked with aromatic spices and served with buttered buns (pav). The sizzling hot and tangy bhaji, generously garnished with coriander and diced onions, takes your taste buds on a blissful journey. The soft and butter-laden pav acts as the perfect companion, soaking up the flavorful bhaji. This hearty street food is a symbol of unity, bringing people from different walks of life together to savor its rich and comforting flavors.
Bhel Puri and Sev Puri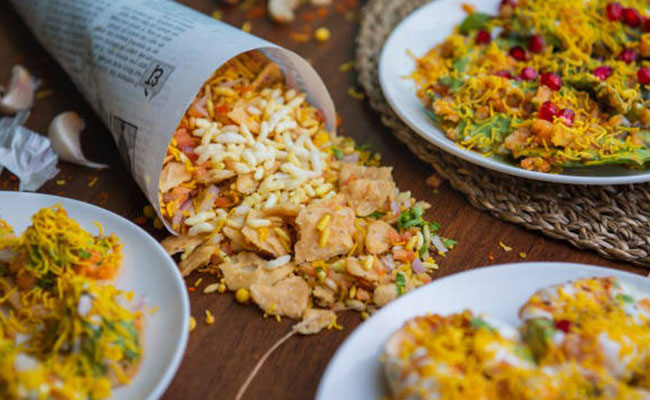 For those seeking a burst of flavors in every bite, Bhel Puri and Sev Puri are quintessential famous street food in Mumbai that never disappoint. These mouthwatering chaats comprise a delightful medley of puffed rice, crunchy sev (noodles), finely diced vegetables, tangy tamarind chutney, and a hint of spice. The combination of sweet, tangy, and spicy notes creates an exhilarating explosion of taste, leaving your taste buds craving for more. As you relish these light and refreshing delicacies, you can't help but be charmed by the essence of Mumbai's street food culture, where each chaat stall adds its unique touch to these tantalizing treats.
Ragda Pattice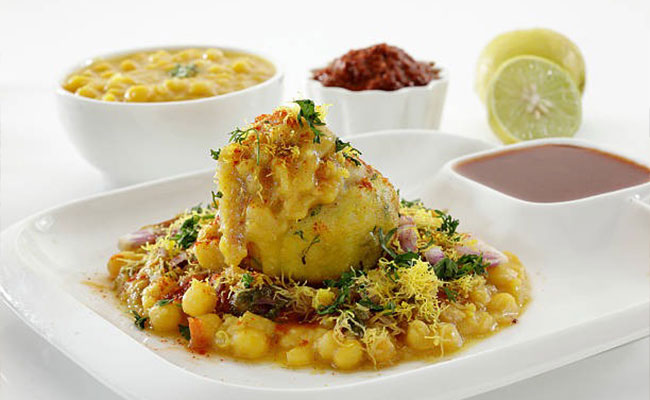 A visit to Mumbai is incomplete without indulging in the flavorsome delight of Ragda Pattice. This popular street food features spicy white peas curry (ragda) served with golden potato patties (pattice) and garnished with an assortment of chutneys and crispy sev. The combination of the soft and flavorful pattice, paired with the fiery ragda, creates an irresistible harmony of tastes and textures. With every bite, you savor the richness of spices and the delectable amalgamation of ingredients that make this savory delicacy an unparalleled experience for your taste buds.
Also, you can try cakes in Mumbai if you are a dessert lover to satisfy your sweet tooth cravings.
Bombay Sandwich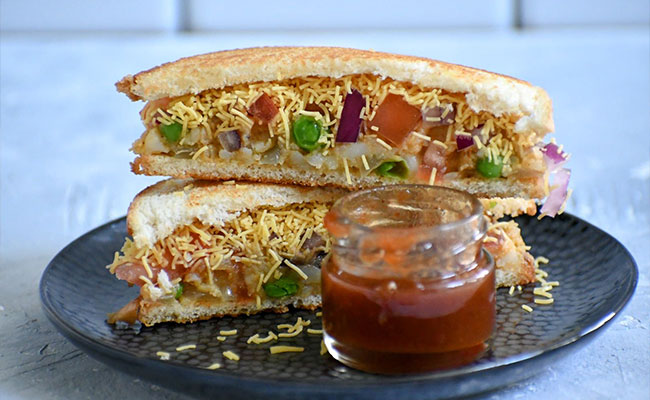 Simple yet sensational, the Bombay Sandwich is a testament to the city's diverse culinary offerings. This famous food of Mumbai consists of layers of fresh cucumber, tomato, potato, chutney, and cheese, artfully placed between slices of bread and grilled to perfection. The crispy and crunchy texture, combined with the refreshing flavors of the vegetables and the zing of the chutney, creates a delightful symphony of tastes. Whether enjoyed as a quick bite during a busy day or as a leisurely snack at a local street corner, the Bombay Sandwich never fails to charm your palate.
Kanda Poha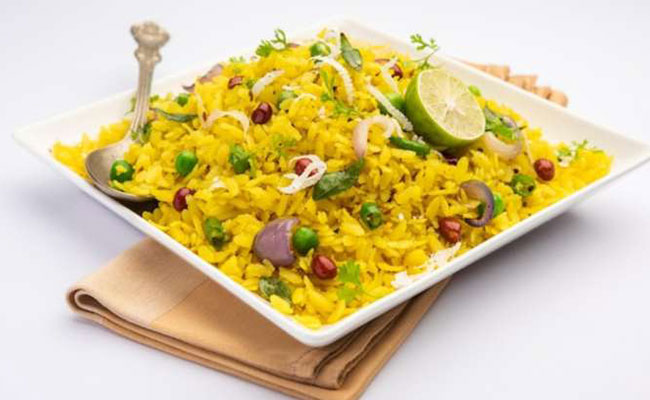 As the sun rises over Mumbai's vibrant streets, locals and visitors alike savor the delectable goodness of Kanda Poha. This popular breakfast option features flattened rice (poha) sautéed with onions, mustard seeds, turmeric, and a medley of spices. The dish is a delightful blend of tangy, sweet, and spicy flavors, making it a comforting and wholesome start to the day. Kanda Poha's heartwarming taste reflects the essence of Mumbai's culinary tradition, where each bite is an expression of love and warmth.
Missal Pav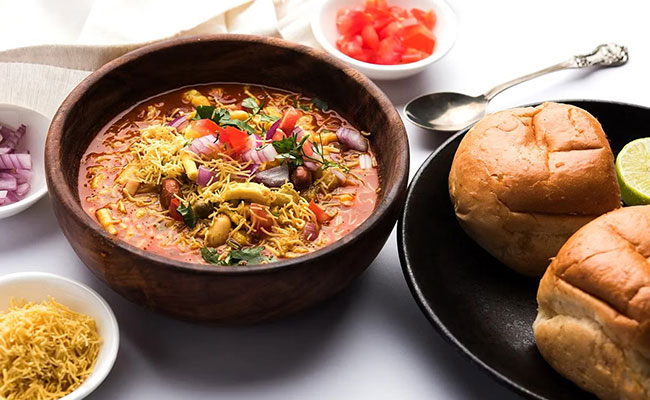 A flavor-packed culinary adventure awaits with the iconic Misal Pav. This Mumbai famous dish is made with sprouted moth beans, is served with soft pav, creating a tantalizing combination that packs a punch. The rich and aromatic gravy, bursting with the essence of Maharashtrian spices, sets your taste buds ablaze with delight. Misal Pav embodies the true spirit of Mumbai's street food culture, where the fusion of flavors and textures showcases the city's vibrant culinary heritage.
Also, after eating a lot of spicy and chaat items, no food is complete without a sweet treat. So, if you start craving something sweet after enjoying Mumbai's lip-smacking street food, you can satisfy your sweet tooth by ordering online cakes, brownies, pastries at anytime.
There is no doubt that Mumbai is one of the most beautiful cities in India, as well as a city that loves to cook. You'll find a near-limitless selection of delicious foods to try just by wandering around the city. Mumbai has a number of street foods that you can try.