In Mumbai's vibrant culinary scene, Gujarati, South Indian, Muslim, Parsi, and Marathi cuisines are blended together to provide scrumptious street food that reflects its multicultural heritage.
The harmonious blend of flavours, textures, and colours creates dishes that burst in your mouth without burning a hole in your pocket. You should consider yourself lucky if you are a foodie, live in Mumbai, or plan to visit soon because you will find lots of places to tuck into the best Indian street foods. So, here is a list of mouthwatering varieties that all food lovers should definitely try in their lifetime. So, without further ado, go through this list of a smorgasbord of the best street food in Mumbai.
Vada Pav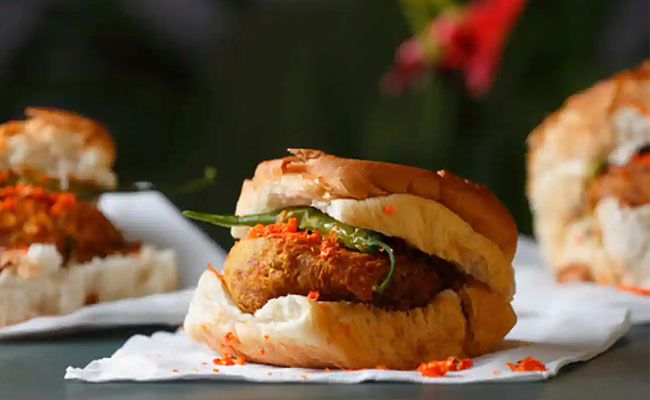 If someone asks what is the Mumbai famous food? The first dish which will come to your mind will be Vada Pav. This is among the top Mumbai street food, which is also called poor man's burger, as the starting range of vada Pav is only Rs 10. So, basically, Vada Pav is a bun bread and vada (fritter) stufftred with mashes potato. The dish is served with chutneys, friend chillies and dry garlic chutney. Some of the popular variants of Vada Pav are Schezwan, cheese, and grilled. Also, you must have heard from many celebrities that during their struggling days, they used to eat Vada Pav daily before becoming a star. So, yes, Mumbaikars are very possessive about this dish, so make sure before you criticise it.
Pav Bhaji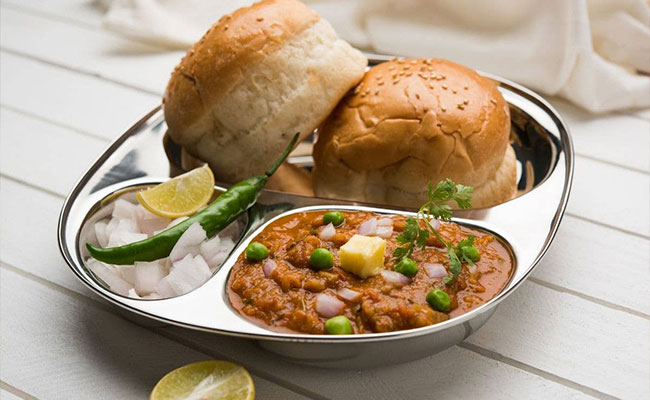 Another delicious and popular Mumbai street food is Pav Bhaji. This dish is also very loved by people, especially in north India. An assortment of boiled and mashed vegetables cooked with seasonings and spices is served with grilled pav with a lot of butter on it. If you are in Mumbai, you should not dare to come without trying this mouth-watering dish. Even if it is late in the night, you will find at least one Pav Bhaji stall open in your area where you can kill your hunger pangs.
Bhel Puri and Sev Puri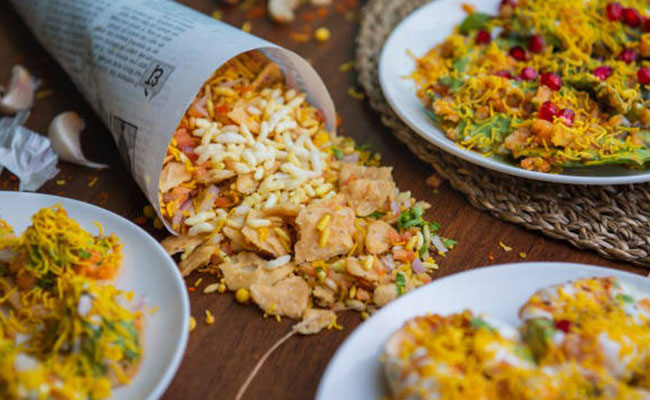 This is a call for all the chaat lovers; if you are in Mumbai, you should definitely have some local chaat. Every bite of it will be an explosion of tangy, spicy and sweet flavours in your mouth. These are among the vegetarian dishes of street food in Mumbai, which are very popular among people. Bhel puri is a Marathi chat made with puffed rice, vegetables, tangy tamarind sauce, and green chutney. Talking about sev puri, this is also another chaat dish essentially made of Puri loaded with diced potatoes, 2-3 types of chutneys and topped with sev. The last step to complete the dish is to do the seasoning with raw mango or a hint of lemon and chaat masala.
Aren't you reading this with a watery mouth?
Ragda Pattice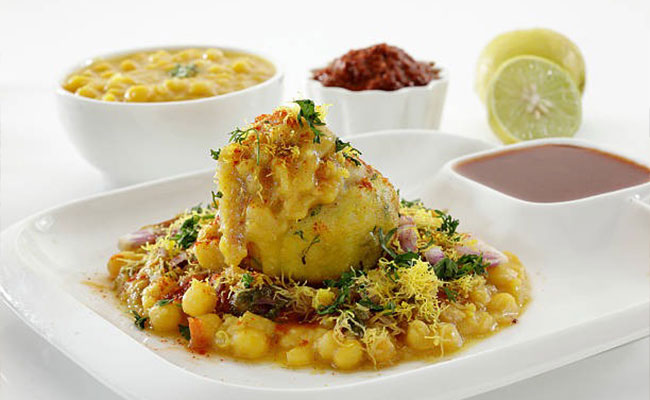 Another top Bombay street food is Ragda Pattice which is absolutely delicious. So, this dish is a combination of Ragda, which is soft and spicy rugged flavoured chickpeas and pattice, which is made of deep-fried patties of mashed potatoes. On top of the ragda pattice, finely chopped onions, tamarind sauce, and green chutney are added. If you have started craving for it already so, wait no more; find a restaurant that offers delicious Mumbai street food.
Also, you can try cakes in Mumbai if you are a dessert lover to satisfy your sweet tooth cravings.
Bombay Sandwich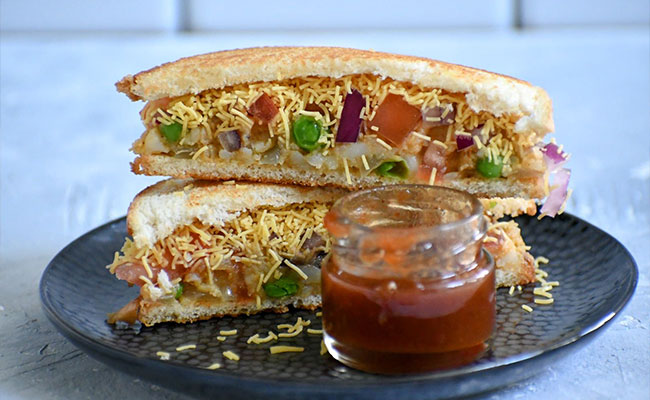 The name says it all; the Bombay sandwich is popular across the country. This street food is a combination of the most unlikely ingredients. The sandwich is made up of three buttered white bread slices sandwiching slices of beetroot, boiled potatoes, cucumbers, onion rings, and mint chutney. Sandwiches are also available toasted. These days the varieties of sandwiches available can not even be compared. This is very easy to prepare and tastes amazing, and will be the perfect choice for your late-night hunger cravings.
Kanda Poha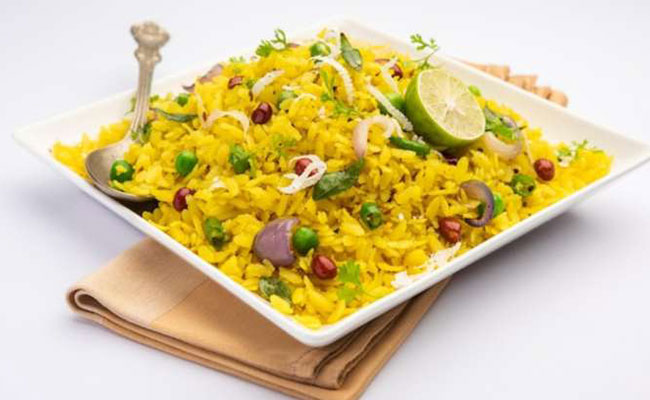 Easy-to-make snack Kanda Poha is another tasty and healthy street food people love to have for breakfast. Onions called Kanda in the local language and flaked rice, also known as flat rice, are mixed with chopped potatoes, green chillies, and peas. The mixture is then tempered with mustard seeds and garnished with fresh coriander and lime juice to give it a sweet and tangy taste.
Missal Pav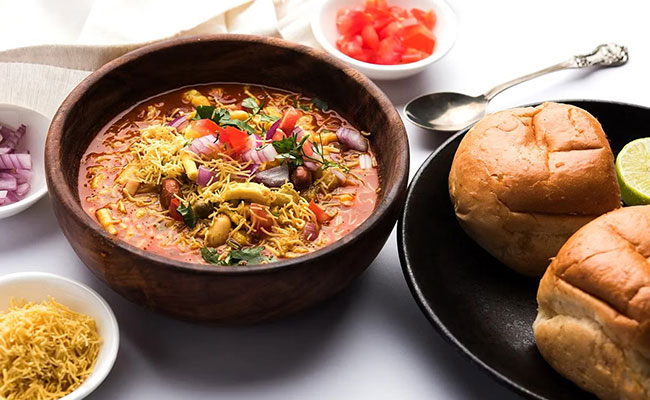 A misal pav is a dish from Pune that is made from curried lentils topped with bhaji made from potatoes, poha chivda, onions, and tomatoes. This spicy street food is eaten with pav and curd and is known for being one of Mumbai's hottest and spiciest dishes. Street food is one of the most healthy options on the market, but if you're health-conscious, then Misal Pav is for you.
Also, after eating a lot of spicy and chaat items, no food is complete without a sweet treat. So, if you start craving something sweet after enjoying Mumbai's lip-smacking street food, you can satisfy your sweet tooth by ordering online cakes, brownies, pastries at anytime.
There is no doubt that Mumbai is one of the most beautiful cities in India, as well as a city that loves to cook. You'll find a near-limitless selection of delicious foods to try just by wandering around the city. Mumbai has a number of street foods that you can try.