Cravings kick in at the most unexpected of times and need to be curbed then and there. The relationship between our heart and gut is quite unreliable, and so we should always be prepared to serve what the heart wants especially when it comes to sweet cakes. Even in your wildest thoughts, if cakes make an appearance, you can't let go without having one. One right way of silencing that sugar baby's craving is going for online cake delivery but, if it is more of a frequent occurrence in your home 'sweet' home, then you must jot down some recipes. Not the simple vanilla ones, but an exotic, crumbling, mouth savouring rainbow cake recipe to calm those sugar wanting nerves, and cream enjoying lips.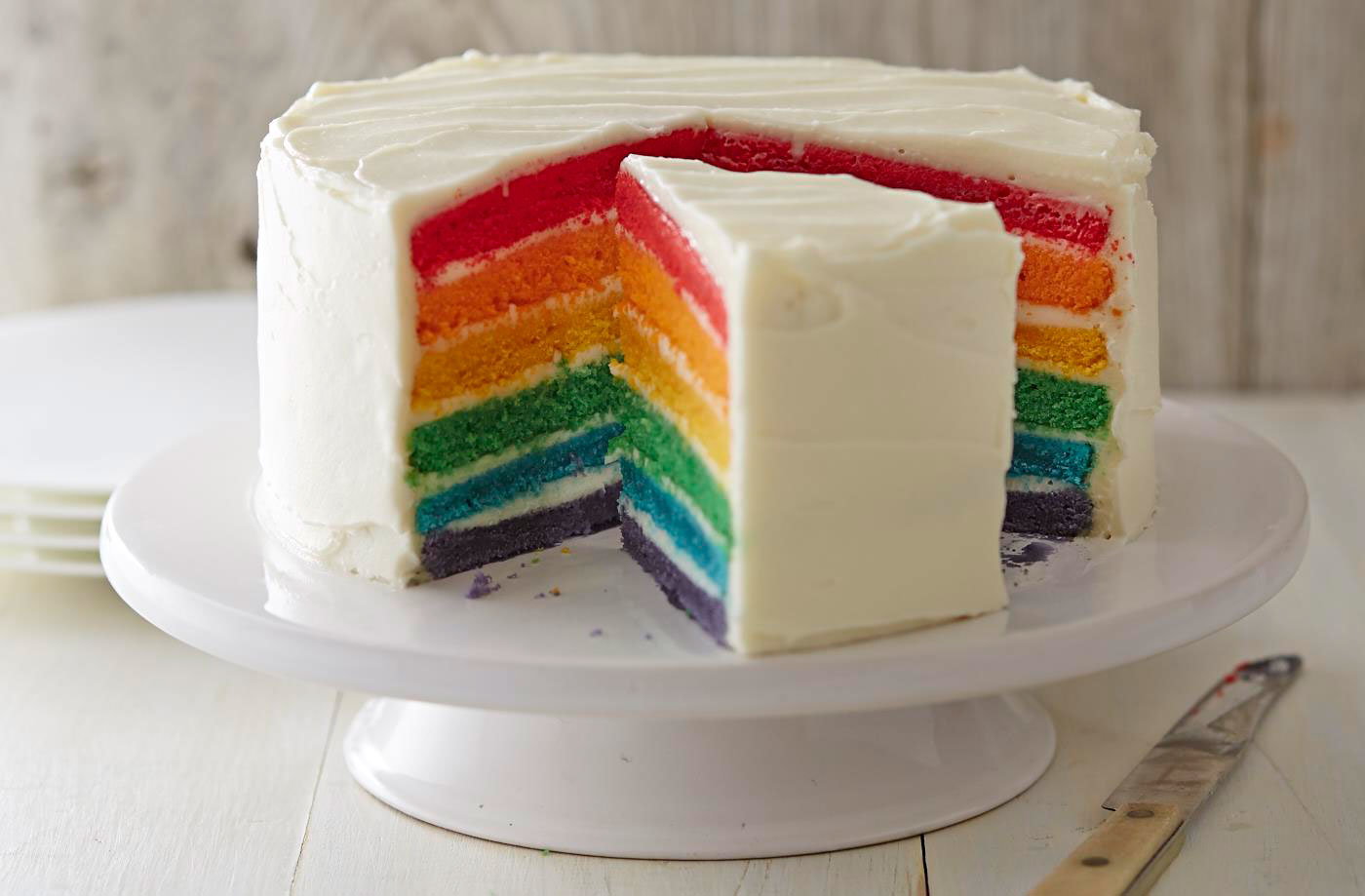 Brace yourself of the ultimate rainbow cake recipe that once enters your life; you will never be able to look back.
All ingredients needed to pull off a rainbow cake recipe:
Two cups of Water

Six eggs

One cup preferred vegetable oil

One whole bag of powdered sugar

Two boxes of vanilla cake mix

Rainbow food colours

Cup butter

Four tablespoons milk

Two teaspoons of vanilla

Cup shortening
Woah! That's a load of ingredients, hang in there, it's easier than you can guess.
Stepwise making of rainbow cake recipe 
Before we begin getting our hands in the bowl, preheat your oven to 350F.

Use a large bowl to beat cake mix along with oil, eggs and water with an electric mixer. Keep it going for 30 seconds on low speed and then on high speed for two straight minutes. Remember to scrape the bowl repeatedly to get it all mixed.

Distribute the prepared batter in equal quantities into six small boxes sized 11/3 each. 

Now comes the turn of food colours. Use blue, green, red, yellow, orange, and purple in 1 bowl each and tint the batter. To make the orange colour, use red and yellow colouring and for purple, mix blue and red. 

Keep three of these coloured batters in the refrigerator while you bake the other three in the preheated oven. 

Let it bake for almost 20 minutes until you see the batter take the shape of a baked cake and spring back. To check that touch the cake lightly in the centre and it should come back. Also, wait till it leaves the side of the pan itself. 

Let it sit for 10 minutes. Later cool it entirely by refrigerating. 

For the next batch of 3 batters, clean the cups and dry them thoroughly, and after pouring the coloured batter, bake it following the same procedure.

Now, take another large bowl and together beat shortening and butter until it takes a light yellow colour. Do it all at medium speed. 

Take powdered sugar, vanilla and begin beating at low speed. Gradually add milk in little quantities. Beat the mixture till it appears smooth, once it attains that use high speed to make it light and fluffy. 

Time for the most exciting stage. Cut the rounded tops of each cake to level them properly. Start placing the layers in series purple, blue, green, yellow, orange followed by red. Between each layer spread ¼ inch of frosting. 

Cover the top and sides of the cake with the frosting. Leave no side untouched. It helps to keep the crumbs in place and make the cake creamy. 
There it is your pack of surprise rainbow cake all ready. 
Some extra tips to make you rainbow cake recipe more easy and quick
To get hold of easy unmoulding, use butter or baking parchment. Use it on the base and side of the pan, and it should be easy to do. 

Keeping the coloured batter in the fridge till you bake the other three does not harm your hard work. Let it sit in there while you worry-free bake the other three.

Precisely distribute the batter in the bowls before colouring to get an even cake.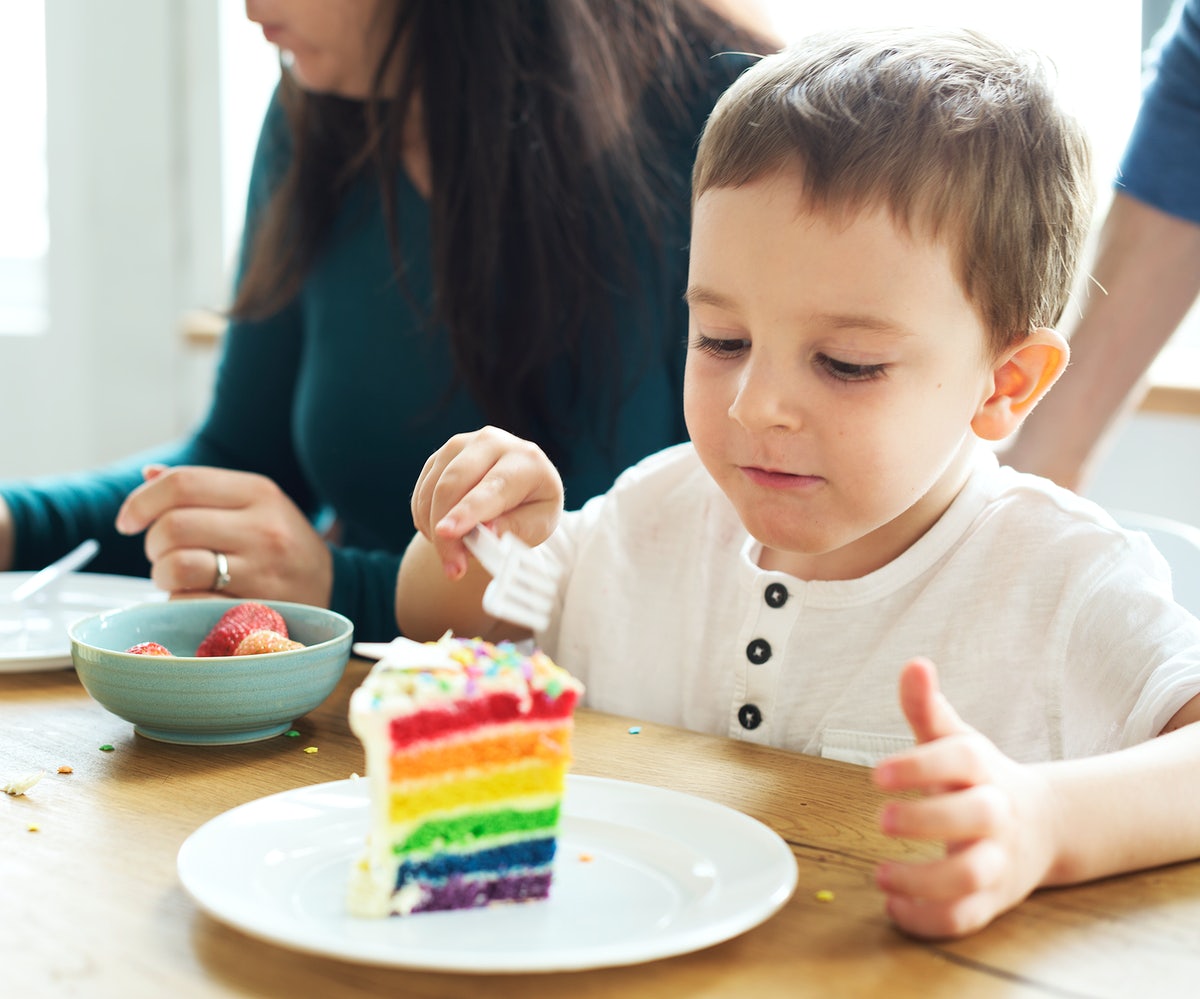 Monday blues or weekend parties set all moods with this fantastic rainbow cake recipe. White as snow and rainbow coloured inside it is nothing less than heaven brought on Earth.