We all love a good piece of coffee cake with a big cup of coffee, but, have you ever wondered where it came from? Well, there is no real evidence that the coffee cake was made in Europe in the 17th century. Earlier, coffee had not reached Europe, so no coffee cake existed before that period. The first ones are thought to have originated in Germany. They were more like sweet bread than cake. Almost immediately, the modern style of cakes came into view and they were filled with nuts and fruits, topped with icing or streusel. Nowadays, the great assortment of coffee cakes also makes it difficult to decide the best one for breakfast or brunch. Despite the fact that most will see coffee cake as a high calories dessert, it is possibly less known that coffee cakes with whole grains and berries, which are sources of anti- disease antioxidants, are helpful to good health.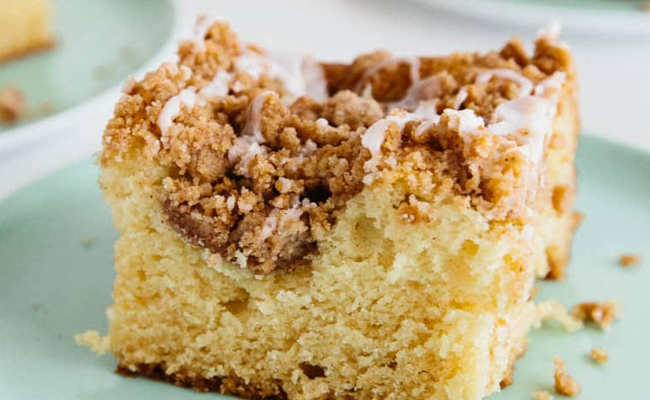 In today's blog, we are going to provide you an easy-peasy coffee cake recipe. So, don your chef hat, wear your master chef apron and get ready!
INGREDIENTS
For the streusel topping:
Cooking spray or butter, for the baking dish

1/3 cup granulated sugar

1/3 cup packed brown sugar

2 teaspoons ground cinnamon

8 tablespoons (1 stick) unsalted butter, melted

1 cup all-purpose flour
For the cake:
unsalted butter, at room temperature

1 1/2 cups granulated sugar

2 large eggs

2 teaspoons vanilla extract

2 1/4 cups all-purpose flour

1 teaspoon salt

2 teaspoons baking powder

1/4 teaspoon baking soda

1 1/4 cups full-fat sour cream
For the icing:
1 cup powdered sugar

2 tablespoons whole or 2% milk

1/2 teaspoon vanilla or almond extract
Equipments:
Mixing bowls

Stand mixer or hand mixer

9×13-inch baking dish

Baking sheet

Wire cooling rack

Whisk
Instructions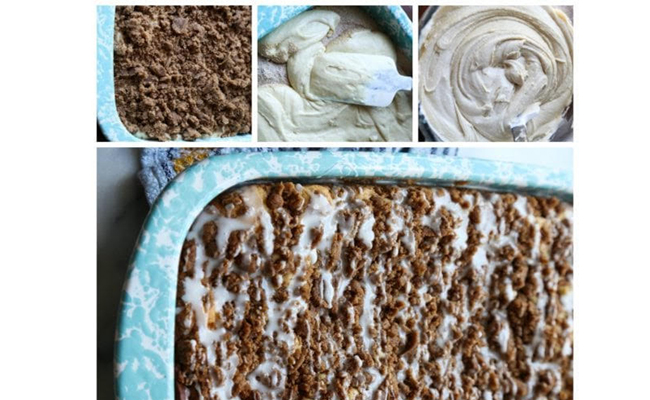 For Streusel Topping
Preheat your oven to 160ºC/140ºC fan. 

Make the streusel topping:

In a medium bowl, combine 2/3 cup sugar, 1/4 cup flour and 1 teaspoon cinnamon. Cut in 1/4 cup butter until the mixture resembles coarse crumbs. Set aside.
For Cake
Line two 20cm round sandwich tins with greaseproof paper or reusable baking tin liners.

Add the butter and sugar to a bowl and whisk until very fluffy and pale.

In a large bowl, combine 2 cups flour, baking powder and salt, 3/4 cup sugar. Cut in 1/2 cup butter until the mixture resembles coarse crumbs. Crack an egg into a measuring cup and then add milk. Add vanilla essence and stir properly. Pour into crumb mixture and mix just until rinsed. Spread into a prepared pan. Sprinkle top with streusel.

Bake for 55 to 65 minutes or until the cake is golden brown and a toothpick inserted in the center comes out clean.
For Icing
While the coffee cake is baking, In a small bowl, whisk together powdered sugar, milk and maple syrup until

you have a smooth shiny glaze. 

Once the cake is baked, take it out of the oven and transfer the pan to a wire rack, and cool slightly. Remove from the pan and while the cake is still hot

drizzle over the glaze

.

Cover and store the

coffee cake

at room temperature for 3-4 days.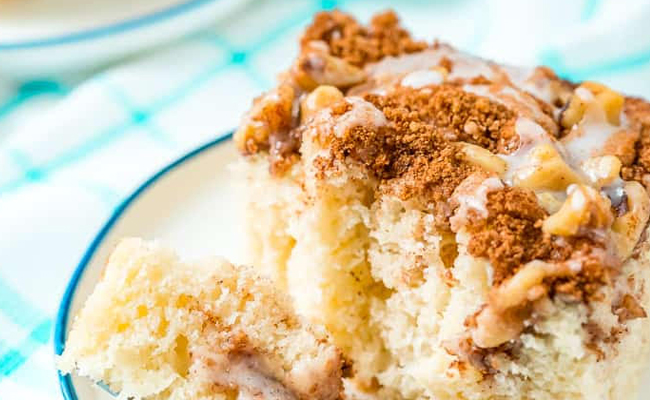 Note: Coffee is commonly included because it is a great way to enhance the flavor of cocoa powder, resulting in a more chocolaty cake. If you wish to make your chocolate coffee cake, it is very simple and easy. Believe it or not, simply substituting brewed coffee for water in a boxed chocolate cake mix can transform it into a special-occasion treat. And sprinkling instant coffee granules or adding brewed coffee to your homemade chocolate cake batter will render it inevitable.
A delicious all-in-one coffee sponge with smooth coffee buttercream. Easy to make and full of flavour!
That's it! Wasn't it easy? Well you won't know it until you give it a try! One of the best and easy coffee cake recipe to bake at home. Try now!