December is here which means in no time we are about to ring into the New year. Write fresh new stories of our lives with fresh new dreams and hopes that have brought us this far. While we plan to celebrate New years with our dear ones over booze and good food, we are sure to have some trending new year cakes online to set the mood right. Now obviously you can choose to order cakes online, but baking a cake out of your love for your dear ones on New Years Eve would be the gesture of their dreams.
So, are you ready to end this year with a bang? Then, you have got to try baking this kickass happy new year chocolate cake. The delicious dark chocolate coming alongside sparkly sprinkles are sure to get the party started inside as well as outside. This cake has been loved by all because of its moist and fluffy dark chocolate cake layers and because of coming topped up with champagne buttercream filling. Also, the black beautiful dark chocolate buttercream along with the s[parkly sprinkles tends to pop out in the most fantastical manner. This cake oozes out good vibes on the New Year eve and yells out nothing short of celebrations. So, here's how you need to bake this delicacy!
Ingredients For Black Chocolate Cake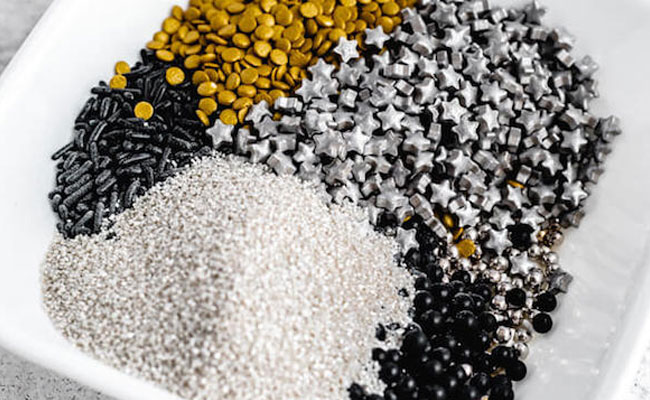 2 and ¼ cups all purpose flour
1 cup unsweetened cocoa powder
½ cup black cocoa powder
1 and ½ teaspoon salt
2 and ¼ teaspoon baking soda
1 teaspoon baking powder
1 and ½ cups unsalted butter, room temperature
2 and ¼ cups granulated sugar
4 large eggs, room temperature
¾ cup sour cream, room temperature
1 and ½ tablespoon pure vanilla extract
1 and ½ tablespoon instant coffee granules
1 and ¾ cups buttermilk, room temperature
½ cup champagne, room temperature
Ingredients For Champagne Buttercream Filling
1 cup unsalted butter, softened to room temperature
⅛ teaspoon salt
5 cups Powdered Sugar, sifted
⅓ cup Champagne (or sparkling wine)
Ingredients For Black Buttercream Frosting
2 cups unsalted butter, room temperature
8 cups powdered sugar
½ cup unsweetened cocoa powder, sifted
½ cup black cocoa powder
½ cup heavy cream, room temperature
4 teaspoon pure vanilla extract
½ teaspoon salt
2 tablespoon black gel food colouring
Additional Ingredients/Equipments
New Year Sprinkles pack
Edible gold paint
Food Paintbrush
Let's Start Baking!
Start by preheating the oven at 350° F. Meanwhile prepare four 8-inch round cake pans and lay them with parchment papers. Don't forget to grease the sides. Set aside.
Take a large bowl, add ingredients like flour, both cocoas, salt, baking soda and baking powder. Sft and whisk them all together. Set aside.
Now take a mixer attachment and beat butter and sugar on medium speed until fluffy and pale.
Lower the speed to low from medium and add eggs one at a time.
Now in a small bowl, mix vanilla and instant coffee granules together. Further add sour cream along with the coffee mixture to the batter. And beat all these ingredients together until well combined on medium speed.
Combine buttermilk and champagne in a bowl and set aside.
Alternate add ⅓ of the dry ingredients and beat them on medium speed until combined. Pour half of the buttermilk mixture and give it a good mix. Repeat the process with remaining dry ingredients until all the ingredients have been combined well.
Now divide the batter equally in each of the four cups.
Bake two layers of the cake for 20-25 minutes or until a toothpick once inserted into the center comes out clean.
Remove the cake pans after baking them. Let them cool for about 10 minutes or so as you p;lace them over a wire rack.
For the champagne frosting, beat butter and salt on medium-high speed.
Further add 3 cups of sugar preferably one cup at a time. And beat them together. Now add champagne to this mixture along with the remaining two cups of powdered sugar. Mix everything well/. Hip until light and fluffy. Set it aside for about 5-7 minutes.
On the other hand, for the black chocolate buttercream, beat butter until it turns light and fluffy.
Now add one cup of sugar along with the cocoa powder. Mix well. Once well combined, add heavy cream, vanilla and salt until well incorporated.
Add the remaining powdered sugar and a few drops of black food colour (if you wish to) to give your cake a deep and dark back color.
Beat everything together until it turns light and fluffy.
Once both the frostings are ready and the cake layers too, you can start assembling your cake.
Take 2 layers of cake and stack them on top of one another. Cut a hole in the centre with a biscuit cutter on both cakes.
Now take a generous amount of champagne frosting Place it family on top of one cake layer. Now cover up the other cake layer with the champagne frosting.
Pour the sprinkles on top of the frosting. Finally frost the entire cake with a thin layer of champagne frosting. Refrigerate for about 30 minutes.
Now take the cake out of the refrigerator and frost the entire cake with a thick layer of black buttercream. Then fill the leftover frosting in a star tip piping bag. Set aside.
In the roll motion, pipe some of these frosting on top of the cake and sprinkle the leftover sprinkles as a garnish.
This is optional though you can choose to add some sparkle as you add edible gold paint to your cake to finish off beautifully. Slice and serve!