Raksha Bandhan, a time-honoured festival that celebrates the unbreakable bond between siblings, is fast approaching. Amidst the exchange of heartfelt sentiments and joyful rituals, why not elevate the festive spirit with an array of creatively designed cakes? Whether you're a seasoned baker or in search of a professional confectioner, these top 15 cake ideas for Raksha Bandhan 2023 will undoubtedly add a delectable and memorable touch to your celebrations.
Classic Rakhi-Themed Cake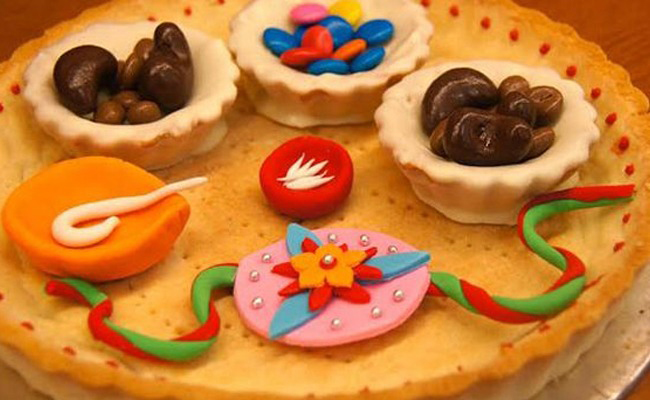 Commence the Raksha Bandhan festivities on a sweet note with a cake that pays homage to the quintessential Rakhi thread. Imagine a cake adorned with meticulously crafted designs of vibrant Rakhis, each representing the threads of love that unite siblings. This classic rakhi cake design brings the very essence of the festival to life in a delicious and visually captivating manner, setting the tone for a heartwarming celebration.
Floral Elegance Cake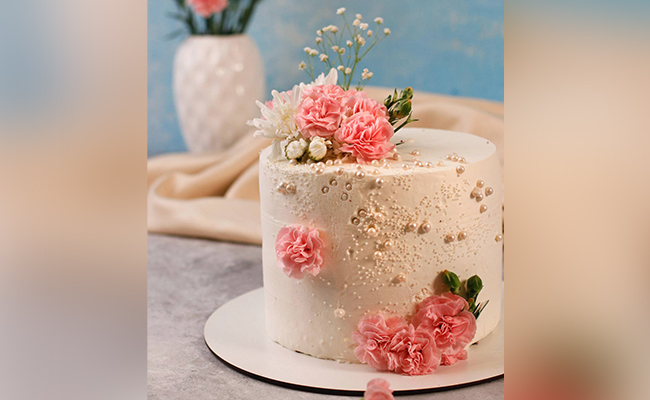 Channel the grace and beauty of Raksha Bandhan with a cake adorned in delicate, edible flowers. Imagine roses, marigolds, or orchids meticulously arranged to create a visual symphony that embodies the fragrant essence of the festival. This cake idea doesn't just tantalise taste buds but engages multiple senses, creating an immersive and captivating experience.
Cartoon Character Cake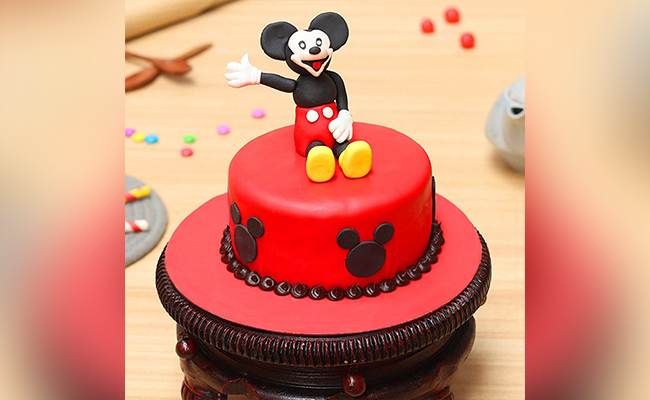 Rekindle the carefree days of childhood by incorporating your sibling's favourite cartoon character into a cake. Whether it's the iconic Mickey Mouse, the endearing SpongeBob SquarePants, or beloved superheroes, this brings a touch of whimsy to your Raksha Bandhan celebrations, fostering laughter and nostalgia.
Symbolic Rakhi Cake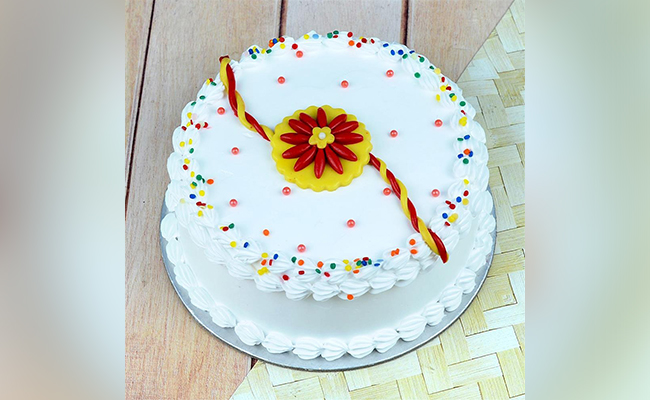 Unleash your artistic flair by crafting a cake in the very shape of a Rakhi. Elevate its visual appeal by adorning it with intricate patterns and designs that mirror the festival's spirit. This cake transforms into a unique masterpiece, symbolizing the unbreakable bond shared between siblings in a delicious and visually compelling manner. This adorable Raksha Bandhan cake design will surely make your siblings go wow.
Fruit Delight Cake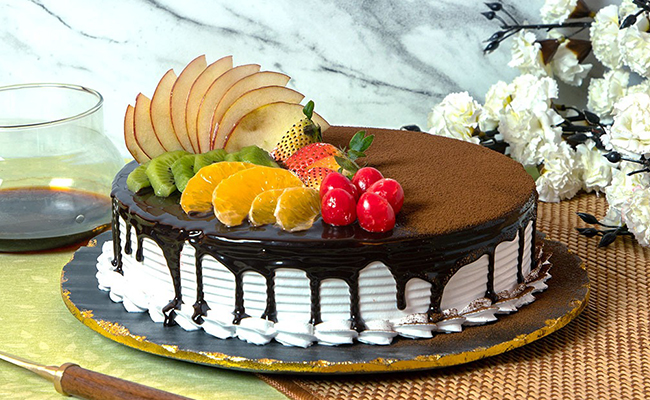 Dive into a world of wholesome indulgence with the Fruit Delight Cake, a creation that seamlessly marries healthiness and vibrant flavors, elevating your Raksha Bandhan festivities to new heights. Imagine a cake adorned with an exquisite array of fresh, succulent fruits, each slice resembling a canvas bursting with a medley of colours and tastes. The visual allure of this cake is only rivaled by the tantalizing symphony of flavors it offers. Envision the lusciousness of ripe mango slices, the tangy sweetness of pineapple chunks, and the aromatic burst of passion fruit seeds.
Chocolate Overload Cake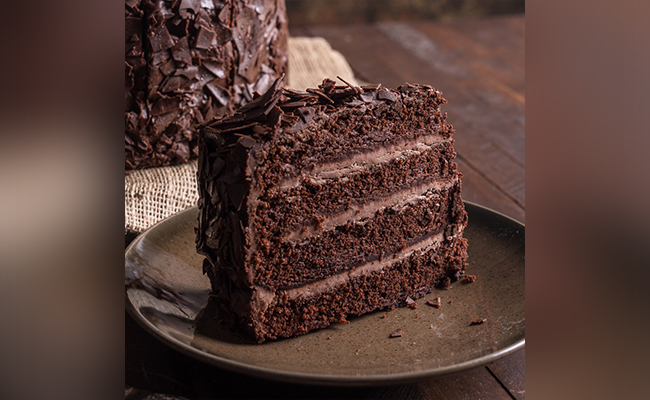 For aficionados of chocolate's divine decadence, a cake boasting multiple layers of chocolate goodness is an irresistible choice. Envision layers of rich chocolate cake generously slathered with luscious chocolate ganache, topped with artfully arranged chocolate shavings and curls. This cake idea caters to the soul of chocoholics and is an indulgent tribute to the festival's sweetness.
Traditional Motif Cake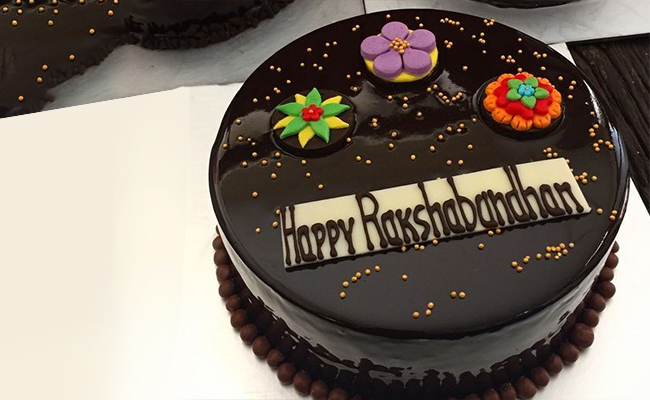 Pay homage to the cultural significance of Raksha Bandhan with a cake adorned in traditional motifs such as peacocks, diyas, and Om symbols. These intricate designs not only bestow an air of elegance on the cake but also serve as a visual reminder of the festival's deeper meanings.
Personalised Photo Cake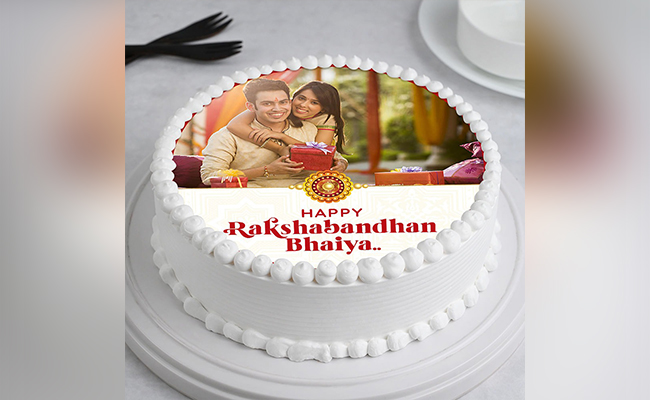 Delve into a treasure trove of memories by opting for a personalised photo cake. Picture the joy on your sibling's face as they witness cherished moments transformed into an edible masterpiece. It's not just a rakhi design cake; it's a testament to the unique and cherished bond you share, adding an emotional layer to the sweetness of the occasion.
Cupcake Delight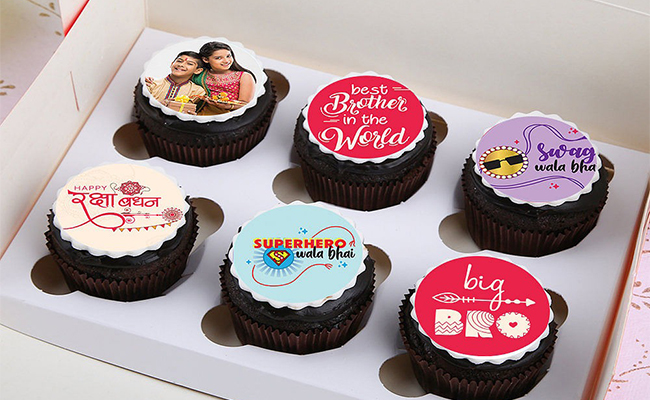 When envisioning Raksha Bandhan cake ideas, don't overlook the charm and versatility of cupcakes. These petite treats offer a medley of flavors, easy sharing, and personalised decoration options. They encourage interactive moments as guests can customise their cupcakes, and their aesthetic appeal creates eye-catching displays. These tiny rakhi cakes make for delightful gifts and memorable treats that bring joy to your Raksha Bandhan celebrations.
Textured Buttercream Cake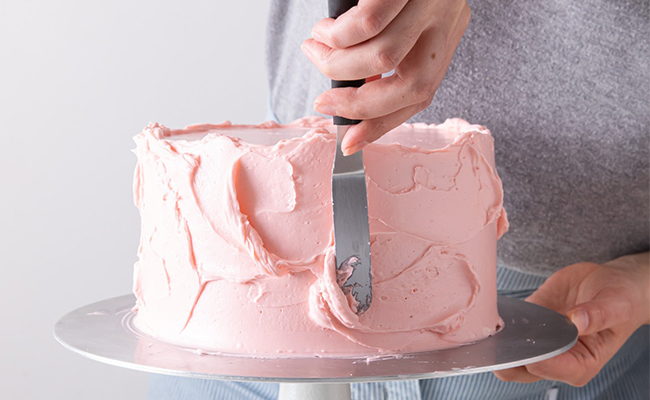 Embrace the heartwarming spirit of Raksha Bandhan with a Textured Buttercream Cake that encapsulates the very essence of the festival's cherished threads of love. This cake concept takes the art of cake decoration to new heights, where every stroke of buttercream becomes a testament to the enduring bond between siblings. Imagine a cake that beckons with its pristine surface, ready to unveil its intricate secrets. As you take a closer look, patterns and designs emerge, meticulously etched onto the cake's surface. These patterns are not just decorations; they are inspired by the sacred threads of Rakhi, each stroke a symbolic representation of the connection that you and your sibling share.
Saffron and Cardamom Cake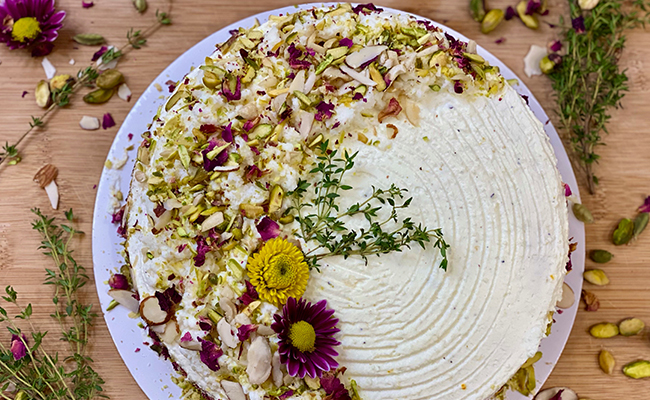 Delight your senses and pay homage to the cultural richness of Raksha Bandhan with a Saffron and Cardamom Cake. This delectable creation seamlessly weaves together the aromatic notes of saffron and the warm embrace of cardamom, infusing your celebration with the very essence of Indian tradition. Imagine indulging in each forkful as the delicate strands of saffron intertwine with the earthy and slightly citrusy undertones of cardamom. These two iconic spices not only create a symphony of flavors but also transport you to the heart of Indian heritage.
Marble Swirl Cake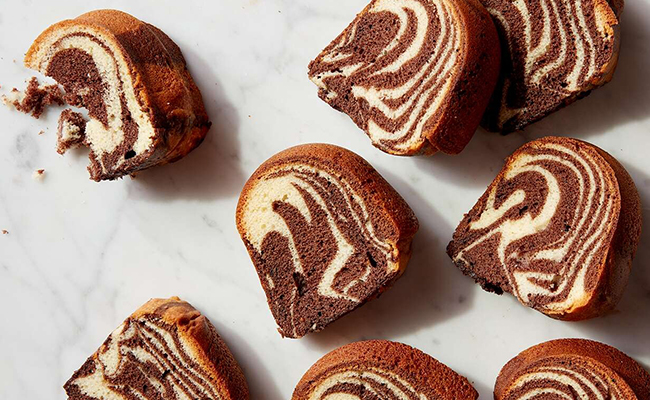 Infuse a dash of artistry into your Raksha Bandhan celebrations with a cake adorned in mesmerising marble swirls, each boasting vibrant hues. Visualise a cake that not only tantalises taste buds but captivates the gaze of your guests, making it a stunning focal point.
Tropical Paradise Cake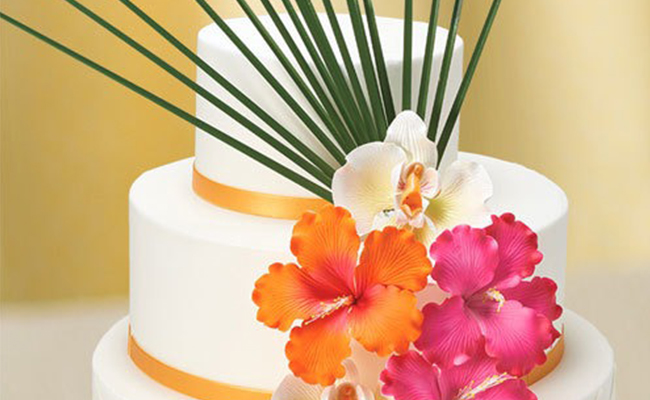 Immerse yourself in the tantalizing world of flavors by infusing the vibrant colours and exotic tastes of tropical fruits, such as succulent mangoes, tangy pineapples, and the aromatic allure of passion fruit, into your delectable cake. Envision a cake that effortlessly whisks you away to the enchanting realms of a tropical paradise, where every bite evokes the sun-kissed beaches, swaying palms and the refreshing ocean breeze. This cake becomes more than just a dessert; it's a sensorial journey that elevates the festive spirit with a revitalising and utterly satisfying twist. It's a celebration of flavors that dances on your palate, embodying the joy and vibrancy of Raksha Bandhan in every slice.
Dual Flavor Cake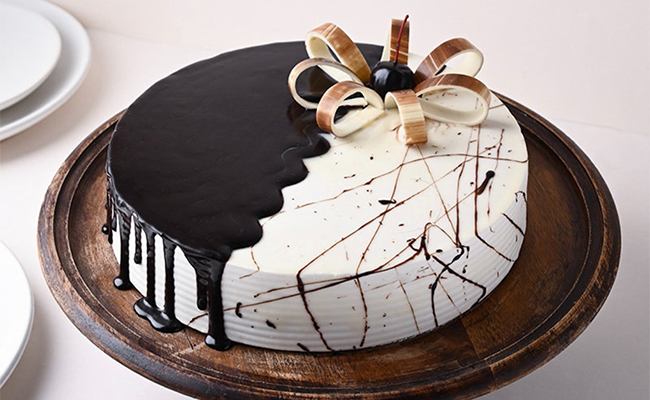 Honour the diversity of tastes within your family with a dual-flavour cake. Picture a cake that showcases two distinct flavors, symbolising the unique blend of personalities that make up your sibling relationship. It's a harmonious culinary representation of your bond.
Pinata Cake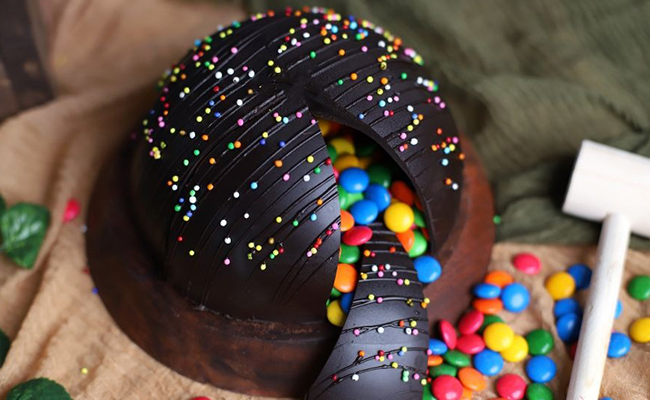 Raksha Bandhan is all about creating beautiful memories and reinforcing the bond between siblings. A Pinata Cake aligns perfectly with these sentiments, offering a fun and interactive experience that everyone can enjoy. Imagine the joy on your sibling's face as they cut into the cake and discover the hidden sweets or treats inside. It's a moment that captures the essence of the festival – the joy of giving and the thrill of receiving. The design possibilities for a Raksha Bandhan Pinata Cake are endless. You can opt for a traditional Rakhi-themed cake on the outside, complete with intricate patterns and vibrant colours. The hidden surprise spills out as the cake is cut, adding an extra layer of excitement to the festivities.
With Raksha Bandhan on the horizon, these cake ideas offer a delightful and innovative way to celebrate the cherished bond shared between siblings. Each cake concept is a masterpiece in its own right, from traditional themes that honour cultural symbols to modern twists that add a touch of flair. So, give free rein to your creativity, choose a cake that resonates with your heart, and do not forget to add rakhi gift hampers to make the celebration utmost fun-filled.