The city of Delhi is a food lover's paradise, with a wide variety of cuisines available. From the streets to the high-end restaurants, the city has something to offer for every palate. Street food, in particular, holds a special place in the hearts of Delhiites. The city's street food scene is diverse and offers a wide variety of delicacies. Tourists from all over the country enjoy the delicious delicacy. Here are the top 15 street food items that you must try on your next visit to Delhi:
1) Chaat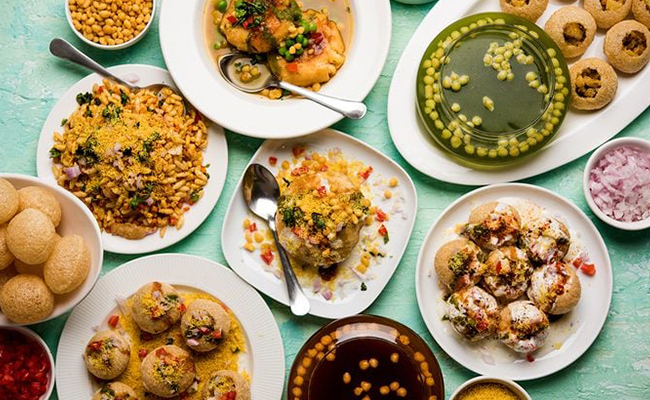 Indian cuisine is known for its bold flavours and rich taste, and Chaat is a prime example of this. However, the way Chaat is made can vary depending on the region. Chaat is a broad term that encompasses a variety of popular snacks such as Aloo Chaat, Dahi Papri Chaat, Dahi Bhalla, Papri Chaat, Samosas and Samosa Chaat. A common ingredient in many of these Chaats is potatoes, which are incredibly versatile and can be cooked and presented in numerous ways, especially in street food from Delhi.
2) Choley Bhature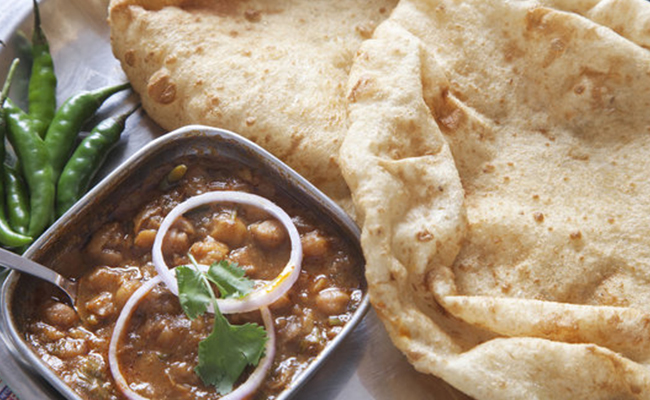 Delhiities be like "aaj kuch halka breakfast karne ka man hai chalo Choley Bhature kha lete hai". This dish is a staple in North India and is made up of a spicy chickpea curry and a deep-fried bread called Bhatura. It is typically served with pickle, onions and green chutney on the side. You will find a lot of vlogs on where to find the best Chole Bhature in delhi.
3) Soya Chaap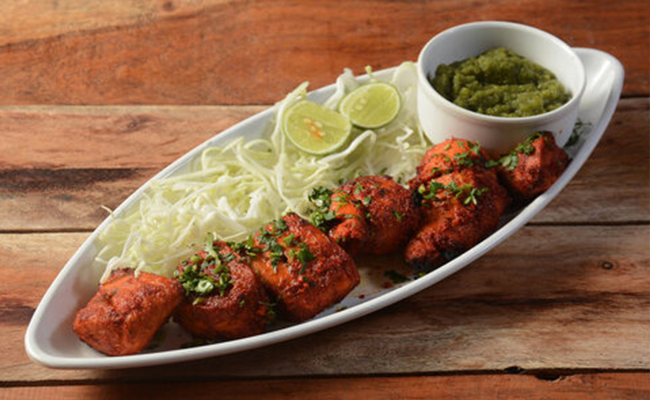 In recent years, Delhi has seen a sudden increase in the number of hawkers and vendors selling grilled and Tandoori Soya Chaaps. It, which is often considered a vegetarian alternative to mutton, has become even more popular with non-vegetarians because of its exquisite taste. From Afghani Soya Chaap to Tandoori Soya Chaap the list is endless. One variety that should not be missed is Malai Soya Chaap. You will need vendors selling soya chaap in every nook and corner of the city.
4) Aloo Tikki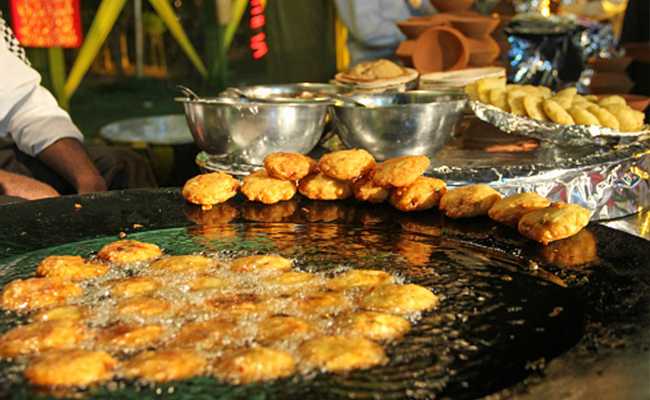 Aloo Tikki is a popular Delhi street food item that is made from mashed potatoes and spices. It is then deep-fried and served with tamarind and mint chutney. Tangy, spicy and sweet, this street food is perfect for those who love different flavours in one dish.
5) Samosas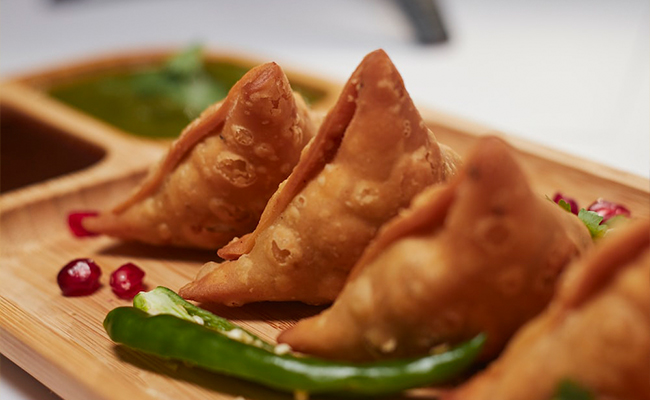 Not only Choley Bhature Delhi but Samosas are also a popular street food item in Delhi. They are typically served with tamarind and mint chutney. People love to enjoy hot samosas with chutney as they are also budget friendly and taste amazing.
6) Kebabs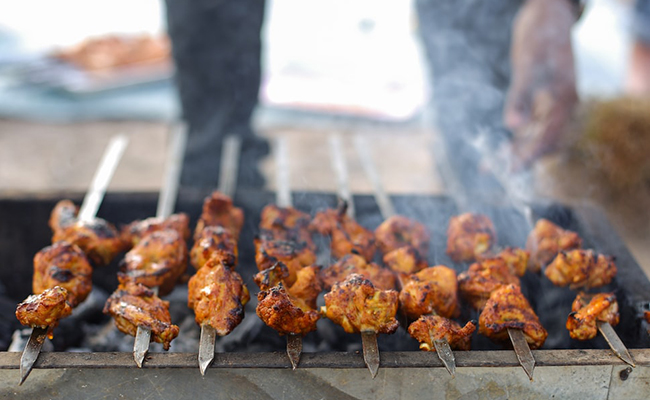 The variety of Kebas you will find in Delhi will blow your mind. Kebabs are a popular street food item of Delhi which will remind you of Mughal Era. They are typically made from meat that is marinated in spices and then grilled on skewers. Some popular types of kebabs include Seekh kebab, Tikka kebab, Galoti Kebab and Shami Kebab.
7) Jalebi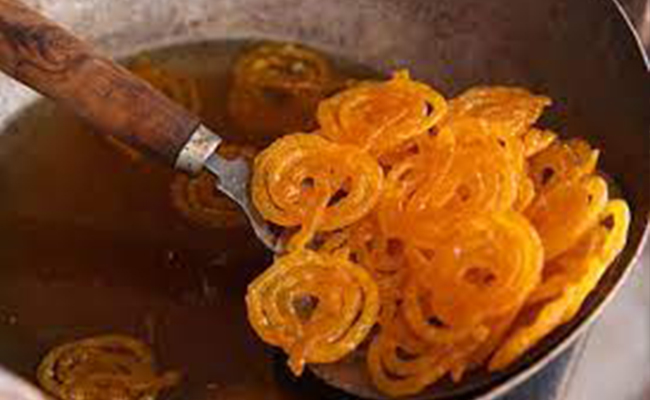 Jalebi is a popular street food item that is made from deep-fried wheat flour that is shaped into a spiral and then soaked in a sweet syrup. It is a popular sweet dish and is often served as a dessert. People also enjoy combination of Samosa and Jalebi. You have a sweet tooth you can also try dessert, baked items and cakes in delhi which will surely treat your taste buds.
8) Chur Chur Naan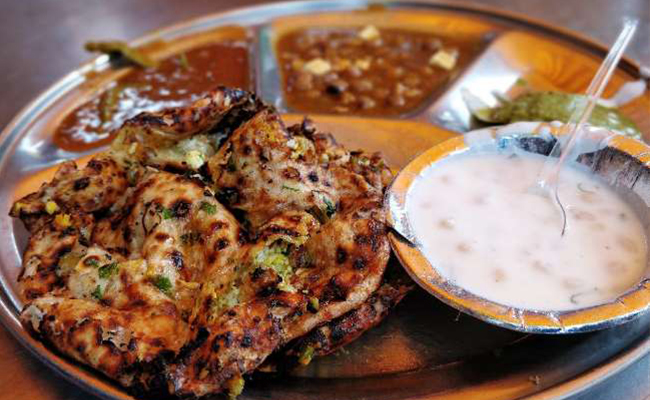 Chur Chur Naan is a popular street food item that is made from a type of flatbread that is stuffed with a mixture of potatoes and spices. It is then rolled and deep-fried, making it a crispy and delicious snack. The combination of chur chur naan and Amristari choley cannot be explained in words.
9) Raj Kachori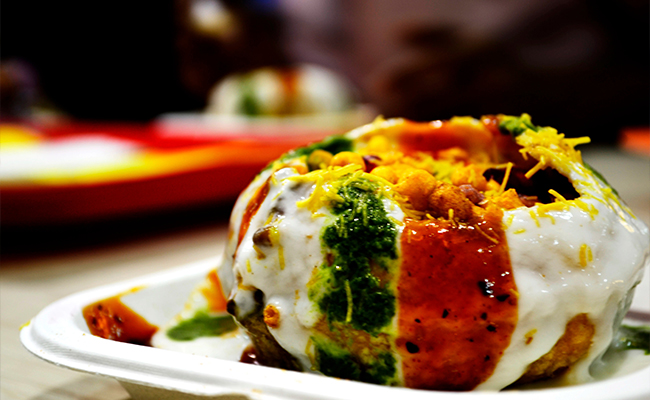 Raj Kachori is a popular street food item that is made from a large round kachori that is filled with a mixture of potatoes, chickpeas, sprouts and spices. It is then topped with yogurt, tamarind and mint chutney, and sev. So, don't forget to try the best street food in Delhi.
10) Daulat Ki Chaat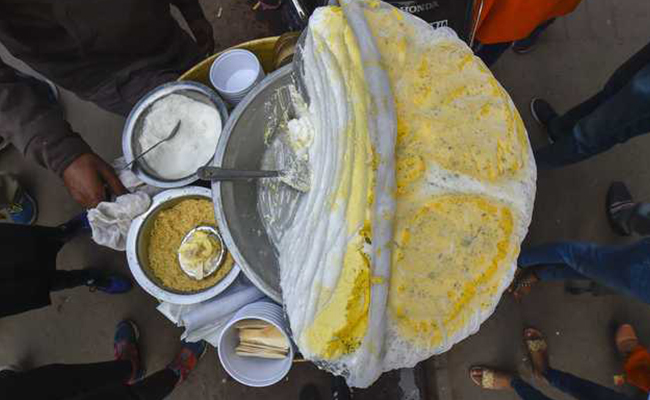 No No it's not a chaat, actually Daulat ki Chaat is actually a sweet dish. A rich, creamy foam is collected from churning milk, then mixed with sugar and saffron. Pistachios and almonds are garnished before serving. This popular plate of goodness is made with a heavenly blend of ingredients.
11) Ram Ladoo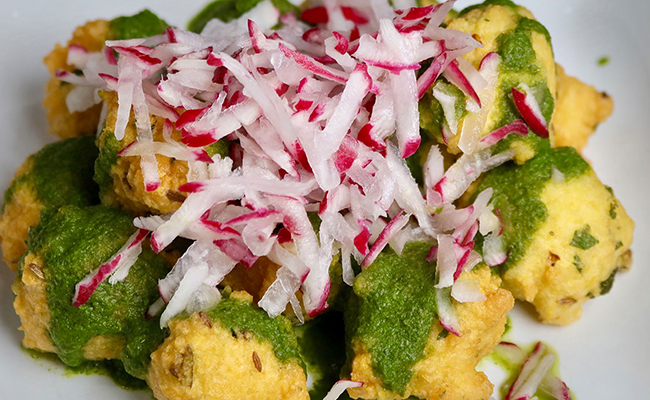 Ram Ladoo, a popular street food in Delhi, is made from split green gram flour and filled with mint and radish for a spicy and tangy taste. These soft, deep-fried balls can be found on nearly every street corner in the city, making it one of the best street foods in the area. One bite of these heavenly balls will melt in your mouth and leave you wanting more.
12) Momos
Another must-try street food in Delhi is Momos, a local favourite among students, shoppers, and corporate workers. These steamed dumplings can be found in various forms such as fried, and tandoori, and filled with options like chicken or paneer. Momos are considered to be one of the best street foods in the capital, and you won't find a better version of this dish anywhere else in India, except for the far east.
13) Matar Kulcha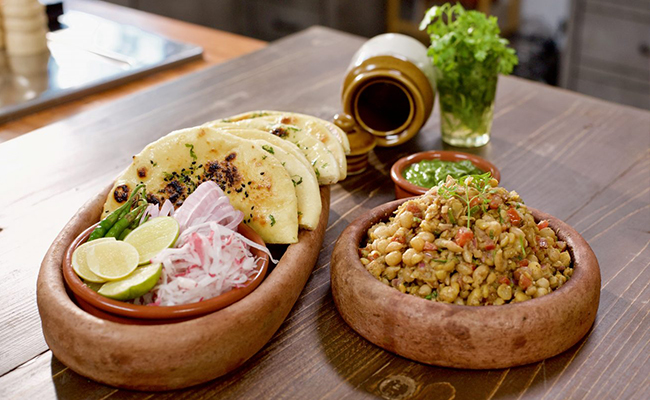 Matar Kulcha, is one of the most common and sought-after items in Delhi's famed food scene, and is quite popular with many people. The matar kulcha is a healthier alternative to the Chole Bhature and is gaining popularity in restaurants. The recipe is for a flatbread made of fermented dough and a white pea curry topped with chopped onions, tomatoes, and coriander served with a generous splash of lime. This quick snack satisfies hunger and each new bite is more delicious than the previous.
14) Sabji Kachori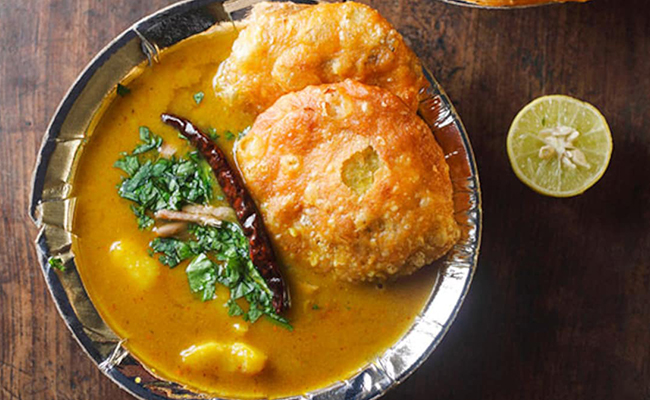 Street food in Delhi is a highlight of the city, and one dish that stands out is the broken Kachori. This snack is made by topping a fried dough pastry with Aloo Sabji (curry) and Mint Chutney, and is a favourite among local vendors, shoppers, and other street food enthusiasts.
15) Parathas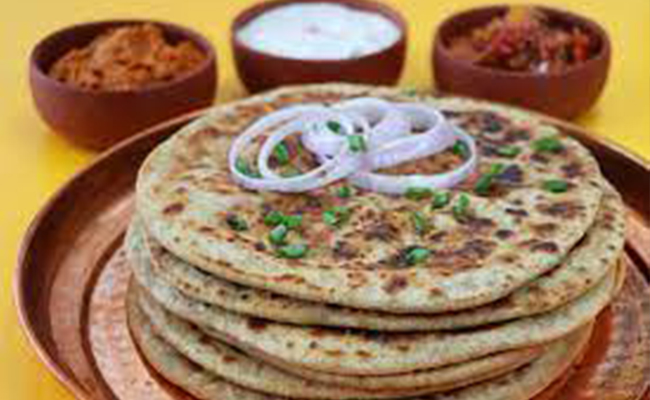 Another must-try street food in Delhi is the Parathas, which can be found in the historic area of Chandni Chowk. The aroma of freshly rolled and fried dough will draw you in as you stroll through the streets, and the area is known as the "paranthe wali gali," or "lane of parantha shops." Visitors and residents alike recommend visiting Chandni Chowk to indulge in the delicious street food, with many shops offering up to 30 different types of paranthas to try.
The street food scene in Delhi is diverse and offers a wide variety of delicacies. From the popular Chole Bhature to the lesser-known Raj Kachori, there is something for everyone to enjoy. These top 15 street food items are a must-try for anyone visiting the city and looking to experience the true flavours of Delhi. Bon Appetit!