Delhi's culinary landscape is as diverse as it is enticing, and the city's bakery scene is no exception. From charming patisseries to exquisite cake shops, Delhi offers a plethora of wonderful options for those seeking delectable baked treats. Here are the must-visit bakeries in Delhi that deserve a spot on your gastronomic journey through the capital.
Bakingo – Online Bakery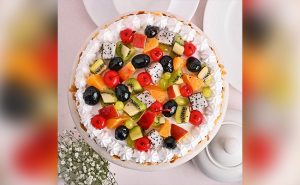 In the digital age, Bakingo has taken the art of cake delivery in Delhi to new heights. With a diverse range of cakes available for online order, Bakingo brings the bakery experience to your doorstep. Whether you're celebrating a birthday, anniversary, or any special occasion, you will find a variety of Bakingo Cakes and desserts to suit your preferences. With the convenience of online cake order in Delhi, Bakingo provides a seamless way to elevate your festivities. Must-try their Blueberry Cheese Cake, Choco Mud Jar Cakes, Red Velvet Cakes.
Contact: +91 8882 553 333
Big Chill Cakery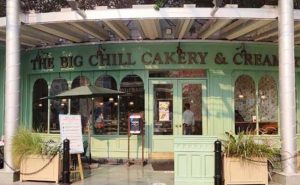 Nestled in the heart of Khan Market, Big Chill Cakery is a haven for dessert aficionados. Known for its decadent cakes and pastries, this Cake Shop in Delhi is an extension of the renowned Big Chill Café. From classic chocolate cakes to innovative red velvet creations, their offerings are a delightful treat for the taste buds. Don't miss their signature Blueberry Cheesecake and Mud Cake.
Nearest Metro Station: Khan Market.
Timings: 12 Noon – 11:30 PM.
Contact: +91 11 4004 1600
Miam Patisserie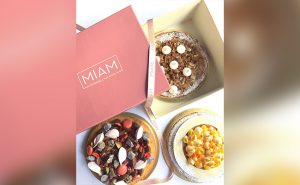 Miam Patisserie in Lado Sarai is a hidden gem that marries artistry with baking expertise. Renowned for its visually stunning creations, this bakery transforms cakes into edible works of art. Each masterpiece is a blend of flavours and aesthetics, making it a Cake Shop in Delhi like no other. Their Alphonso & Vanilla Entremet, Belgian Chocolate & Vanilla Crème, Chocolate Galettes, and Eggless Belgian Dark Chocolate & Hazelnut is a testament to their mastery of flavours.
Nearest Metro Station: Saket.
Timings: 11 AM to 7 PM.
Contact: 9871441164
L'Opéra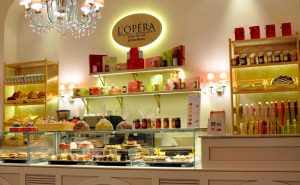 With multiple outlets including Khan Market, Green Park, and Civil Lines, L'Opéra is a testament to the city's love for all things French. This Best Bakery in Delhi brings the elegance of Paris to your palate. Known for its exquisite pastries and bread, L'Opéra offers a wide array of delectable treats. Their signature Croissants or Choco Eclair are a delightful indulgence, and their Opera Cake is a symphony of flavours.
Nearest Metro Stations: Khan Market, Green Park, and Civil Lines.
Timings vary by outlet.
Contact: +91 9599 960 815
Elma's Bakery & Kitchen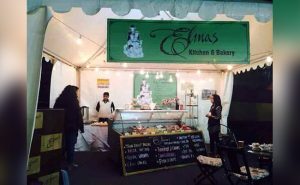 Hauz Khas is home to the iconic Elma's Bakery & Kitchen, a vintage-themed establishment that exudes warmth and charm. Known for its nostalgic ambiance and delectable offerings, this bakery invites you to relish a slice of the past. Their Red Velvet Cake is a classic favourite that never disappoints.
Nearest Metro Station: Hauz Khas.
Timings: 10:00 AM to 1:00 AM.
Contact: +91 1126521022
Wenger's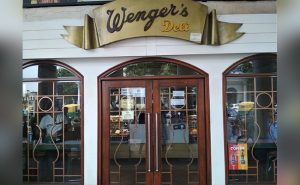 A legendary establishment since 1926, Wenger's in Connaught Place is an iconic cake shop in Delhi that has stood the test of time. Renowned for its mouthwatering pastries, delicious cakes, and savoury snacks, Wenger's offers a range of delectable treats. Their signature offerings, like the Mille-Feuille Pastry and Fruit Pies, are irresistible. If you're looking for a Cake Shop in Delhi that exudes charm and culinary heritage, Wenger's is a must-visit.
Nearest Metro Station: Rajiv Chowk
Timings: 11:00 AM – 8:00 PM
Contact: +91 11 2332 4594
Nik Baker's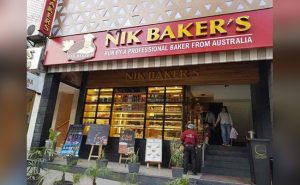 With multiple outlets across Delhi, Nik Baker's has earned its reputation as one of the best bakeries in Delhi. Their commitment to quality and innovation shines through their delightful range of cakes, pastries, and artisan bread. Must-try: Blueberry Pancakes, Bagels, Chocolate Praline Cake, Kitkat Cake, and Tiramisu Italiano, among so many more options. Whether you visit the Punjabi Bagh, GK II, or Green Park outlet, you're in for an exceptional treat.
Nearest Metro Stations: Punjabi Bagh: Punjabi Bagh West | GK II: Greater Kailash | Green Park: Green Park
Timings: 8:00 AM – 11:00 PM
Contact: +91 11 2522 1371
Maxims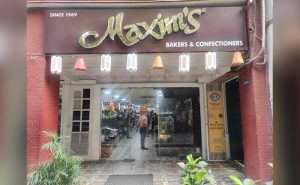 Maxims in Kailash Colony is another gem that deserves a spot on your bakery exploration list. As one of the best bakeries in Delhi, Maxims presents a fusion of French and Indian flavours in their delectable creations. Their Choco Truffle Cake, Cheese Footlong, Mushroom Quiche, and Chicken Patties are highly recommended. With a cosy ambience and an array of gourmet delights, Maxims promises an unforgettable experience.
Nearest Metro Station: Kailash Colony
Timings: 12 Noon – 8 PM
Contact: +91 11 2923 8246
Defence Bakery, Defence Colony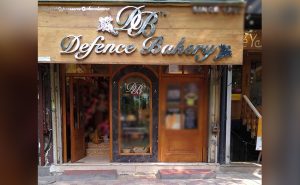 For those seeking an artisanal touch, Defence Bakery in Defence Colony is the place to be. This beloved bakery has been serving delightful confections since 1962. From their signature Plum Cake, Irish Cream Cake and the Burnt Basque Cheesecake to the delectable Apple Pie, every bite is a testament to their dedication to quality. If you're looking for the Best Bakery in Delhi with a vintage charm, Defence Bakery is an absolute treat.
Nearest Metro Station: Moolchand Metro Station
Timings: 9:00 AM – 9:00 PM
Contact: +91 11 46 698 829
Janta Bakery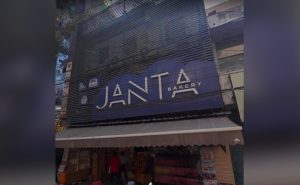 A hidden gem among Delhi's bakeries, Janta Bakery in Bhogal offers an authentic taste of nostalgia. With its old-world charm, this bakery whips up an array of classic delights. Must-try options: Kaju Pista Cookies, Strawberry Pastry and Eclairs. Their humble yet mouthwatering offerings have garnered a loyal following over the years, making Janta Bakery a true local favourite.
Nearest Metro Station: Jangpura
Timings: 8 AM – 10 PM
Contact: +91 11 2437 5686
Wrapping Words:
In a city brimming with culinary wonders, these bakeries stand out as destinations that promise delightful experiences. As you embark on your bakery adventure, be sure to savour every moment and every delectable treat that these establishments have to offer. And in the case of Bakingo, you can also place your online cake order in Delhi.
So with these exceptional bakeries, Delhi's bakery scene is a delightful blend of creativity, flavours, and innovation that will undoubtedly leave you craving for more.