For some people having a dessert at the end of the main course tend to complete the meal. While for some others, having a dessert only matters to the point where it calms your sweet tooth pleasure, regardless of in what quantity or when you are having it. One cannot simply get enough of desserts which makes it so irresistible.
Baking is a part of the modern art which doesn't just soothe our minds but also our tongues, while relishing it, thereafter. From biscuits to brownies to other sweet pleasurable items, there are endless options, in terms of flavour, size, and type to these true pieces of art! And for us, food lovers one who has mastered baking these is no less than a baking angel in him/herself. Also, different dessert items are relished across different parts of the world. The secret ingredient to perfect baking is the touch of love, that a baker adds while preparing dessert items. A baker's creativity or innovation tends to get reflected with the kind of dessert, he prepares. Over time, the regular dessert items have gone through a foodie revolution to give all the dessert lovers with what they have been searching for all their lives. Finally, the Food Lord has answered our prayers!
Desserts seem to fit in across various occasions celebrated in different parts of the world. From having a lip-smacking bite of these desserts while celebrating your birthday or Valentine's day or no special occasions at all, these seem to steal our hearts away with its attractive shape and flavour. Presenting any dessert in heart shape tends to ideograph as a symbol of love and affection. Below, we have listed a few heart-shaped desserts which seem to make everyone's day or every special occasion better.
Cakes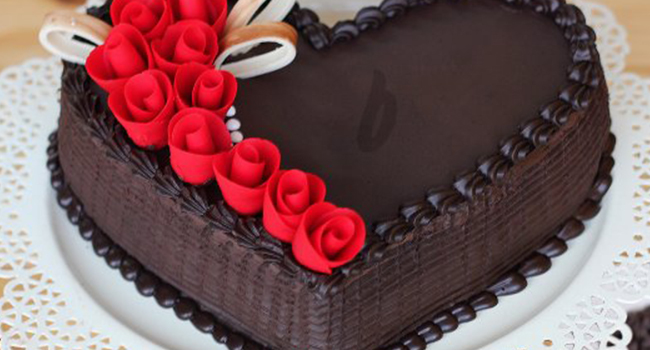 Most common among other categories of heart-shaped dessert is a pound or two of happiness or cake. Easy to bake and also to get in various flavours is this sweet food which is normally prepared with ingredients like sugar, flour, butter, eggs, and a leavening agent. To bake a heart-shaped cake, a person just needs to mix these ingredients, whip them and bake it in a heart-shaped mould. Yes, it is that simple to get a heavenly bite!
Macarons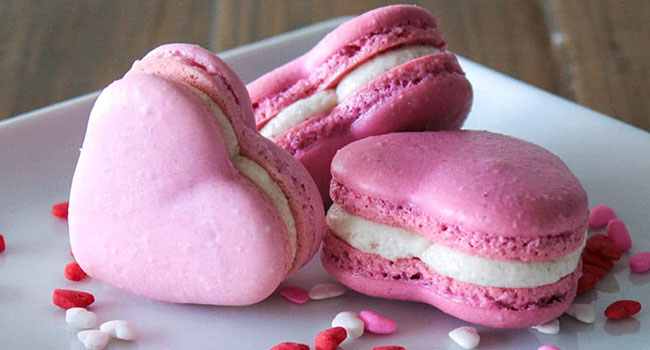 Heart-shaped macarons are like the most cliched or the cheesiest dessert to be savoured on Valentine's day. Prepared with sugar, flour and everything good, these mini sweet sandwiches in a heart shape will make weak at your knees while wanting more and more.
Cookies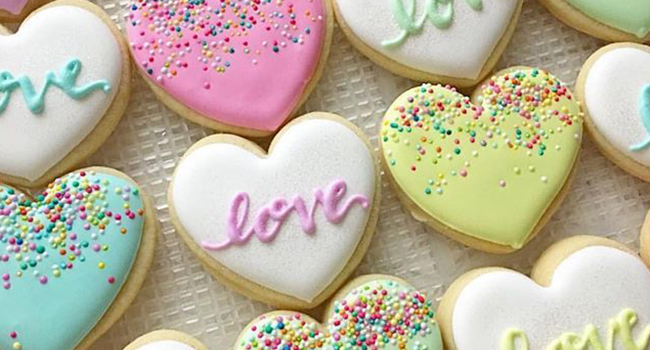 Chocolate chip. Peanut butter. Sugar. Oats and Honey and many more, these heart-shaped baked goodnesses makes your life perfect. Perfect to be relished over a cup of coffee or tea on a romantic getaway with your partner.
Donuts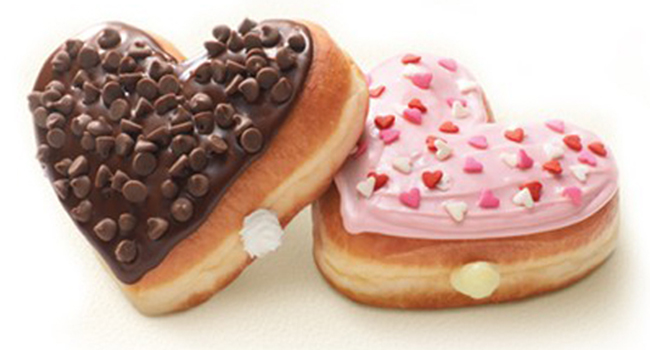 If you are mad over donuts, then gifting or baking heart-shaped donuts can lead to a royal indulgence in the tender and airy, sinfully good sweet snack. Unlike other heart-shaped desserts, donuts are fried confectionery items which are usually made from vinegar, flour, sugar, milk, baking soda, and vanilla extract, among other ingredients. You can simply replace it by baking it after brushing with oil or butter. Get them from your nearest supermarket to treat yourself or your loved ones with it.
Ice Cream Sandwich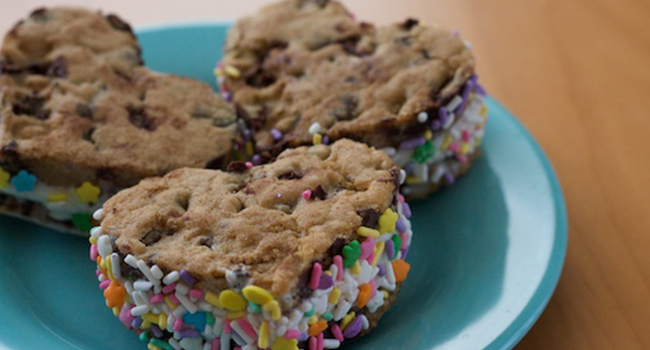 If you want to taste the best of both worlds, that is the soft, creamy part along with the crispy, crunchy part in a dessert, then a heart-shaped ice cream sandwich will do wonders while cheering you up! To save your effort, you can purchase your ice-cream filling and heart-shaped shortbread/cookies from the market, as per your flavour preference.
Churros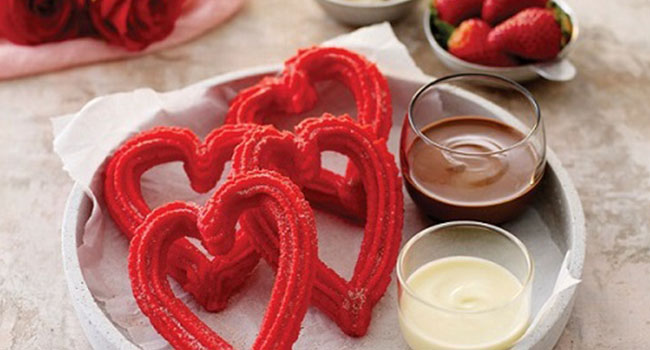 You can't resist the yumminess of the heart-shaped churros. Originated from the local streets of Mexico, these sugary fritters are prepared from flour, sugar, oil, and cinnamon gives it an overwhelming taste and flavour. Some say it is by far the most tempting sweet food found in the streets of Mexico which can be replaced as a baked dessert from being a fried dessert option.
Pie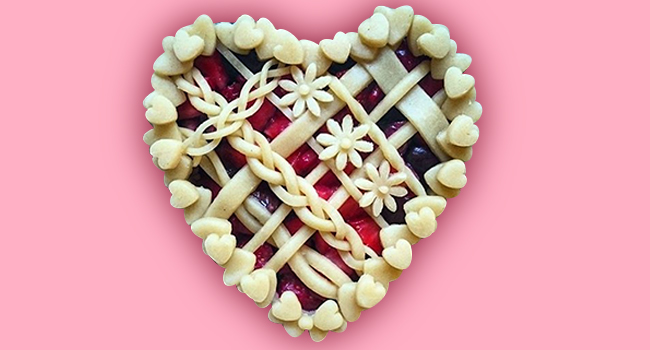 Celebrate your bond with your sweethearts with this heart-shaped pie which is perfect to be baked and served on Valentine's or any other special occasion. This delicious little treat has got a festive vibe, attached to it which makes it even more appealing. All you need to care about is to balance out the ratio of crust to fruit to get that perfect bite.
Calzones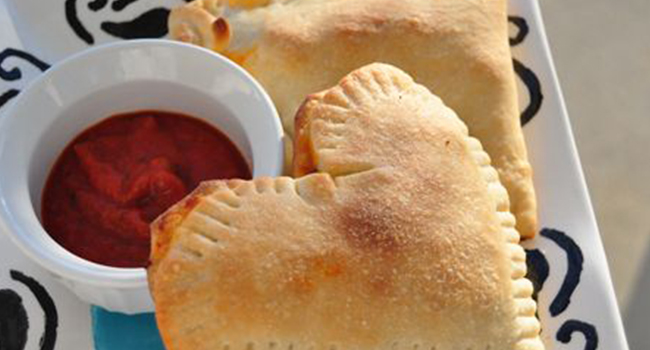 Saying I Love you gets easy with these baked heart-shaped calzones. Mostly, calzones are prepared with salted bread and other salted stuffings. But, when Valentine's or the birthday of someone special is just around the corner, people tend to replace the salty element with the sweet delights. Cherry and sugar syrup, along with fruit ice cream gives the traditional calzones a charming twist.
Scones
Heart-shaped scones are a must-try for every dessert lover. Unlike other dessert items, scones are not rich in their flavour and sugary content. Rather, it has got a sweet, delicate taste which makes it ideal to be enjoyed during morning tea-time. So if you are planning to make your special day memorable, then do try to bake heart-shaped scones to start your day by relishing them.
Muffins
Mini, fluffy version of the cakes are known as muffins are one of the lovely inventions in the baking industry. You will just need a handful of items like sugar, flour, butter, milk, and vanilla extract to master the adorable heart-shaped muffins or cupcakes, even for that matter. After baking it in a heart-shaped cupcake paper liner, make sure to prepare a desired, toothsome frosting for it.
Pretzels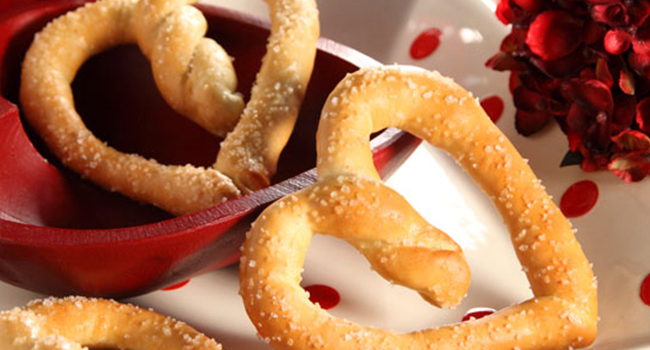 Soft, twisted heart-shaped pretzels baked at home are sweeter and buttery, as compared to the ones made available in stores. A dash of sugar and cinnamon is added as a finishing touch to this sweet confection. The ingredients used are mostly common to other desserts.
As life is too short to waste your time waiting! So, go ahead, bake this flavoursome stuffs and lick the bowl!