It's a fact: being a parent, especially to a boy, can sometimes feel like riding a rollercoaster of chaos and laughter. Yet, amidst the joyful mayhem, your child shines as the brightest star, filling your life with endless love and immeasurable happiness.
Your child's innocent laughter and twinkling eyes are capable of soothing your soul like no other remedy. As a parent, you do everything in your power to preserve that twinkle, to keep the light alive and thriving. In fact, you go above and beyond to give your kids the very best. So, when your little boy's special day draws near, it's only natural that you would want to create moments that will make his heart dance with pure joy.
Perhaps that's why you find yourself here, my dear friend, on the search for mind-blowing cake designs that will make his birthday truly extraordinary! We completely understand the importance of this occasion to you, which is why we're here to share some amazing cake ideas.
So, join us as we unveil a world of incredible and trending birthday cake designs for boys—where each slice is a taste of wonder, and every bite carries the essence of love. Keep reading and embark on a sugar-fueled escapade that will leave your little hero grinning from ear to ear!
Soccer Themed Cake In Green Frosting & Edible Soccer Balls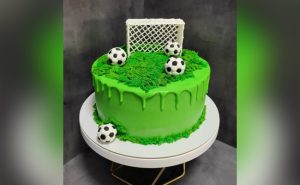 Get ready to score big with a cake that will captivate your little soccer star's heart! This football-themed cake honours the spirit and excitement of the sport he loves dearly. It celebrates not just his birthday but also his vibrant imagination, where he dreams of scoring countless goals on the field.
Coated in vibrant green frosting and fondant detailing, the cake's surface resembles the lush texture and essence of a soccer field, transporting him right into the heart of the game. On top, you'll find an edible Goal Post and meticulously crafted fondant soccer balls, adding an authentic touch to the design. This cake truly brings his soccer dreams to life with every delicious bite! So, be prepared to see him all hyped up as this extraordinary football-themed cake takes centre stage on his birthday!
The little Messi in your home will be mesmerized by this amazing delight, making it a birthday cake design that you must consider for his big day!
Minion Yellow & Blue Cake With Edible Figurine & Stars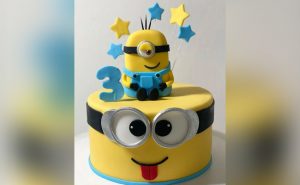 Add a touch of playfulness to your kid's birthday with a cake that will make everyone go bananas, including the adults! We present to you a delightful Minion cake tailored specifically for the little Minion in your life. This timeless design is always on-trend because the combo of cuteness and animated characters never goes out of style.
With its goofy-looking face and tongue playfully sticking out, this Minion cake design is a whimsical masterpiece that will bring endless joy to the celebration. The cake features fondant goggles, expressive eyes, and all the unique characteristics that make Minions so beloved. The base of the cake is outlined in vibrant blue fondant, perfectly matching the iconic colour theme associated with these lovable characters. Sitting atop the cake is a fondant Minion figurine, adding an extra touch of charm to this edible work of art.
We know for a fact that your kid isn't the only one who will not be able to resist the charm of these lovable Minions during the party. Even grown-ups will be enchanted by their adorableness, making this a must-try birthday cake design for boys out of all the other options.
Vibrant Lego-Themed Fondant Cake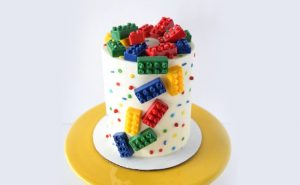 If your child spends hours building magnificent Lego masterpieces, then this cake is about to become the ultimate highlight of his birthday celebration. This cake design takes his love for Lego to new heights and will have everyone saying, "These Lego bricks are much more fun on a cake than they are to step on!"
The base of the cake acts as a clean canvas, covered with colourful fondant dots that add a playful touch to the design. But hold on because the real magic happens at the top of the cake! A cascade of fondant Lego bricks descends from the cake, creating a spectacular waterfall of vivid blue, red, yellow, and green hues. These bricks bring a burst of colour not only to the cake but also to the entire birthday celebration. This is definitely a unique birthday cake design for boys and a strong contender for your little one's birthday!
Space-Themed Deep Blue Fondant Cake With Edible Details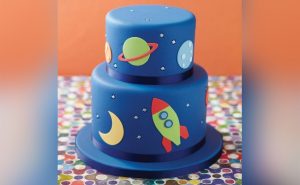 Make your boy's birthday celebration an out-of-this-world experience with this extraordinary space-themed cake! If he's the kind of kid who dreams of having a telescope as a birthday or Christmas gift, then this cake design will surely be an absolute hit. This cake is elegantly enveloped in deep blue fondant, creating a stunning celestial backdrop. But that's just the beginning of the cosmic adventure it offers. Your little one will have a gala time exploring the fondant stars, the moon, a spaceship, and an array of captivating planets on the cake's surface. So, just watch him become a cute little space explorer upon seeing this cake, discovering new joys with each bite.
Superhero-Themed Cake With Edible Logos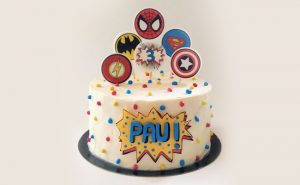 No kid can resist the allure of a superhero-themed cake, and your child is no exception. So, with this incredible cake, his happiness is undoubtedly guaranteed! The cake itself is a sight to behold, covered in a luscious cream coating and adorned with colourful fondant dots. These dots bring a playful and energetic touch to the design, setting the stage for the superhero extravaganza.
Front and centre of the cake is a bold and cheerful message in fondant-"Pau!"—a fun-filled expression that perfectly captures the joy this cake will bring to your child's special day. But the excitement doesn't end there. The top of the cake is adorned with fondant logos of famous superheroes, each skewered into the cake like lollipops, creating a delightful and eye-catching display. This cake is a visual feast that will have every invitee eagerly eyeing the cake for their favourite hero!
As we come to the end of this blog, we hope that these ideas for 'Birthday Cake For Boys' have inspired you! And that you are brimming with excitement to plan a celebration that will leave a lasting impression on your little one. So, go ahead, and choose a cake design that resonates with your child's spirit. And let his laughter fill the room, and his happiness shine brighter than ever before!