God blessed you with twin babies. The day you held them, you must have felt twice the joy, twice the love, and twice the blessings. Now, your little munchkins are a year old, and it's their first birthday. You want to make your twin's birthday double fun and memorable. We know you are looking for a twins birthday cake, and we have brought you some fresh and delicious ideas for a twin cake. Even your little babies will love licking and digging into them. We can't wait for the sweet and adorable birthday pictures.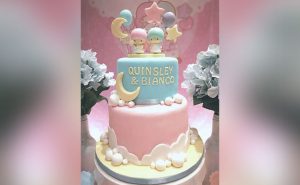 1) Pink & Blue Star Cake: Your twins are the shining stars of your life. The brightest ones in your life. Make their birthday celebration a five-star party with a pink and blue star cake. It's a tier cake with pink and blue tier cakes. The cake is decorated with cute and edible stars, baby boy and girl figurines just like your babies.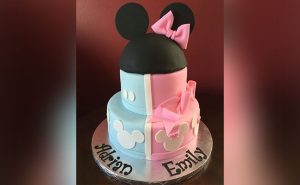 2) Mickey & Minnie Cake: Aren't your babies as charming as Mickey & Minnie? That's why you should have a Mickey and Minie happy birthday twins cake. The cake will be baked in two layers, pink and blue, with Mickey and Minnie figurines and all the lovable detailings that would make them smile happy and bright.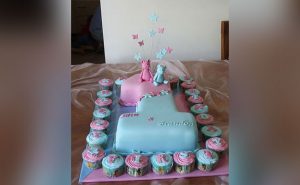 3) Number One Cake: It's your toddlers first birthday, and to signify it sweetly, you can go for the number one cake. The cake will be in the shape of numerical 1 with cupcakes along its border with your twin's name spelt on it. The cake will be dressed in pink and blue fondant.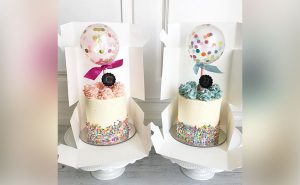 4) Confetti Balloon Cake: cheers and celebration, confetti and balloons. Order two cakes for your babies with their name and with balloon toppers. Confetti and latex balloons are used as a topper. Burst the balloons, pop the confetti, eat the cake, and enjoy the celebrations.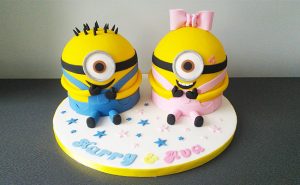 5) Minion Cake: Spread the loudest cheer in the house with minion cake. Your kids' favourite cartoon re-imagined in a cake, and they will have sweet goosebumps. The cake will have fondant minions sitting on top of the cake. One of the best birthday cakes for twin adults who like minions.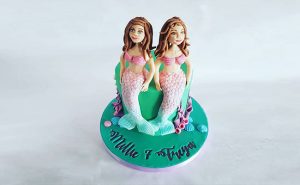 6) Mermaid Cake: For your darling princess, a barbie cake. The cake will feature two mermaids sitting gracefully on top. While the base of the cake will bring the marine life alive. The intricate detailing will surely swoon your girls.
You can order cake online for your twin babies from any of the twin cake listed above. Will be back with more designs for you. Keep browsing and sharing until then.